Today's Top Five
1. National Association of Evangelicals gets attention, but doesn't address critical letter
At its board meeting late last week, the National Association of Evangelicals did not directly address a letter from non-member Christian leaders criticizing NAE vice president Richard Cizik's work against global warming. The board did, however, reaffirm its 2004 document on political engagement, "For the Health of the Nation: An Evangelical Call to Civic Responsibility." Among that document's seven emphases is "stewardship of creation," but it does not specifically call for action on global warming.
There are a few updates since Focus on the Family released the critical letter on its CitizenLink website March 1. Newsweek reported that Richard Land had been asked to sign the letter but refused. "I didn't feel that it was the most productive, most redemptive way to address the problem," he said.
A Saturday New York Times editorial criticizes those who did sign the letter for limiting "the definition of morality to the way humans behave among humans. … The greatest moral issue of our time is our responsibility to the planet and to all its inhabitants." That resonates with one of the thrusts of the NAE statement on creation care (e.g. "The Bible teaches us that God is not only redeeming his people, but is also restoring the whole creation. Just as we show our love for the Savior by reaching out to the lost, we believe that we show our love for the Creator by caring for his creation.") At the same time, one of the interesting aspects of Cizik's work, as well as the work of those behind the Evangelical Climate Initiative (from which Cizik withdrew his signature due to earlier pressure) is that they frame the global warming issue very much in terms of the way humans behave to other humans. The emphasis is on how climate change will, in the ECI statement's words, "hit the poor the hardest."
Los Angeles Times reporter Stephanie Simon, meanwhile, parses out the letter's critique that Cizik's views "seem to be contributing to growing confusion about the very term, evangelical." Simon writes:
In religious terms, an evangelical is a Christian who has been born again, seeks a personal relationship with Christ, and considers the Bible the word of God, to be faithfully obeyed.
But Dobson and his fellow letter-writers suggested that evangelical should also signify "conservative views on politics, economics and biblical morality."
Simon notes that most of the letter's signatories are "activists, not theologians," but the evangelical activists Weblog knows of have been eager to define evangelical theologically or sociologically and chafe at political characterizations. You can talk about evangelical political behavior, but that doesn't make it a political movement. Evangelicalism is no more a political movement than Mormonism is— and Mormons tend to vote between 80 percent and 90 percent for Republicans, compared to 60 percent to 70 percent of evangelicals.
While we're speaking about numbers, it's also worth fact-checking the letter's statement that Cizik does not "articulate the views of American evangelicals on environmental issues." According to an August 2006 poll from the Pew Forum on Religion and Public Life, evangelicals are indeed less likely than the general public to believe that there is solid evidence that the world is getting warmer. But 70 percent of evangelicals do believe it (compared to 79 percent of all Americans). Of those evangelicals who agree that the earth is getting warmer, a significant majority believe that it is the result of human activity such as the burning of fossil fuels. Still, while they're majorities separately, only 37 percent of all evangelicals agree that there's solid evidence that earth is getting warmer because of human activity, while one-half of all Americans believe it. 68 percent of evangelicals believe that global warming is a serious problem, and a plurality of evangelicals (47%) believe that stricter environmental laws are worth the cost (compared to 38% who say such laws would cost too many jobs and hurt the economy).
Back to the NAE for a moment. While it didn't say anything directly about global warming, it did release a statement on torture. Media coverage is starting to pick up on it, and we have a story in the works as well. More on that soon, as we'd like to focus on it more closely rather than treating it as a sidenote to the global warming fuss.
2. News alert: Pope still against gay marriage and abortion!
Pope Benedict XVI on Tuesday released a 130-plus-page document called Sacramentum Caritatis ("The Sacrament of Charity"). If you saw any news on it, you probably didn't bother to read beyond the headlines, let alone the papal statement. The New York Times headline: "Pope Reaffirms View Opposing Gay Marriage and Abortion." Reuters went with "Catholic politicians can't back gay marriage: Pope." Then there's the Associated Press' scintillating "Pope reaffirms traditional views."
"The document released Tuesday contained no surprises," Ian Fisher of the Times reports, "repeating in a more comprehensive form positions that the church has long held and that Benedict frequently addresses." Well, yes and no. There are no surprises on marriage and abortion. But that doesn't mean there's no news here. As a document largely on liturgy, Benedict's statement has much to say on how Catholics worship. And the "worship wars" can be as fierce in Catholic churches as they are in evangelical Protestant ones.
So when the pope talks about "the importance of gestures and posture, such as kneeling during the central moments of the Eucharistic Prayer" and the need for "greater restraint in [the sign of peace] gesture, which can be exaggerated and cause a certain distraction in the assembly just before the reception of Communion," religion reporters should understand Benedict is talking about issues that are very deeply felt and often very contentious in parishes throughout the world. When he gives specific instructions on encouraging the use of Latin, passions are inflamed. Likewise, when he criticizes "generic and abstract homilies" and says, "Given the importance of the word of God, the quality of homilies needs to be improved," he's talking about something on which parishioners and preachers have strongly held opinions.
Honestly, I'm not sure that "Pope criticizes gay marriage and/or abortion" still qualifies as a news story. But "Pope criticizes abstract preaching" does. One of the points that Benedict emphasizes in Sacramentum Caritatis is that the liturgy—particularly the Eucharist—correctly orients our thinking. That orientation is not mainly a political one.
3. Klouda sues Southwestern
In January, we noted that Sherri Klouda had been denied tenure at Southwestern Baptist Theological Seminary because the Hebrew professor is a woman. She's now suing the school. But since neither she nor the school is saying anything about the suit right now, there's little new to say about it. There are many comments at Wade Burleson's blog (he broke the news of her tenure denial), but not much news.
In other Christian higher ed lawsuit news, transgender professor Julie Nemecek (formerly John Nemecek) and Spring Arbor University reached an undisclosed financial settlement Monday. "I'm smiling ear to ear," Nemecek told the Jackson Citizen-Patriot. The Free Methodist school had dismissed Nemecek when he started appearing in public as a woman.
4. 'Like requiring treated sewage for baptisms'
The 9th Circuit Court of Appeals says the U.S. Forest Service broke the law—specifically the Religious Freedom Restoration Act (RFRA)—by allowing Arizona's Snowbowl ski resort to use artificial snow in an expansion on the San Francisco Peaks. The Navajo, Hopi, and other Native American tribes' case was less about the expansion or the artificial snow itself than about how the artificial snow is made—it's from treated sewage. The Forest Service allowed Snowbowl to drop up to 1.5 million gallons of effluent on the Peaks per day—more than 100 million gallons each season.
"From time immemorial, [the appellant tribes] have relied on the Peaks, and the purity of the Peaks' water, as an integral part of their religious beliefs," Judge William A. Fletcher said in the court's decision. "To get some sense of equivalence, it may be useful to imagine the effect on Christian beliefs and practices — and the imposition that Christians would experience — if the government were to require that baptisms be carried out with 'reclaimed water.' … If appellants do not have a valid RFRA claim in this case, we are unable to see how any Native American plaintiff can ever have a successful RFRA claim based on beliefs and practices tied to land that they hold sacred."
5. Franklin Graham's youngest son injured in Iraq
Evangelist Franklin Graham's youngest son, Army Ranger Capt. Edward Graham, has been injured in the Iraq war. The 27-year-old grandson of Billy Graham "got shrapnel in his arms, legs, and back," Graham spokesman Jeremy Blume told The Charlotte Observer. "And he was recovering … in a hospital that can't be named for security reasons." As Blume explained to the Asheville Citizen-Times, "Rangers aren't allowed to disclose much information — even where he is." But, said Blume, "We know that he is fine and has asked for prayers for his men."
Quote of the day
"When the Secular Coalition asked me to complete a survey on my religious beliefs, I indicated I am a Unitarian who does not believe in a supreme being."
—U.S. Rep. Pete Stark (D-Ca.), the first member of Congress to publicly declare that he does not believe in God.
More articles
NAE and environment | NAE and torture | Life ethics | Politics | Immigration | Scottish politics | Newt Gingrich | Romney | Other Republican candidates | A "nontheist" member of Congress | Church and state | Snowmaking RFRA case | Land disputes | Cell phone towers in churches | Church conflicts | Homosexuality | Anglicanism | Mark Lawrence | Catholicism | Church life | Jerry Johnston's First Family Church | Crime | Abuse | Killing at church | Sudan | China | Israel and Palestine | Iraq | Missions and ministry | BattleCry returns to San Francisco | Stephen Prothero's Religious Literacy | Education | History | Books | Media | Sports | Art and entertainment | Money and business | Spirituality | People | Other stories of interest
A "nontheist" member of Congress:
Cell phone towers in churches:
Jerry Johnston's First Family Church:
Iraq:
BattleCry returns to San Francisco:
Stephen Prothero's Religious Literacy:
Related Elsewhere:
Suggest links and stories by sending e-mail to weblog@christianitytoday.com
See our past Weblog updates:
March 9 | 2
February 26 | 14 | 2
January 24 | 19 | 17 | 12 | 9
January 5 | 4 | 2
December 29 | 22
Weblog
Launched in 1999, Christianity Today's Weblog was not just one of the first religion-oriented weblogs, but one of the first published by a media organization. (Hence its rather bland title.) Mostly compiled by then-online editor Ted Olsen, Weblog rounded up religion news and opinion pieces from publications around the world. As Christianity Today's website grew, it launched other blogs. Olsen took on management responsibilities, and the Weblog feature as such was mothballed. But CT's efforts to round up important news and opinion from around the web continues, especially on our Gleanings feature.
Ted Olsen is Christianity Today's executive editor. He wrote the magazine's Weblog—a collection of news and opinion articles from mainstream news sources around the world—from 1999 to 2006. In 2004, the magazine launched Weblog in Print, which looks for unexpected connections and trends in articles appearing in the mainstream press. The column was later renamed "Tidings" and ran until 2007.
Previous Weblog Columns: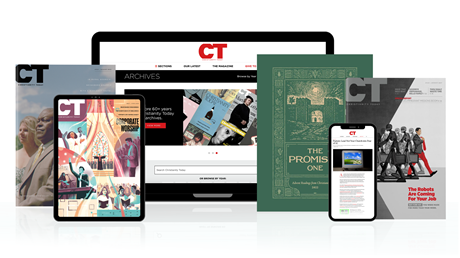 Subscribe to Christianity Today and get access to this article plus 65+ years of archives.
Home delivery of CT magazine
Complete access to articles on ChristianityToday.com
Over 120 years of magazine archives plus full access to all of CT's online archives
Subscribe Now
No Consensus on Whether NAE Conflict Is Getting Hotter
No Consensus on Whether NAE Conflict Is Getting Hotter