Reviews

|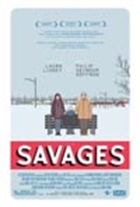 The Savages opens amid bright colors, sunshine, and an oddly cheerful (though a bit unsettling) song and dance routine by a troupe of elderly ladies in the golf/retirement community of Sun City, Arizona. This is a land of golf carts and cactuses, townhomes and shuffleboard—a veritable paradise for the over 70 set. But the dreamy façade is quickly spoiled by the cruel realities of aging.
Lenny Savage (Philip Bosco)—an aging resident of Sun City—has just lost his companion of 20 years, and is himself facing the early stages of dementia. After an unfortunate incident involving fecal wall graffiti, Lenny is put in a local hospital for observation, and his two out-of-touch children are called in to deal with their father's deteriorating mental condition. Soon the kids transport Lenny back to the East Coast—specifically the drab, depressing Valley View nursing home in Buffalo, New York. Unlike Sun City, the colors here are muted (captured nicely by cinematographer Mott Hupfel), the air bitterly cold, the spirit less than hopeful. It's not a place to spend one's "golden years." It's a place to wither away.
Wendy (Laura Linney) and Jon (Philip Seymour Hoffman) are the Savage siblings—East Coast writers with little concern for each other and even less (on the surface) for their father. It is repeatedly suggested that the Savage children had a very troubled upbringing—that Lenny and an unnamed mother were less than ideal parents. Nevertheless, they are the offspring of Lenny, and like every son and daughter of an elderly parent, they must face the tough responsibilities that come with a caregiving role-reversal.
Wendy is a playwright from New York City, struggling to get work and taking temp ...
1