Reviews

|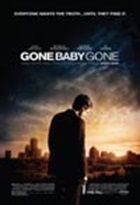 The first scene of Gone Baby Gone begins with main character Patrick Kenzie (Casey Affleck) musing, "It's the things you don't choose that make you who you are."
While this opening narration argues that a person's family, nationality and even neighborhood create a person, it's the silence at the end of the film that points to what later changes a person: choice.
It's a simple final shot—a quiet moment of Kenzie watching TV on a couch—but it says volumes about the moral choice the Boston private investigator just made. And incredibly, in our era of media loudly telling audiences how to think, these volumes are left up to interpretation. Did he do the right thing? Would he do the same again? Is the film arguing he was wrong—or right?
Director Ben Affleck says the climactic moral dilemma—and ambiguity—is the very reason he chose to make this book adaptation the first movie he directed. "I wanted a character who makes a choice that will change the course of his life," Affleck told a screening audience. "And I didn't want to tip the scales with what I would have done or what I think of his choice. I wanted the audiences to ask themselves the big questions."
Like other recent down-and-dirty Boston crime dramas (Mystic River, The Departed), Gone Baby Gone is a kind of modern slum noir—a twisty and ambiguous tale set in a dark, profane world with no real black and white, but lots of gray. The f-bombs are constant. Most characters (besides the pretty leads) are awkward, unattractive and common. Drugs, sex and violence are stocks in trade. And no one is a complete boy scout. But in all this ugly realness, the moral dilemmas that frame the second half make it more than an unflinching display of bloody ...
1