As popular Sunday customs, watching the National Football League and attending church seem to go together. Players who thank Jesus for victory have almost become a cliché. At the Super Bowl last February, coaches Tony Dungy of the Indianapolis Colts and Lovie Smith of the Chicago Bears—the first African American head coaches in the big game—talked freely about their faith.
"I think it's great that we're able to show the world not only that African American coaches can do it, but Christian coaches can do it in a way that we still can win," Dungy said at the time. Added Smith: "God is the center of my life. I hope I don't have to spend my time telling my players I'm a Christian. I hope they see it in my life every day."
With Christian players and coaches in the spotlight, some have wondered whether the NFL welcomes the image they project. Indeed, the league has made some decisions that could indicate otherwise:
In February, the NFL sent a cease-and-desist order to an Indianapolis church that had planned a Super Bowl party.
In the early 1990s, the league tried to discourage midfield prayer huddles after games.
When journeyman quarterback Jon Kitna wore a cap displaying a cross after a 2004 game, the league fined him $5,000 for violating the rule that only NFL apparel can be worn during postgame interviews.
Kitna appealed, and—after public outcry—the fine was rescinded. The NFL also backed away from banning prayer huddles when popular opinion went against it—and when players essentially said, "Go ahead and fine us; we're going to do it anyway." And after the Indianapolis church canceled its event—followed by more public outrage—the NFL hustled to clarify its rules on Super Bowl parties.
When its public image is threatened, the NFL is quick to do damage control. Still, are these just isolated incidents? Or does the league have a begrudging acceptance of Christians—and Christianity?
Higher Standards
The NFL is a corporate giant, a $7 billion-a-year industry embraced by millions of fans. But a corporate giant is only as successful as its product, and for the NFL, the product is the players—not just their athletic prowess on the field, but also the way they carry themselves off it. The league hates headlines about Atlanta quarterback Michael Vick (indicted over the summer on federal charges related to dogfighting), former Chicago Bear Tank Johnson (cut from the team after a run-in with the police shortly after a jail term in the wake of a weapons charge), and Tennessee's Pacman Jones (suspended for the 2007 season for his off-field misbehavior, including six arrests in three years).
The NFL announced a new get-tough conduct policy in April, mandating stiffer penalties for players (including bigger fines and longer suspensions) and their teams (including the possible loss of draft picks).
Christian coaches and players told CT they welcome the new policy. They said Christian players help the league's image—whether they're vocal about their faith or not. Simply conducting themselves as men of integrity—in addition to staying off the police blotter—goes a long way.
"The conduct policy allows our players to understand that they are role models, that kids are looking up to them," said Charles Way, a former running back for the New York Giants who's now the team's director of player development.
Christian players in particular get that. "As players, we just need to be good citizens," said Colts punter Hunter Smith. "For those of us who are Christians, that means we need to love God with our lives."
Generally, the NFL has no problem with players "loving God with their lives." But talking about Jesus Christ can be trickier. Several Christian players said the league would prefer that its players act like Christians, but not necessarily say they're Christians.
"The NFL certainly adores the manner in which Christians walk," said Bears team chaplain Harry Swayne, who played in the league for 14 years. "But they surely wish we'd do less proselytizing, absolutely."
"Christians are always going to ruffle some feathers," added Seattle running back Shaun Alexander, the league's MVP in 2005. "The NFL might prefer we keep quiet about our faith, but that's just who we are. They're not against faith; they're just looking at it as a business, and they're trying to make a buck. But I don't think they're anti-church."
Christian players and coaches told CT they feel free to talk about their faith, and even evangelize, as long as they use discernment.
The league has no rules against discussing religion—or evangelism.
"There's nothing to preclude anyone from expressing their faith within the guidelines of on-the-field play," said NFL spokesman Brian McCarthy. "By that we mean our uniform policy, which means you can't have any personal message on your uniform. Beyond that, players, coaches, and others are free to say what they want."
Mike Singletary, assistant head coach for the San Francisco 49ers, said, "I don't think the NFL really cares one way or another. They're just concerned about what's good for the game."
Singletary added that the "faith-friendliness" of the NFL as a workplace varies from team to team, depending primarily on a given franchise's leadership. Others agreed.
"I've never been with a franchise where faith issues are frowned upon," said 49ers quarterback Trent Dilfer, who has played for five teams. "As long as I'm discerning, there's never been any huge persecution for talking about my faith."
Dungy (see "A Kinder, Gentler Coach," below), who has been with six teams as a player and coach, said no one has ever asked him to back off from discussing his faith in his 29 years in the league. "I don't know that the NFL is any more or less faith-friendly than any other workplace," Dungy said. "The team wants you to win; that's why you're hired."
Post-game prayer huddles—where players from both teams gather to kneel at midfield—became popular around 1990. That's when Sports Illustrated columnist Rick Reilly penned a blistering commentary, saying that the prayer huddles were offensive to people of other faiths and that he didn't want players to "shove their religion down my throat."
Peter King, a Sports Illustrated senior writer who has covered the league for nearly two decades, said he sometimes tires of players bringing up their faith after a game. "To be honest with you, people like me just totally ignore that, because we're not writing about religion," King said. "We're not writing about somebody's Christianity. Once the questions veer off into game-oriented things, that's when I start taking notes."
King isn't down on Christians. Some of his favorite players—including Dilfer and Arizona quarterback Kurt Warner—are believers. King lauds them as men of integrity, and added that Smith and Dungy "are among the most moral men you will ever find."
And he concurs that the league itself isn't anti-faith. "The NFL is unfriendly to anything that is going to violate its rules," King said. "They're not prejudiced about anyone's faith."
Public Relations
However, the league will go after anyone, including a church, who breaks the rules. Last February, the NFL cracked down on one church's plans to hold an evangelistic Super Bowl party.
Days before the big game, NFL attorneys slapped a cease-and-desist order on Fall Creek Baptist Church in Indianapolis, which had been promoting its event on the church website. The league objected to two things: (1) Fall Creek was using NFL logos, without league permission, to promote the event, and (2) the church planned to project the game onto a wall, exceeding the maximum screen size of 55 inches allowed by copyright law.
But an e-mail from NFL attorney Rachel L. Margolies to Fall Creek implied that the league's objections went further; she wrote, "While this [Christianity] may be a noble message, we are consistent in refusing the use of our game broadcasts in connection with events that promote a message, no matter the content."
The NFL's blitz elicited boos from fans and the media. But rather than fight the NFL, Fall Creek canceled the event. Other churches, fearing a possible NFL crackdown, did likewise.
The league quickly did damage control, emphasizing that such events are allowable as long as churches don't use NFL logos, don't charge an admission fee, and show the game on a screen (or screens) smaller than 55 inches. The league also promised to be more flexible about such events in the future.
"If your church wants to hold a Super Bowl party, that's fine," McCarthy, the NFL spokesman, told CT. "We're not coming after any particular group or organization. All we ask is that they abide by the rules when they have their parties.
"The two pillars of the NFL are football and community. … We're not coming after you, as long as you abide by the copyright laws."
But what about the NFL's stance that it doesn't want to be associated with "events that promote a message"—in this case, Christianity? Doesn't the league promote messages through the advertisements—including beer-and-busty-babe commercials—that run during its broadcasts?
"We don't sell the advertising that's on NFL games," McCarthy said. "The networks sell the time. And the NFL does not have to approve the ads."
That stance doesn't convince critics, including Irving Fryar, a former All-Pro wide receiver and now a Pentecostal pastor in New Jersey. "They're sending a message all the time," Fryar said, "and it's boobs and beer. It's the 'sex sells' message."
Fryar is right; by simply allowing such ads, the NFL does send a message. And McCarthy's comment—that the league doesn't have to approve the ads—isn't the whole story. If the NFL didn't want such ads, it could certainly apply pressure on the networks.
Still, most NFL blunders in the area of faith appear to be just that: blunders. The National Football League is a big business. It makes judgments all the time about what will promote business—and what might discourage it.
The league might commit an occasional personal foul when it comes to things of faith, but in a day when instant replay enables referees to reverse bad calls, the NFL sometimes has the wisdom to do the same—to "wave off" the penalty flag, so to speak. And the league has the good sense to realize that many who watch its games identify with the Christian religion. Even those who don't are likely to uphold the über-American value of liberty.
Some fans—and media types—might roll their eyes when a player flaunts his faith, but they'll shrug their shoulders and say, "Well, it's a free country." The NFL, when prodded, apparently agrees.
Mark Moring, a former sportswriter and a Washington Redskins fan, is editor of Christianity Today Movies.
Related Elsewhere:
This article appeared with "Why We Love Football" and "A Kinder, Gentler Coach."
GetReligion.org posted a piece on how the NFL, although trying to clean up its players' image, is ignoring their faith.
"God on the Gridiron," and "Sacramental Football" (from Re:generation Quarterly) address idolatry in sports.
Also see Play Ball, an occasional Christianity Today column that examines the relationship between sports and faith.
Have something to add about this? See something we missed? Share your feedback here.
Our digital archives are a work in progress. Let us know if corrections need to be made.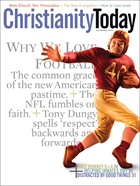 This article is from the September 2007 issue.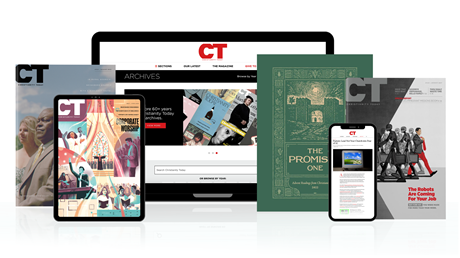 Annual & Monthly subscriptions available.
Print & Digital Issues of CT magazine
Complete access to every article on ChristianityToday.com
Unlimited access to 65+ years of CT's online archives
Member-only special issues
Subscribe
Fumbling Religion?
Fumbling Religion?