true
In real life, the term "pineapple express" refers to a series of wind and rain storms that originate near Hawaii and land somewhere along the Pacific coast of North America. In the movie bearing this name, it refers to a special kind of marijuana that grows in the soil that is drenched by these storms—and the film itself is all about the trouble that ensues when a stoner and his drug dealer run afoul of the drug lord who made this marijuana available to them in the first place.
The film stars Seth Rogen as Dale Denton, a process server who spends his days putting on various disguises—delivery man, lab technician, and so on—so that he can deliver subpoenas to unsuspecting people. Ironically, given that he is employed in some sense by the legal system, Dale spends much of his time between assignments smoking an illegal substance. But as he sees it, people have always smoked marijuana and always will, and the fact that it was banned in the 1930s simply means that people like him are now forced to deal with criminals against their will.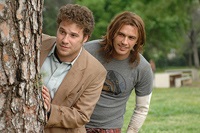 So is the film pro-marijuana or anti-marijuana? Well, it depends on who you speak to. Judd Apatow, who produced this film as well as several of Rogen's earlier R-rated comedies, says he is opposed to marijuana use and thinks the film exposes the dangers of getting involved in that subculture. But Rogen, who wrote the film with Evan Goldberg, is an avid fan of the substance himself, and says he expects those who see the film will go and get high afterwards—if they aren't already.
Many are calling Pineapple Express a "stoner movie," but more than that, a closer look suggests that it's really about the complicated nature of friendship.
The emotional heart of the film is Dale's budding relationship with his dealer, Saul Silver (a hilarious, and surprisingly soulful, James Franco). Saul complains about certain customers who come to his apartment and "linger," but he also begs Dale to stick around—first to smoke a three-pronged joint, then to maybe look at stuff on the Internet, or something, whatever. Dale, clearly feeling that Saul has become a bit clingy himself, says thanks but no.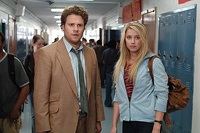 Dale has a handy excuse for leaving, since he has to go serve another subpoena to someone. But in a wildly implausible string of coincidences, it turns out that the person being subpoenaed is Ted Jones (Gary Cole), the local drug lord who supplies Saul—and Dale arrives at Ted's house just in time to witness Ted and a uniformed police officer as they shoot a man. Dale, who was in his car smoking some of the "pineapple express" he'd just bought from Saul, drops his unfinished joint in the street as he drives off in a panic—and Ted, by finding that joint and taking one quick puff, immediately knows it came from one of the dealers he supplies.
And so Ted quickly traces the joint to Saul, and thus figures out that it must have been one of Saul's customers who witnessed the murder. But Dale, himself, assumes very quickly that Ted can probably track him down this way—and so he and Saul go into hiding, spending a night in the woods to smoke some more weed and plot their next move. But one misfortune leads to another, and Dale and Saul end up as Ted's captives anyway, imprisoned in his underground lair.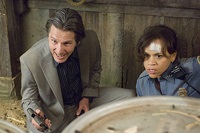 The relationship between Dale and Saul follows the same contours you might find in a romantic comedy. After sharing some fun times and at least one profession of friendship, the two have a falling out and, not surprisingly, it turns out that, while they were able to stay one step ahead of the bad guys while they were united, they are easy to catch when they are divided. And so, once captured by Ted, the stage is set for their reconciliation, with hugs and declarations of the "I love you, man" variety.
Platonic love between men—what some people call "bromance"—is an increasingly common theme in modern comedies, and in some ways it is a welcome trend, inasmuch as it cuts through the macho stereotypes and harks back to a time when men were arguably much more open about their feelings. (Think of David and Jonathan in the Bible.) There is a downside to this trend, though, in that it is often accompanied by a marginalizing of women and a skepticism regarding the long-term viability of sexual relationships. At least two characters in Pineapple Express talk about their wives, but we never see them, and Dale's relationship with his own girlfriend, the 18-year-old Angie (Amber Heard), is a debatable thing from the get-go, and never more so than when she expresses an interest in marriage.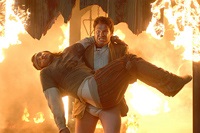 Pineapple Express is directed by David Gordon Green, who is better known for low-budget art films like George Washington than low-brow action-comedies such as this. The new film does carry his stamp on certain, more lyrical scenes—especially where grown-ups frolicking in the woods and children standing sullenly by playground fences are concerned. But for the most part, this is the sort of film that gets its kicks from "creative profanity" and a surprisingly graphic amount of comic violence, as Dale and Saul find themselves caught in a battle between two rival drug lords.
The movie is watchable enough, but not very believable, even on its own lazy terms. This doesn't matter so much for the first hour or so, where much of the fun comes from watching Rogen and Franco settle into their own comic, laid-back rhythm. Even some of the action hijinks that follow are amusing for how they subvert certain movie conventions. (Saul slams on the brakes, thinking the car pursuing him will zip right past him—but the other driver slams on the brakes too, and opens fire.)
But the louder and noisier and bloodier it gets, the more you notice how uninspired and underwritten the movie is. If you're already high, this might not be such a problem. But for the rest of us in the audience, it can be a bit of a drag.
>Talk About It
Discussion starters
Do you think this movie is for or against the legalization of marijuana, or do you think it is neutral on the subject? How significant is it that these characters find their lives threatened by the very man who provides them with the drugs they like?
Dale tells Saul that they are not very "functional" when they are high. Why do you think they smoke pot, then? Do they learn from their lack of functionality?
If marijuana were legal, should Christians treat it any differently from tobacco or alcohol? Why or why not? Note how, in the flashback, the army general who declares that marijuana is illegal is shown taking a swig from a flask. Why does the film include that shot? Note also that the flashback takes place just a few years after the end of Prohibition, when it was illegal to drink wine in the United States except for medicinal or religious reasons. Are the issues related? Are they separate?
Is it difficult for men to form friendships, or to express "love" for each other? Why or why not? How can these friendships be balanced, in a healthy way, with other emotional attachments, such as marriages and other romantic relationships?
The Family Corner
For parents to consider
Pineapple Express is rated R for pervasive language (four-letter words throughout the movie, plus a few uses of Jesus' name in vain), drug use (marijuana smoking throughout the movie, the main characters sell drugs to minors), sexual references (people talk about various kinds of sex acts, but nothing is shown) and violence (multiple people, including at least one innocent bystander, are shot, stabbed, and blown up).
Copyright © 2008 Christianity Today. Click for reprint information.
What other Christian critics are saying: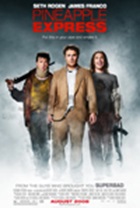 Browse All Movie Reviews By: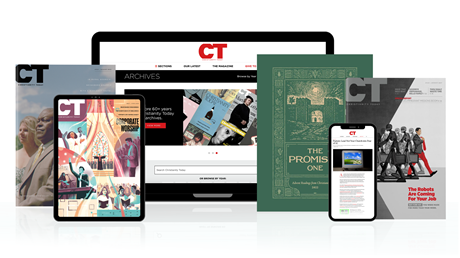 Subscribe to Christianity Today and get access to this article plus 65+ years of archives.
Home delivery of CT magazine
Complete access to articles on ChristianityToday.com
Over 120 years of magazine archives plus full access to all of CT's online archives
Subscribe Now
Pineapple Express
Pineapple Express