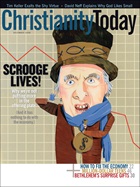 This article is from the December 2008 issue. Subscribers can read all of CT's digital archives.
The Bible, Rocks and Time: Geological Evidence for the Age of the Earth
Davis A. Young and Ralph F. Stearley | IVP Academic

How old is the earth, anyway? That's a question that continues to haunt evangelicals, even in the 21st century. Suggestion: an adult Sunday school class at your church, using this book as a text. Invite professors from local colleges for some of the sessions. Yes, you will be asking people to read 500 pages. About geology. And at the end, they will agree it was time exceedingly well spent.
Samuel Johnson: A Biography
Peter Martin | Belknap Press

Put aside unChristian and Reveal and all those other up-to-the-minute reports on the state of the church and What Must Be Done and travel with me to the 18th century, unpolled and undeodorized, to acquaint or reacquaint yourself with a Christian writer whose life was at once magnificently idiosyncratic and of a piece with your own—in its quotidian frustrations and delights, its grief and consolation, its resurrection hope.
Alphabet Juice: The Energies, Gists, and Spirits of Letters, Words, and Combinations Thereof; Their Roots, Bones, Innards, Piths, Pips, and Secret Parts; With Examples of Their Usage Foul and Savory
Roy Blount Jr. | Farrar, Straus, and Giroux

That subtitle is a hard act to follow; if you don't find it irresistible—if you aren't already saying to yourself, I want this book!—I might as well close up shop right now. Christians are rightly said to be people of the Book. We are also people of the Word, and of words, and here Roy Blount reminds us of our great inheritance. This may well be the Bedside Book of the Year. Set it next to your Bible and your prayer book and an unabridged edition of Boswell's Life of Johnson, and you will ...
1
Books Uncommon and Offbeat
Books Uncommon and Offbeat