On Friday, November 28, I walked listening to two songs on the radio. The first was a Christmas song:
O my Lord, you sent your Son to save us
O my Lord, so that sin will not enslave us
O my Lord, so that love once more may reign
The second song was by a popular African musician. The lyrics of the song emphasized the need for all African people to allow peace to reign. It goes like this:
African people, allow peace to reign
Whoever you are, give peace a chance
Whatever you say, allow peace to reign
In your home, give peace a chance
Whatever you do, allow peace to reign
African leaders, allow peace to reign
African youth, allow peace to reign
African religious groups, allow peace to reign
African adults, children, women, and men give peace a chance
Whatever you learn, allow peace to reign
Whatever you think, give peace a chance.
The songs stressed justice, love, and peace on a morning when Jos, the capital of Plateau State, Nigeria, was awakened by gunshots.
Jos elections were held Thursday, November 27. Election observers announced on the radio that the election was generally peaceful. Plateau State is generally acknowledged to be a state dominated by Christians. However, the Muslim community in one of the local government areas, Jos North, claimed to be the majority. They complained of the late arrival of election materials to their polling sites. Given the late arrival, they suspected the election results, though not yet announced at the time, to not be in their favor. The community complained of being politically sidelined by the non-Muslims in the state.
Muslim youth, enraged by that assumption, went on a rampage at 1 a.m. on Friday. They burned old automobile tires on the streets and main roads; set churches, schools, and houses on fire; and disrupted classes, travel, businesses, and commercial activities. In the early morning, they started murdering, maiming, and setting ablaze the corpses of children, women, men, and anybody that they knew was not a Muslim.
The non-Muslim youth, in so-called self-defense, counteracted. They too started murdering and maiming Muslims and setting their mosques and houses on fire. The police could not control the situation until soldiers were sent in around 11 a.m.
From 5 a.m., when the counterattack started, to 4 p.m. on Friday, the sun and the sky were darkened by smoke from burning houses, churches, mosques, schools, vehicles, gas stations, and corpses. The whole atmosphere at Evangelical Churches of West Africa Theological Seminary, Jos (JETS), where I teach, was filled with a thick, black smoke. People in JETS and the surrounding areas could hardly breathe because of the smoke.
Besides the pollution, the destruction of property also aggravated the food crisis, economic meltdown, and other hardships already burdening the country. The banks are still not yet opened. The prices of essential commodities are very high. In the few opened markets, some essential foods are not available.
I had scheduled a make-up graduate class that fateful morning, but only four students out of 11 made it to class. Without the tension, I would not have minded holding class with only four students, but the whole atmosphere was so tense that I cancelled the class indefinitely.
As I was writing the above, I heard nonstop gunshots. I went out of my study room and saw our students standing in groups, watching the cloud of smoke that stretched as far as the eyes could see. I saw a young man running helter-skelter. Suspecting him to be a Muslim, some of our students pursued him and caught up with him, only to discover that he was one of our neighbors. He told us he had been at a nearby scene where many people were killed, burned, and maimed by both Muslim and non-Muslim youth.
When the soldiers came in, the gunshots became more frequent. The city of Jos was suddenly turned into a battleground.
Sunday morning, our streets were filled with burned houses, churches, mosques, cars, gas stations, business premises, and worst of all, human ashes. Many people were trapped and could not get to food and water.
We are now left with the question: Why such disregard for the value of human life in Nigeria? Christians claim to serve a God who asks, "Do I take any pleasure in the death of the wicked? … Rather, am I not pleased when they turn from their ways and live?" (Ezek. 18:23).
We also serve a Savior who says, "Blessed are the peacemakers, for they will be called sons of God" (Matt. 5:9). You need to "Rid yourselves of all the offenses you have committed, and get a new heart and new spirit," says the Lord (Ezek. 18:31).
Why cannot Christian and Muslim youths control their anger? These questions led us at JETS to think of a better way of responding to the political violence that engulfed our city on Friday morning.
Our community responded by praying for peace for the city of Jos and its environs. Usually our chapel time ends on Thursdays. But because of what happened, we had two chapel prayer sessions on Friday, at noon and at 5 p.m.
In the first session, we prayed for God's deliverance of the vulnerable: children, women, and innocent travelers. We also prayed for the protection of both the Christian and non-Christian communities. We prayed that God would give the governor and his council the wisdom to handle the situation so that the killings and burnings would abate. We also prayed that God will forgive the youth of our churches for taking vengeance into their hands.
As soon as we finished praying, God answered. The governor of Plateau State, Jonah David Jang, imposed a dusk-to-dawn curfew.
Yet we woke up Saturday morning only to be greeted with another morning of gunshots.
One of our neighbors told me that in the night while people were sleeping, Muslim youth went on a rampage and burned several churches. God protected our seminary. From my study, I could hear the Muslim youth singing war tunes in a nearby neighborhood.
The second thing that happened to us Saturday was that seven of our students were arrested by soldiers who stormed one of our hostels in search of perpetrators. Provost Bulus Galadima and I went to the hostel and prayed with the wives of those arrested. Two of the arrested students were newlyweds. In the midst of the tension, God granted us favor before the soldiers, and we were able to find the students and get them released from the soldiers' custody.
I heard that Muslims planned on attacking our seminary community on Saturday night, but God thwarted their plans by using the governor to extend the curfew to all hours. God answered our prayers.
As of Monday morning, the situation was still tense. The main roads and intersections that used to be crowded were deserted. People are still trapped and missing. Our hospitals are filled with the wounded, and our mortuaries are filled with corpses of those killed in the crisis. Our homes are filled with those who are bereaved of their beloved ones.
On Sunday, during the worship service, we were told of how Muslims murdered one of our pastors — the only son of his parents — as well as one of our elders. One of my relatives was also killed on Friday.
Peace eludes us. Yet the quest for peace, justice, and love continues. Without peace, nothing moves. In Nigeria, as in many other societies, it is believed that peace is the priority, the sine qua non for all other activities in society.
We must go back and meditate on the words of the song: "Whoever you are, give peace a chance to reign." And on the words of the anonymous singer: "Oh my Lord, you sent your Son to save us; so that sin will not enslave us: and so that love once more may reign." Anger and hate enslave but forgiveness and love set free!
I pray that those who escaped the crisis will not behave like the people John describe in Revelation 9:20–21:
The rest of mankind that were not killed by these plagues still did not repent of the work of their hands; they did not stop worshiping demons, and idols of gold, silver, bronze, stone and wood — idols that cannot see or hear or walk. Nor did they repent of their murders, their magic arts, their sexual immorality or their thefts.
The solution to violence in Nigeria must include political activity, religious education, community action, church action, and personal witness that embrace justice, love, forgiveness, and peace in all their truth. It must come with the realization that, in the words of Thomas A. Shannon, "Peace is a gift to be shared with other individuals as well as with the community."
On an encouraging note, a Muslim woman with her nursing baby traveled into Jos on Saturday without knowing what was going on. She got trapped in the crisis and had to run to JETS for safety. She was taken to the provost.
On Sunday, he brought her to our church to worship with us. That Sunday morning, we could not hold a normal Sunday service. So when she was asked to stand in the midst of Christians, she was emotionally and psychological disoriented. If she had fallen into the hands of the wrong group, she and her child would have been murdered and burned to ashes. Perhaps that was why I saw her shedding tears.
I thanked God that our students at JETS have started putting into practice what we are teaching them. She was stranded both physically and financially. We assured her that it would be well with her.
Although the pastor had said that he did not think it was wise to ask for an offering that Sunday, because of the need to send this woman back to her family and the needs of other refugees, we took an offering.
This was my moment of joy: to see the church protecting the life of this Muslim woman and her child. This gives me great hope for reconciliation and peace in Nigeria. I pray that such love will bring her to a life-changing encounter with Jesus Christ.
Sunday Agang is a John Stott Ministries-Langham scholar and a professor at ECWA Theological Seminary, Jos.
Related Elsewhere:
The Associated Press, The New York Times, and others reported on the violence in Jos.
Jos suffered similar violence in 2004 and 2001, with thousands of casualties.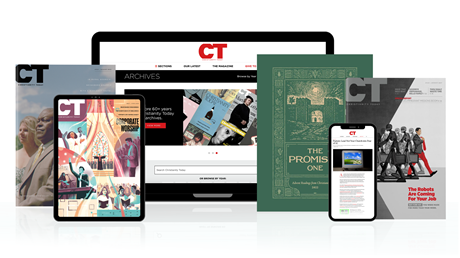 Annual & Monthly subscriptions available.
Print & Digital Issues of CT magazine
Complete access to every article on ChristianityToday.com
Unlimited access to 65+ years of CT's online archives
Member-only special issues
Subscribe
Violence Smothers Jos in Smoke
Violence Smothers Jos in Smoke