IONIA, Mich. — Dressed in blue-and-orange prison suits and tennis shoes, the men came forward for Holy Communion singing an old spiritual.
"Hallelujah, we're going to see the king," they sang in deep baritone voices. "Soon and very soon, we are going to see the king."
The Rev. Richard Rienstra gave each a small wafer, saying, "The body of Christ, broken for you." The Rev. Carol Muller offered cups of grape juice: "The blood of Christ, shed for your sins."
The inmates smiled at each other, shook hands. They began clapping in time, and their voices grew stronger.
"No more crying there, we are going to see the king. No more dying there, we are going to see the king."
For two hours, in a cinder-block classroom, two dozen inmates found faith within the razor wire.
For Dave Payne, who is serving a life sentence for murder, this new congregation is making a real difference at the 1,800-inmate Ionia Bellamy Creek Correctional Facility.
"When there's a strong Christian presence, it changes the very atmosphere of the prison," said Payne, 38, a slender inmate from Kalamazoo. "It has a very transformative effect. We've already begun to experience some positive fellowship."
That is one of the aims of the first prison congregation in Michigan, recently launched as Celebration Fellowship.
An official emerging congregation of the Christian Reformed Church (CRC), in partnership with the Reformed Church in America (RCA), the church held its first service in November. Inmates help plan worship, assist in the service and, in time, will be elected elders and deacons. They are supported by three dozen pastors and volunteers from several churches.
The congregation is different from the other religious services and worship gatherings offered at the prison. Celebration Fellowship gives inmates the opportunity to form and nurture a community of believers, said Rienstra, pastor and developer of the prison church.
"We say, 'You are now an organized church within our denomination. You have a responsibility to grow and develop your own disciples here, and we'll help you do that,''' said Rienstra, an RCA minister. "'We're not just going to come in once a week, provide religious services and leave. This church is yours.'''
Inmates will be expected to adopt a mission statement and form support programs for fellow prisoners. Those released back into communities will be paired with mentors to help them make the adjustment.
State officials approved the church as a pilot program of its Michigan Prisoner Re-entry Initiative to help ex-offenders move back into civilian life, said the Rev. Michael Martin, head of chaplains for the Michigan Department of Corrections.
"The MDOC's primary interest was basically filling a void that they viewed as essential for the successful re-integration of prisoners paroling back into the communities," Martin said. "The prison congregation with the mentoring component offers a wonderful opportunity for that bond of a shared faith to continue outside the walls of the prison.
"I think it has the potential to do some great things."
Eric Jewell says he has experienced great things since the church started. The Muskegon inmate finds strength in the weekly Monday night services with outside church volunteers.
"They treat us like human beings," said Jewell, 41, with a broad smile. "You can feel the sincere love they have for us."
Rich Eppinga, a member of a local church who attended a recent service, said he's impressed by the sincerity of the "residents."
"There's some real true Christianity, and guys who are witnessing for Christ regardless of where they are," said Eppinga, 81, who helps lead a 12-step recovery program at the prison. "The scriptural knowledge of some of these guys is mind-boggling."
Eppinga is one of the volunteers that organizers hope will maintain relationships with inmates after they leave prison. But even those who never leave will benefit from a church within the walls, organizers say.
Jim Tuinstra sits on the national board of Prison Congregations of America, based in Sioux Falls, S.D. At a prison church council meeting there, a man with a life sentence told him how church volunteers used to come each week inviting them to accept Jesus.
"The guy says to me, 'I do believe in Jesus Christ,'" Tuinstra recalled. "'I'll spend the rest of my life in prison. How can I live a redeemed life in prison?' "
Prison congregations help inmates do that and improve their behavior, Tuinstra said. About 14 prison churches operate in 10 states, including Cornerstone Prison Church in Worthing, S.D., another CRC congregation.
Tuinstra, Rienstra and others visited that congregation in 2006, and returned resolved to start one in Michigan. They formed a team of CRC and RCA faith leaders that lay the groundwork for a prison, approved in October by a state prison chaplains advisory council.
The project was fueled in part by Richard and Carol Rienstra's son, Troy, who is serving a life sentence for attempted murder and armed robbery. His conversion behind bars led him to form Christians for Prisoners-Prisoners for Christ, a ministry supported by Church of the Servant CRC of Grand Rapids, which also called Rienstra as pastor of Celebration Fellowship.
Troy's dedication to prison ministry stoked "fire in the belly" for the Ionia congregation, the elder Rienstra said.
"The more we became acquainted with the prison system, the more we were aware of the fact there may not be an opportunity to develop the gifts (inmates) have in Christ under normal circumstances," Rienstra said. "They had to have the support of a church itself within the prison congregation."
Charles Honey writes for The Grand Rapids Press in Grand Rapids, Mich., where a version of this article first appeared.
Related Elsewhere:
Christianity Today has more articles on missions & ministry.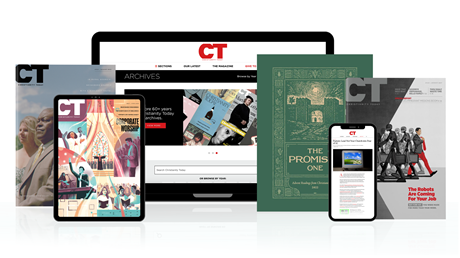 Annual & Monthly subscriptions available.
Print & Digital Issues of CT magazine
Complete access to every article on ChristianityToday.com
Unlimited access to 65+ years of CT's online archives
Member-only special issues
Subscribe
At Prison Church, Inmates Find Faith Behind the Razor Wire
At Prison Church, Inmates Find Faith Behind the Razor Wire