true
Philip Anschutz may be the biggest Hollywood mover and shaker you've never heard of. The two adjectives that typically precede his name in news stories—"Christian" and "billionaire"—are the very reasons he can do all that moving and shaking.
Almost a decade ago, the Christian part motivated Anschutz to quit cursing the darkness of mainstream movies and do something about it instead. And the billionaire part, of course, prompted Tinseltown's execs to sit up and listen.
His efforts seem to be working. Anschutz, 69, now owns two production companies—the family-friendly Walden Media and the more broadly focused Bristol Bay Productions. The companies' creative teams have brought us such films as Amazing Grace, Charlotte's Web, Bridge to Terabithia, Ray, and, most prominently, The Lion, The Witch, and The Wardrobe, the first of seven planned movies based on C. S. Lewis's beloved Chronicles of Narnia. The second Narnia film, Prince Caspian, is due this month. Bristol Bay is also adapting The Screwtape Letters for the big screen, likely due in 2009.
Such cinematic bounty is a result not just of Anschutz's deep pockets: he's also a lifelong film buff committed to bringing more wholesome options to the local multiplex.
Joining the Hellfighters
Anschutz's first brush with Hollywood was a literal trial by fire. It was 1967. Anschutz, then in his mid-20s, had recently taken over the family's once-lucrative oil-drilling business after his father had fallen ill.
After coming up empty for a while, Anschutz finally struck black gold in Wyoming and immediately bought the surrounding oil leases on credit. Things looked good. For one day.
The next day, a spark started a fire, and the entire oil field went up in flames. Facing bankruptcy, Anschutz had to do something in a hurry. While he watched the blazing fields, an outside-the-box idea—one of many he's had in his career—came to him: Call Universal Studios and get a film crew out here.
Anschutz had heard that Universal was filming Hellfighters, a John Wayne movie about Paul "Red" Adair, the famed American oil-field firefighter. Computerized special effects were still a thing of the distant future, so the studio needed some footage of a real oil field ablaze.
Anschutz cut a deal, and Universal cut him a check—for $100,000—to film his burning fields. With that money, Anschutz then hired the real Adair to extinguish the flames. Anschutz ended up making a huge profit off of those fields, and went on to make a fortune in oil.
He sold most of his oil fields in 1982 to Mobil for $500 million and started buying railroad companies, including the Denver and Rio Grande Western in 1984 and Southern Pacific four years later. In the 1990s, he capitalized on his railroad holdings by laying fiber-optic cables along all of those rail lines—a brilliant and forward-thinking move, long before the Internet swept the globe. He bought Qwest Communications at about the same time, and when he took the company public in 1997, he turned his original $55 million investment into a staggering $4.9 billion.
Today, according to Forbes, Anschutz is America's 41st richest man, with a net worth of $7.6 billion.
Fortune noted admiringly that Anschutz struck it rich in a "fundamentally different way … [operating] across an astounding array of industries, mastering and reshaping entire economic landscapes."
With that kind of money, Anschutz is now doing some serious drilling into what he has long seen as the decadence of Hollywood.
'Abnormally Normal'
Anschutz hasn't granted an interview for a feature story in more than 30 years. When I asked one of his assistants about the chances of talking to him, the assistant cracked up. When I asked what he could tell us about his boss, he replied, only half-jokingly, "I want to keep my job!"
Anschutz lives with his wife, Nancy, on a large ranch near Greeley, Colorado. According to various reports, he drives a used Lexus, and buys his coffee at a 7-11 and hot dogs from a corner vendor. An avid athlete, he has completed several marathons.
A 1999 Fortune magazine profile, "Billionaire Next Door," noted that one of the most interesting things about Anschutz "is not that he's worth well over $10 billion [his worth at that time]. It's that he's a genuinely nice guy worth more than $10 billion. He didn't make his money by being a nasty, grasping, miserly bastard. Once he got rich, he didn't turn into a twisted, weirdo billionaire like Howard Hughes. … As billionaires go, Anschutz is abnormally normal."
Anschutz and his wife, both Presbyterians, attend a local church and support various local charities, including Step 13, a Denver home for alcoholic men.
One longtime friend says Anschutz's faith informs everything he does.
"His set of values and beliefs permeates his life," said Jim Monaghan, a spokesman who has worked with Anschutz for 24 years. "He is a composite of religious values, ethics, and morals, but he doesn't wear it on his sleeve. He walks the talk."
Monaghan wouldn't say much more about Anschutz: "My job is to keep people from writing articles about him at all. He just doesn't want the publicity."
Phil and Nancy are involved with the Anschutz Family Foundation in Denver, run by Phil's sister, Sue Anschutz-Rodgers. The $54 million foundation helps poor children and families in the community. Anschutz is also known for his steady financial support of Republican candidates over the years, including his longtime friend and fellow Kansas native Bob Dole, and President Bush. According to Newsmeat.com's campaign-finance database, Anschutz has donated $269,165 to Republicans (and $22,750 to Democrats) since 1979.
Several companies in the Anschutz empire have made news for questionable dealings, if not outright scandal. In 2007, former Qwest chief executive Joe Nacchio was convicted for insider trading for illegally selling $52 million in company stock in 2001. But a U.S. appeals court recently overturned the conviction and ordered a new trial in front of a different judge. The appeals court slammed the original judge for excluding testimony by an expert witness upon whom the defense based much of its case. Nacchio also faces a Securities and Exchange Commission lawsuit that alleges he and six other Qwest officials took part in a $3 billion accounting fraud.
In another case, Qwest was fined $25.9 million by the Minnesota Public Utilities Commission in 2003 for allegedly violating competition laws, but the penalty was overturned in July 2007 by the Minnesota Court of Appeals in a unanimous decision.
More recently, the Anschutz Entertainment Group (AEG), which owns several sports teams and arenas, was in the news when one of its properties, London's The O2 (formerly the Millennium Dome), was involved in a bid for a super-casino. London's Greenwich borough was one of eight British municipalities bidding for the facility, which would have been built on O2 property, but lost out to Manchester in early 2007. (Manchester city officials later voted to not have the casino, so none will be built at all.) In 2005, Anschutz made U.K. headlines after hosting and reportedly giving gifts to then–British Deputy Prime Minister John Prescott at his Colorado ranch. Britain's Parliament and Scotland Yard investigated a potential conflict of interest, but both probes were later dropped.
Monaghan, Anschutz's spokesman, says AEG was "supportive" of Greenwich's bid for the casino at The O2, but says, "Phil himself would not have owned or operated a casino." Monaghan said the casino property would have been leased from AEG, and the casino itself would have been run by Kerzner International, which develops and operates resorts, hotels, and casinos around the world.
'Where Good Men Die Like Dogs'
Despite those questionable incidents, there's no question about Anschutz's commitment to redeeming Hollywood. In a 2004 speech at Hillsdale College, he said movies "have an enormous effect on our culture and an even larger effect on younger Americans."
Anschutz lamented the inordinate number of R-rated movies coming out of Hollywood, and noted that none of history's top 20 moneymaking films were rated R. (That's no longer true. Within months of his speech, The Passion of The Christ became the sole exception, at least in the U.S.)
"Don't these figures make you wonder what's wrong with Hollywood from a business point of view?" Anschutz asked his listeners.
His attitude about Hollywood may be best captured by quotes from the late gonzo journalist Hunter S. Thompson that hang on Anschutz's office wall. Of the movie biz, Thompson wrote: "[It's] a cruel and shallow money trench, a long plastic hallway where thieves and pimps run free, and good men die like dogs. There is also a negative side."
In his Hillsdale speech, Anschutz said, "Four or five years ago, I decided to stop cursing the darkness—I had been complaining about movies and their content for years—and instead to do something about it by getting into the film business."
Anschutz did just that in 2000, when he and Howard Baldwin formed Crusader Entertainment; one of their first movies, Joshua, released under the (now defunct) imprint Epiphany Films. Crusader disbanded in 2004, and Anschutz soon formed Bristol Bay (which would later release two productions that had been in Crusader's plans, Ray and Sahara).
In 2001, Anschutz helped finance the fledgling Walden Media, a start-up film production company that he later purchased outright. Walden and Bristol Bay are now both part of the Anschutz Film Group.
While Walden focuses on family films, Bristol Bay makes movies geared to adults (with a mandate of no R-rated films). Neither Walden nor Bristol is considered a "Christian" company, or has a mission to make "Christian" or even "spiritual" movies, but both labels include such fare anyway. Walden's Narnia films are filled with Christian metaphors, and several others—like Bridge to Terabithia and Because of Winn-Dixie—include Christian material. Bristol Bay includes such Christian-themed films as Amazing Grace and the upcoming Screwtape Letters.
Walden's track record at the box office has been up and down. But The Lion, The Witch, and The Wardrobe more than made up for any missteps, grossing a whopping $744.8 million worldwide, making it the 26th highest-earning film of all time. Add more than 12 million DVD sales (with a retail price of $29 each), and it's well over a billion-dollar franchise already—and that doesn't include millions in revenue from sales of related merchandise.
For Bristol Bay, the limited-release Amazing Grace—one of 2007's better films—only earned $31 million worldwide, but Sahara ($119 million) and Ray ($124 million) fared quite well. Ray was also nominated for Best Picture, and Jamie Foxx won an Oscar for his lead role in it.
If Bristol Bay or Walden ever have trouble finding a distributor or theaters for a film, Anschutz has that end of the market covered as well. He's the largest shareholder of Regal Entertainment Group, the biggest theater chain in the U.S. with 6,400 screens. (While Anschutz doesn't allow his company to make R-rated films, Regal does allow them to be shown in its theaters.)
Mandate to Produce Good Films
Seemingly overnight, Walden Media has found itself as an influential player working with big boys such as Fox, Paramount, and Disney. (Indeed, most of Walden's films are now distributed theatrically through Fox; the Narnia films are distributed through Disney.)
Robert Johnston, author of Reel Spirituality and professor at Fuller Seminary, says Walden appeals to Christians because they are "making movies that children and their parents can enjoy together." Those goals remain the same, even as some Walden films (Around the World in 80 Days, Hoot, How to Eat Fried Worms) have bombed at the box office.
Entertainment Weekly writer Jeff Jensen has observed Walden's growth, and says they're doing it right.
"It's a smart business plan," Jensen says. "The whole world of children's lit is filled with properties that Hollywood has not exploited, because for a long time, it wasn't 'cool' to go after those properties. But Walden has done a great job of proving that you don't have to be Disney to make movies for families."
Douglas Gresham, C. S. Lewis's stepson, who manages much of the Lewis estate, says he decided to sell the film rights to the Narnia franchise to Walden because he liked their vision—and Anschutz.
"The main reason I went with Walden," he told CT Movies in 2005, "is because of their mandate to produce good, entertaining movies that also educate, not merely in factual matters, but in matters of ethics and values and morality.
"But the clincher for me was meeting Phil Anschutz, and growing to respect him enormously and spending time in prayer with him. Walden Media has exactly the right idea what we should be using cinema for." Which is exactly what Anschutz wanted.
Mark Moring is the editor of CT Movies.
Have something to add about this? See something we missed? Share your feedback here.
Our digital archives are a work in progress. Let us know if corrections need to be made.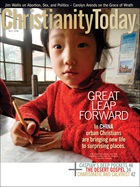 This article is from the May 2008 issue.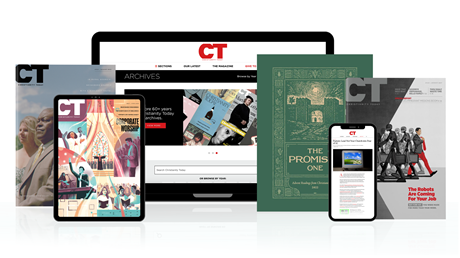 Subscribe to Christianity Today and get access to this article plus 65+ years of archives.
Home delivery of CT magazine
Complete access to articles on ChristianityToday.com
Over 120 years of magazine archives plus full access to all of CT's online archives
Subscribe Now
Hollywood Hellfighter
Hollywood Hellfighter