true
From your experience, is it frowned upon to sing Christian songs on American Idol?
Mandisa When I sang Mary Mary's "Shackles," the producers were not really happy about it. But it's not like I had to convince them. If the song gets cleared [legally through publishing], then you can technically sing whatever you want to.
Phil Stacey The producers want us to be who we are. There have been Christians on the show for a long time. I think that Bo Bice laid a lot of groundwork with the producers [during Season 4], just in the fact that he was a good Christian on the show. He would be there and read his Bible any time they were sitting idly during rehearsals. Carrie Underwood was also a great example of a Christian that same year. Then Mandisa comes along the following year and she's very evangelical with her approach, publicly saying, "I'm here to share the love of Jesus Christ." The following season it's me, Chris, Melinda, Jordin, LaKisha, and others coming out and saying we're Christians too, singing songs to glorify Jesus Christ. We were encouraged to do what we want to do, so it's apparently become less frowned upon [the last couple years].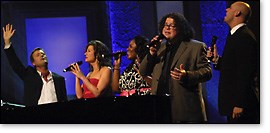 There really is a contrast between the flak Mandisa caught for singing "Shackles" and two years later when contestants are singing "Shout to the Lord" and Dolly Parton songs explicitly referencing Jesus.
Mandisa Dolly Parton Week was like Jesus Week on American Idol! Things really have changed a lot in two years. We never would have gotten away with singing "Shout to the Lord" in my season. I think that the more people that have come on and talked about their faith, the more it's broken down barriers.
So you believe there must be some sort of change of heart among the producers?
Mandisa I will say this. Simon Lythgoe, the son of executive producer Nigel Lythgoe, was also a producer on American Idol when I was there. He's since had a radical conversion and come to know the Lord. So I would not be surprised at all if some of it has rubbed off on [his father].
Chris Sligh [After singing Mute Math and dc Talk] when I was on, I was told by Nigel to stop singing "that Christian music crap." Now they're singing "Shout to the Lord" on Idol Gives Back one year later? Obviously something's changed.
Making it to the finals on American Idol must have done wonders for your self-esteem. Did you leave the show with any life lessons?
Mandisa I'm a transformed woman after American Idol. I went to Hollywood thinking it was a world enthralled with beauty. Since I'm not your typical size-two-blonde-with-blue-eyes, I went in pretty down on myself, feeling like I couldn't possibly make it any further. Then I realized that I didn't have to look like that. I really started to look into the Word, which told me that beauty didn't come from my outward appearance, but from my inner self. I love that 1 Peter says that it comes from a gentle and quiet spirit, which is of great worth in God's sight, and comes from cultivating a relationship with him. My time on American Idol taught me that lesson, and I don't know if I would've learned it if I hadn't been on it.
Sligh I've always been a pretty confident guy, but sometimes I can be overconfident and cocky. I think that was something that God had to challenge me on. At the beginning of my season, I was an early favorite to win according to producers and the media—in my mind, there was no reason in the world why I wouldn't make the Top 5. I went in buying my own hype for a while.
Then I remember Phil [Stacey] confronting me at some point, saying, "Dude, you're kind of turning into a jerk. I love you man, but you need to get your head out of the sand." And that was before the Top 24 even started. So I started wondering, "Do I want to be the kind of guy everybody talks about as being a jerk? Or do I want to be the guy that people remember for being a great friend with the production staff and other contestants?" It was this big paradigm shift for me. I wasn't a jerk for very long, but I'd say that it was a good couple of weeks that my head kind of grew. And I already have a big head, anyway … with lots of hair, so it was not pretty at all. I really thank Phil for confronting me that way.
Mandisa I got a little like that too. I'll never forget the articles saying that it would be me and Chris Daughtry in the Top 2. Then my ninth place finish happened, and I'm so very thankful for it, mostly for humility's sake. I needed to experience that. I do not want to get inflated and full of myself. God has called me to exalt him and I dare not ever touch his glory. I feel like that's a lesson that I learned that I'll take with me for the rest of my life.
I'll never forget the day that I was eliminated. We gathered as we always do, and Elliot [Yamin] goes, "Mandisa, we're going to pray, right?" I usually led in prayer, but instead I said, "OK, you wanna pray for us?" He was a little scared to do it, but we gathered around and he led us in prayer. Less than 30 minutes later, we were standing on the stage in the Bottom 3 together. And I'll never forget holding his hand as Ryan [Seacrest] was getting ready to announce who was going to get eliminated. I was thinking to myself, "Aw, it was really great that Elliot got to say the prayer right before being eliminated." And that's when my name was announced.
I know now that my time on the show was not about me winning a title. It was to show the light of the Lord. Yeah, I would've loved to have gone further, but I look back now and I know that it happened for a reason. The flak that I got from singing "Shackles" was horrible when I went through it, but I [now] feel it was all for a purpose.
Sligh To follow that up, I had never been in the Bottom 3 until the week that I went home at tenth place, but Phil had been in the Bottom 3 most every week [yet made it to the Top 6]. Now I look at that for Phil's sake, realizing that nobody had pegged Phil as a country artist until Top 7 week. If I had not gone home when I did, Phil probably would've gone home instead, and he wouldn't have had the opportunity for a country music career that he has now. I went home tenth and God was good enough to let me. So I've learned that God's timing is way better than my timing. I would've loved to have stayed longer, and to be honest, when I went home, I thought nothing would come of it. But the very next morning, I had phone calls and e-mails from 11 record labels. God's way is better.
Stacey I'm also glad I got eliminated when I did because it was just enough to get me a recording contract that allows me to do exactly what I want to do. My idea is not to just minister to a Christian audience. My goal is to reach people who don't dial in to a Christian station or go to church on a Sunday morning, sharing the message of Jesus Christ with them.
So Phil, your hope was always to make music that reaches non-believers as well as Christians?
Stacey More than anything I want to touch people where they are. I want people who are going through a hard time to hear songs like "What I'm Fighting For" and "'Round Here," showing that sometimes we experience hard times to get where we need to be. I want people that have a friend going through a terrible time to hear "No Way Around a River" to encourage them to stand next to that person. I want the guy who's considering leaving his wife or having an affair to listen to "If You Didn't Love Me" and rethink what impact that would have on his life. I want to make a big impact on people—for those looking for answers to find the answer is Jesus Christ.
Having signed with Disney's Lyric Street Records, a secular label, do you feel you had the freedom to successfully convey that message through your debut album?
Stacey I think that my label is very great about letting me say exactly what I want to say. After I told them what I wanted to say, they helped me find the right songs, so I've been very blessed by that. Most of the songs on this record are very biblical-based—a couple of them are very overt. We would've done just "gray-area stuff," but we wanted to let people know exactly what we're singing about.
These songs take stories out of my life, relating to my upbringing as a pastor's son—things that my dad would preach to me, or things that my mom would teach to me in Sunday school, or just things I'd learn alone in my devotionals. At the end of the day, I'm pleased with the message that we're sending out. Had I won American Idol, I don't know. We would've rushed the record even more and I'm not sure it would have turned out the same way. It's been perfect.
Mandisa, you fielded offers from several record labels. Was it always your heart's desire to record Christian music?


Mandisa No, actually, when I grew up, I wanted to be Whitney Houston. I would lock myself in the bathroom and I'd use my curling iron as my microphone and put on my Whitney CDs. After American Idol, I received several different offers for lots of different types of music. And I remembered Randy Jackson giving advice in an interview: "Do the music that comes most naturally for you." When he said that, I had an "Aha!" moment, because the music that comes most naturally for me is about the Lord. I grew up on Whitney, Chaka Khan, and Aretha Franklin, but the great thing is I can use those styles with lyrics that exalt Jesus. Once I made that decision, it was really easy to make the other ones.
Chris, you seemed like someone who might have gone either way with his music—seeker-friendly or CCM-friendly.
Sligh I was somewhere between the Mute Math kind of thing and more straight-up CCM.
Some of that was a little strategic, if I'm being honest, but I ultimately wanted to go to the church. If I had signed with Universal or another [secular] label, I probably would have been vaguer with the lyrics. But instead, I felt that God was calling me specifically to the church.
What led you to go the Christian music route?
Sligh I don't know how to explain it, except to say that I really felt like I was supposed to. I walked away from a lot of money—one label in particular put a lot of money on the table, but they didn't want me to talk anything about my faith. I could've probably written some good songs that satisfied that. But as a songwriter, I want to write about life, and a huge part of my life is the fact that I'm a believer. I want to write about stuff that I feel called to do.
On the other side, there were major Christian labels that told me, "We don't really want any vague stuff or love songs—just Christian radio singles." Well, I don't want to do that either [since there are other parts to my life I want to write about]. It was like being stuck between a rock and a hard place.
That's what's great about being with Brash Music [home to Aaron Shust]. They're very freeing about whatever you want to do. I was talking to [label president Steve Jones] the other day that I'm thinking about mixing it up for my next record—some Christian radio singles with some really ethereal lyrics—and he's like, "Perfect, whatever you want to do." I was lucky enough to sign with a label that allowed me to make the record I wanted to make. Obviously you want to have accountability around you telling you what stinks and what works. But I think I got to make the album that I wanted to make.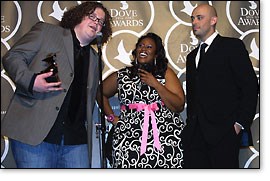 There's a sense that you Idol contestants keep in touch and get together after it's all over, even if you're not from the same season.
Mandisa I'm just meeting some of these guys, even though I know all about them as a fan of the show. But there's a sort of camaraderie among American Idol finalists in general, especially among believers.
Like a fraternity of Christians within the alumni association of finalists.
Mandisa Exactly! That's exactly how I would put it.
Sligh: We're in a place where only 70 people have ever been [so far]—the Top 10 of American Idol—out of how many millions that have auditioned after 7 seasons? To be a part of that is just awesome, and it's a special time to share that experience with others over the course of a year without a break. And then when you add that fraternity of believers to the mix … well, that's why Phil has quickly become one of my best friends in the world.
But it's just one of those things that you share even with the nonbelievers. Gina Glocksen was one of those people that I was really good friends with last year. She is not a believer by any stretch of the imagination, but she'll call me up and say, "We're going through a problem, would you pray for me?" And I'm like, "Sure, I'd love to." It's just one of those little seeds we plant with others. Sometimes we as Christians feel like we have to be the ones who save someone, but it just comes down to being in the place where God leads us. I want to be there to give as many seeds as I can and form those relationships. That's relational evangelism, and hopefully someday we'll reap big rewards for it.
Stacey: I know that everything that's happening to me right now is not about me. We've all learned that it's not about bringing glory to Phil or Chris or Mandisa [or whomever]. It's about what's being done through us.
In the last year, Mandisa has released her debut project True Beauty as well as her Christmas Joy EP; she currently plans to release her second full-length in early 2009. Phil Stacey's self-titled debut is newly available in both Christian and country markets. Chris Sligh's solo debutRunning Back to You is also available in stores, following up his previous project with his band Half Past Forever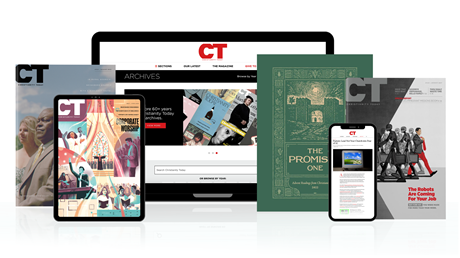 Annual & Monthly subscriptions available.
Print & Digital Issues of CT magazine
Complete access to every article on ChristianityToday.com
Unlimited access to 65+ years of CT's online archives
Member-only special issues
Subscribe
Behind the Idols (part two)
Behind the Idols (part two)