The bad news first: As of July 15, 2008, the national average for a gallon of unleaded gasoline was $4.11. One year ago, it was $3.05. In 1998, most drivers could fill up their tanks for about 20 bucks at $1.03 a gallon ($1.27 accounting for inflation). The Wall Street Journal recently quoted analysts saying that an oil barrel could cost $200, or $6 a gallon, by year's end.
When gas prices passed the $4-gallon mark this June, some threshold was crossed in our country's collective psyche. For many, it was the threshold between normal annoyance and genuine concern. For others, it was the threshold between minor tweaks to the monthly budget and its complete overhaul.
Then there's the good news: Crossing that threshold saw many Americans stop talking about what they would do should gas prices become unbearable, and take practical steps to lessen their reliance on it.
Those steps are bearing measurable results. The nation's public transportation group reported that 2007 saw the highest ridership of public transit in 50 years. In May, sales for Vespa scooters increased by 106 percent from May of last year; Ford SUV sales dropped 55 percent this June. Bike-shop owners report an increase in bikes being brought out of dusty retirement and in for repairs. The corporate world is catching on: one Chicago-based consultancy found in May that 57 percent of HR execs are doing something (four-day workweeks, carpooling, telecommuting) to trim employees' travel costs.
These changes in how Americans get around should, for the time being, make us smile. And they are ones that many Christians are likewise making — not only for fiscal cuts (or the fact that green is the new black even in the church), but also from the leadership of prominent evangelicals continuing to belt out, "This Is My Father's World." Though our mobile makeovers are short-term antidotes to a much bigger problem and will bring infrastructural problems of their own, we can be grateful for the environmental, international, and health benefits of our reduced dependence on gas.
With the $4-gallon spike may also come a more subtle benefit. We get a new chance to consider what assumptions about the good life are influencing our daily decision-making. We may find that the reasons for when we drive and how long and to where have been left misshapen by a skewed, thoroughly Western vision of the good life, one that touts convenience and the individual's freedom to choose as pathways to fulfillment and security. As we think of ways to cut back on gas, we may, in tandem, find ways to cut out excess and me-first decisions that keep us from living into the rich life Christ offers.
More than an opportunity for simpler living (which can easily degenerate into legalism, as we strive to impress God with our thrift), the gas shortage and the energy crisis it marks remind us that it's a gift to be so mobile in the first place. We realize afresh the wonder of being able to board a plane and reunite with family and friends in an afternoon's time. Or to attend the church where our gifts can be shared and our children nurtured, even if it means a 45-minute drive. Or to have a car to get to work. None of these things can be claimed as outgrowths of our natural rights, but only as good things we should seek to steward with wisdom and humility.
A trip to the gas station is normally marked by incredulity and worry as we watch the price display reach unprecedented highs. A counter to this admittedly unpleasant task may come in the form of prayer — not for cheaper gas, necessarily, but one of thanks for our own creaturely limits, which drive us even more to turn to our limitless God, who "knows what you need before you can ask."
Related Elsewhere:
Churches across the country are finding creative ways to cope with rising gas prices.
The Associated Press writes about one man who led a string of prayer vigils at pumps nationwide. The AP also reports that some churches are giving gas cards to boost church attendance.
TheOregonianwrites that one church in Oregon donated part of the members' tax returns for community service, combining $1,500 to shave 20 cents off each gallon.
Have something to add about this? See something we missed? Share your feedback here.
Our digital archives are a work in progress. Let us know if corrections need to be made.
This article is from the September 2008 issue.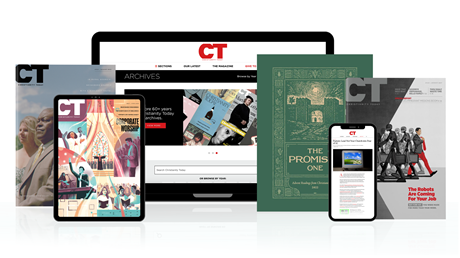 Subscribe to Christianity Today and get access to this article plus 65+ years of archives.
Home delivery of CT magazine
Complete access to articles on ChristianityToday.com
Over 120 years of magazine archives plus full access to all of CT's online archives
Subscribe Now
Prayer at the Pump
Prayer at the Pump