Several years ago, Joanna and John Quintrell were vacationing on northern California's Mendocino Coast over Valentine's Day weekend when God interrupted early one morning with a decidedly unromantic message.
John was reading on the couch while Joanna huddled by the fire for personal devotions. She was reading the Good Samaritan story, which led her to muse about people who had been figuratively beat up and robbed in life.
"I had a strong sense of the presence of God," she says, "and a message from him: 'Take out a piece of paper. I want to tell you something new.'" Quintrell found herself filling up a sheet of paper as though by dictation. "I had never had anything like that happen. I knew it wasn't coming from me."
At the time, Quintrell served as executive pastor of Redwood Covenant Church in Santa Rosa, California. The words that filled the sheet of paper before her added up to something quite different from anything her church was doing:
Journey Center: Christ-centered spirituality, healing, and wholeness.
"I wish I could say that my response was, 'Speak Lord, for your servant heareth.'" What Quintrell actually said was, "Oh no!" loudly enough that her husband jumped up looking for a spider to squash.
"I'm sorry, John. Go back to your book. It was just God."
Time To Find A Guru?
Redwood Covenant, part of the Evangelical Covenant Church denomination, has a mission to reach "sincere seekers and disenchanted disciples." It deliberately attracts bruised and wounded souls who find participating in church difficult. Quintrell's vision, though, was for the "spiritually thirsty of Sonoma County."
Troubled by the message, Quintrell had John read what was written. "This sounds like people in the New Age movement," she said. "I don't know anybody like this. My whole life is inside the church. What should I do? Climb a mountain and find a guru?"
Sonoma County, in the middle of wine country, has low church attendance and highly liberal politics, but its religious profile is less secular than alternative. Many are attracted to eclectic spirituality, what used to be called New Age spirituality.
In this city, Quintrell thought, there must be tens of thousands who have known Christ in some way, but disillusionment or woundedness has caused them to leave. These are Christ's lambs. They have been hurt, and nobody's tending to them.
Quintrell didn't know any of them, and couldn't imagine where to start. Then one day, as she was driving by the county fairgrounds, she saw a sign advertising an upcoming event. She said aloud, again, "Oh no!"
She knew about the Health and Harmony Fair, an annual gathering of some 20,000 alternative spirituality enthusiasts. It was the last place she wanted to go, but now she had a powerful sense that she had to.
Immediately upon entering the fair gates, she found a booth for the Psychic Institute, where people were channeling spirits. She felt uncomfortable, "creeped out," she says. Next she sat down to listen to Ram Dass, an internationally known teacher of Eastern religion. His workshop was crammed, and the attendees in front had their eyes closed and their hands raised in worship. "It was like another planet," Quintrell remembers.
Walking around the festival, she encountered the Eco Village and the Goddess Grove. She found a booth where an elaborate camera took pictures of passersby's auras. Palm readers and yoga enthusiasts abounded. One thing she noticed: Everybody was charging money.
She pictured a different kind of booth where everything was free—a place offering escape from the sun, a free drink of water, and healing prayer.
The next year, Redwood Covenant had such a booth. "We were scared to death," Quintrell says. "But we had the most profound, utterly exciting, fun experience. Lines of people stood waiting for prayer—Buddhists, hippies, everybody. About halfway into it, we looked at each other and said, 'This is more fun than church.'
"Every single person—every single person—was touched by the presence of God in some way. Some were crying. Some said, 'Wow, I felt something.' We were scared Christians, thinking it was going to be bizarre. But we found out that Jesus was already there. So many of those who came had Christian roots somewhere in their past."
Christ Is The Bridge
Quintrell's church embraced her ministry vision, retooling her position to director of spiritual formation. She launched a program called the Journey Center, as per what she felt were her instructions. The center offered classes in contemplative prayer, spiritual direction, and spiritual formation. It also engaged in outreach.
Though renting booths was expensive, the Journey Center returned to the Health and Harmony Fair repeatedly. For the past four years, staff have also hosted a booth at the Santa Rosa Wednesday Night Market, Sonoma County's largest farmers market. Up to 50 people ask for prayer each week. "They are people who don't have a faith community, who don't have someone saying, 'How can I pray for you?'" says Quintrell.
Volunteers are trained "to understand that this is mission work," she says. "We're learning about culture and language, things to avoid because they give the wrong idea or accidentally offend. If we use certain words, walls go up. If we learn their words, bridges go up."
Since some of the offensive words are Jesus, church, and Christianity, their work isn't easy or comfortable. Volunteers have learned that Christ carries positive connotations, for many are into "Christ consciousness."
"They mean something different," Quintrell says, "but Christ is a bridge word. So we usually pray in the name of Christ the healer." As Quintrell has read more about alternative spiritualities, she has been amazed to find all the words that were in her original vision: journey, Christ-centered, healing, wholeness. "From the beginning," she says, "God gave us a bridge."
A stronger bridge came in human form. While researching popular alternative spiritual directors, Quintrell contacted one named Ruah Bull, who sent a brochure about her practice. She offered techniques in chakra balancing and past-life regression.
Quintrell was repelled. Bull left another message, explaining that much of her work was with people wounded in church settings who had left the faith. Her words described precisely the people Quintrell had been called to reach. She made an appointment to meet Bull at a local coffee shop.
"I was nervous," Quintrell says. "I had all my friends praying for me, and some were worried and scared." Bull, too, had adverse feelings; raised Irish Catholic and absent from the church since her teens, she wanted nothing to do with evangelicals.
Something happened the moment they met. "As we walked up to each other, it was as if we had stepped under a waterfall of love. We grabbed each other and hugged. Then we sat for the next two or three hours, sharing our stories."
Bull's included radical feminism, goddess worship, Buddhist meditation, and Native American spiritual practices. As she explained to Quintrell, Jesus kept showing up unbidden. He had appeared in a group exercise in guided meditation. When Bull visualized a door, turned the handle, and stepped into the room where she was supposed to meet her higher self, Jesus was there.
She got mad, shouting, "What are you doing here?"
Later, during a Native American spiritual exercise, Bull had a vision of warriors dancing around a fire. She glimpsed one with a beard—an unusual feature among Native Americans. When she looked closer, she recognized Jesus.
"I didn't tell anybody about it," says Bull. "I was embarrassed. It was extremely uncool to be into Jesus." She didn't know many Christians, and certainly no one like Quintrell. "When I met Joanna, my stereotypes collapsed."
And so did Quintrell's. "I hadn't realized that my understanding of God was so limited. I didn't know he could show up in someone's Eastern meditation practice."
At the end of their first meeting, Bull threw her hands in the air. "God, I don't know what you are doing, but whatever it is, I say yes to it."
The two began meeting monthly. "The Holy Spirit was training me how to share my story in authentic ways that didn't have an agenda for the other person," Quintrell says. "It's not us versus them. It really is a journey, continuously unfolding, for me and for others."
Bull changed too. "Every month she was more open," until one day, at a meeting at Quintrell's church, she announced her decision: "Joanna, I have waited to be in your community to do this: I want to follow Jesus." Bull now calls herself a "contemplative Catholic."
She introduced Quintrell and the Journey Center to her extensive network of spiritual eclectics. She and Quintrell brainstormed about the kind of ministry that could reach others like her, those attracted to faith but allergic to Christianity.
The Puzzle Comes Together
Quintrell received an unexpected jolt when Redwood Covenant's senior pastor announced that he was cutting funding for the Journey Center and reassigning Quintrell from spiritual formation to newcomers ministries.
"The vision [of Redwood's leadership] died," Quintrell says. She and Bull continued what they had begun, but without time and funding, it languished. For two years Quintrell worked with newcomers and waited to see what God would do to reignite her vision.
As she pondered the future, "I began to understand that these people were never going to come to my church" without the Journey Center, which at one time hosted as many as 500 people in classes and activities. But most of those participants had come from within the church; few came from outside, and invitations were often rebuffed.
Quintrell and Bull talked and prayed about another approach. "Slowly, one piece at a time, the puzzle began to put itself together," Quintrell says.
They arrived at the idea of a center—a safe, hospitable place that was clearly Christ-centered but independent of any church. Bull compared it with a Buddhist meditation center nearby. "When you go there, you expect the people who run it to be Buddhists. They don't require you to be a Buddhist in order to attend, and they don't try to talk you into being a Buddhist. They just offer their resources."
Quintrell thought more about spiritual direction, which at its core, she says, "is about creating a space where people can encounter God. I can't manipulate things to make them have that experience. I can only create the space."
The result, in 2008, was a house converted into a true Journey Center. Located near Santa Rosa's downtown, it is a quiet space with gardens and fountains outside, and sofas, exposed beams, and hardwood flooring inside. "When people walk in they are often taken aback," Quintrell says. "They say, 'Oh, it's so peaceful.'"
They often ask whether it is a church. "When we tell them it isn't, you can see them relax."
A True Faith Mission
Quintrell has since resigned from her position at Redwood Covenant to direct the Journey Center. It is a true faith mission, running mostly on volunteer energy and scarce funds. Quintrell rarely gets paid.
The center offers art exhibitions, classes and small groups, spiritual direction, prayer and meditation gatherings, poetry readings, aromatherapy, enneagram tests, hikes, retreats, stargazing, massage therapy, Pilates instruction, and convalescent-home visitation—for a start. It is always a place where you can read, drink a cup of tea, or find deep conversation about spiritual journeys.
Spiritual eclectics appreciate the gentleness and openness of the people they meet. "They have in common a longing for a faith community," Quintrell explains, "and an allergy to church. They also have a hunger for deep study. They buy books by the truckload and attend classes and seminars." Quintrell wonders where that combination will take them. "They are going to need a faith community.
"We're just beginning, and we don't know where it's going to go."
Quintrell has been in that position before; her first career was as a labor and delivery nurse, a role she says "became a metaphor for what I learned about my gifts."
These days, Quintrell is bringing to life a mission outpost, a place to reach people who look just like her but speak another language.
Tim Stafford is a senior writer for Christianity Today.
Related Elsewhere:
More information about the Journey Center can be found on its website.
Christianity Today has more articles on spirituality.
Have something to add about this? See something we missed? Share your feedback here.
Our digital archives are a work in progress. Let us know if corrections need to be made.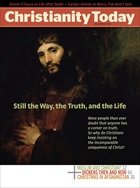 This article is from the December 2009 issue.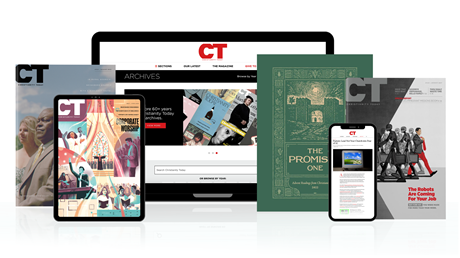 Annual & Monthly subscriptions available.
Print & Digital Issues of CT magazine
Complete access to every article on ChristianityToday.com
Unlimited access to 65+ years of CT's online archives
Member-only special issues
Subscribe
Read These Next
Trending

American Christians Should Stand with Israel under Attack

While we pray for peace, we need moral clarity about this war.

From the Magazine

Frozen Embryos Are the New Orphan Crisis

More than a million unused IVF embryos are in cryostorage. Are they the next pro-life frontier?

Português

Editor's Pick

Don't Miss These African Christmas Hits

Jam out this season to highlife, Afrobeats, jazz, a cappella, R & B, rap, dance, and hip-hop artists from Nigeria, South Africa, and more.
Journey To The Center
Journey To The Center