When the New Community Bible first released in 2008, it sold 15,000 hardcover copies in a few short weeks.Yet the resulting hue and cry over certain aspects of the Bible, the first to be produced by Indians, for Indians in simple English, has resulted in a few revisions before the second edition went to print this November.
Why the controversy? Open a copy of the Bible, produced by the Society of St. Paul in Mumbai, and you'll see no changes to the text. But the accompanying illustrations might look a bit different: the Holy Family, for example, is depicted as poor Indian villagers, with Mary wearing a sari and a bindi, and Joseph wearing a turban and loincloth.
Some Protestant Christian groups have argued that the artwork and the references throughout (such as to Mahatma Gandhi and the Bhagavad Gita, a sacred Hindu text) do not faithfully represent Scripture, while some Hindu groups have complained that the Bible will lead to illegal conversions in a country whose Christian population is only 2.5 percent.
I'm not going to argue that depicting Mary in a sari is historically accurate—obviously it's not. But I would enjoy a browse through the religious images in the books and homes of the Christians who are criticizing this Bible.
In my own home, my daughter's favorite Bible is the Precious Moments Storytime Bible, which depicts a doe-eyed, Caucasian Jesus surrounded by equally doe-eyed followers. My own feelings on Precious Moments artwork aside, the artist's vision of Jesus isn't any more accurate than one envisioning Mary wearing a bindi on her forehead.
Remaking Jesus to look like us isn't a new phenomenon. Any number of famous Madonna-and-child paintings depict the Holy Family looking about as historically accurate as I look fastening a head covering over my red hair to play Mary in my church's Nativity play. Mary in a sari isn't any further from what the actual Mary probably looked like than I am.
So why the fuss? Should we limit ourselves to artistic visions that show Jesus as he most likely looked in 1st-century Palestine, or is it spiritually acceptable to show some artistic license as long as our intentions are pure?
As we ready ourselves for Christmas, take a look at your family's creche or Christmas cards. What does Jesus look like to you?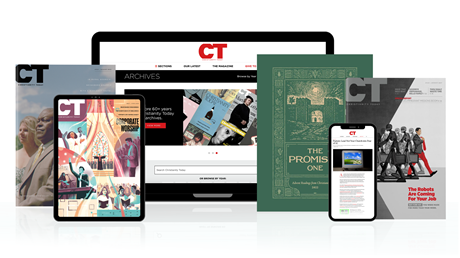 Annual & Monthly subscriptions available.
Print & Digital Issues of CT magazine
Complete access to every article on ChristianityToday.com
Unlimited access to 65+ years of CT's online archives
Member-only special issues
Subscribe
The Trouble with Depicting Jesus
The Trouble with Depicting Jesus