Two recent news stories suggest the odd effects the current economy is having on families.
On the one hand, take the Ghosh family of New Zealand. Make that Pennsylvania. Uh, make it both.
Guatam Ghosh is an assistant professor at the University of Pennsylvania. His wife, Cecilia, is an assistant professor at the University of Otago in New Zealand. Emilio, their 2-year-old, lives with his mom.
They stay in touch through Skype video chats in the morning and around dinnertime (in New Zealand), because that's when Cecilia needs Guatam's help the most.
In what seems to be an otherwise happy marriage, why have the Ghoshes chosen to live this way? "This was a career decision we simply had to make for financial stability," says Guatam, according to a New York Times story from last week, "Living Apart for the Paycheck." The Ghoshes are hardly alone, says the Times:
In 2006, the Census Bureau reported that 3.6 million married Americans (not including separated couples) were living apart from their spouses. In March, Worldwide ERC, the association for work-force mobility, released a report revealing that three-fourths of the 174 relocation agents surveyed had dealt with at least one commuter marriage in 2007, a 53 percent increase since 2003.
"Families … are simply having to adjust to make things work," says David Popenoe, co-director of the National Marriage Project at Rutgers University. He believes that the current economy may force more couples into commuter marriages for the sake of a paycheck.
Reginald C. Richardson, vice president of the Family Institute at Northwestern University and a lecturer in psychology, adds, "I think we are going to see more and more commuter marriages in the future, given the global economy and the fact that our technology now makes this more doable."
The current world economy is characterized by wild market fluctuations but also dynamic technological advances in communications and transportation. The cell phone, video Skype, e-mail, online chatting, and so forth cannot substitute for real, flesh-and-blood contact, but they work okay in a pinch, apparently.
This setup is hardly a substitute for family life under one roof. And no family who is forced to live apart temporarily would say otherwise. But the new reality is that the current world economy, which in some ways is driving families apart, is also making it possible for families to live apart temporarily and stay together emotionally.
The same economy is also forcing others to stay together physically. In a December Wall Street Journal article, "Hitched to the Economy," we read of couples in troubled marriages who are putting a hold on divorce proceedings.
The economic logic is simple: As soon as a couple divorces, they have to finance two separate households with current funds. This makes middle-class couples especially take a second look at their marriage.
Bonnie Booden, a family law and divorce attorney in Phoenix, says this about couples who seek his advice: "Once they hear the cost, and especially how you have to duplicate two households on the same money that currently funds one household, they try to think about some other options."
The article reports that divorce is indeed down:
Circuit courts across the country report downturns in the number of divorce and separation filings. Cook County's Circuit Court in Chicago saw a 5% decrease in filings — about 600 cases — in the first three quarters of 2008 compared to the same period last year. Similar drops were reported in other cities across the country.
Gary Nickelson, president of the American Academy of Matrimonial Lawyers, told The Wall Street Journal, "We're in a perfect storm as far as the divorce business is concerned. It's not a surprise to me. That's been my experience over the last 35 years. When you have an economic downturn people are not so quick to change their situation."
While many couples become mere roommates to save money at such times, it's also likely that many take a second look at their marriages and try to figure out how to make them work.
So the economy that is driving some families apart is keeping other families together.
This dynamic reminds us that the shape and success of our families are often due to forces beyond our control. We are not in charge of our destiny as much as we might think. But neither are we subject to mere irrational forces.
Rather than wax eloquent about the "invisible hand of the free market," we are wiser to pay attention to the strange ways of Providence:
I am the Lord, and there is no other.
I create the light and make the darkness.
I send good times and bad times.
I, the Lord, am the one who does these things (Isa. 45:6b-7, NLT)
This economy is forcing hard choices on lots of people, and on lots of families. But hard choices force us to pay attention, to what we value and who we value. And what we believe, really believe.
And one thing I believe is that the forces of the world economy are complex and dark with mystery, but only as dark and complex as the ways of God. And just when you think something is an unmitigated disaster, you see grace at work.
Mark Galli is senior managing editor of Christianity Today. He regularly comments on the relationship of money and the spiritual life on his blog.
Related Elsewhere:
Previous SoulWork columns are available on our site.
SoulWork
In "SoulWork," Mark Galli brings news, Christian theology, and spiritual direction together to explore what it means to be formed spiritually in the image of Jesus Christ.
Mark Galli is former editor in chief of Christianity Today and author, most recently, of Karl Barth: An Introductory Biography for Evangelicals.
Previous SoulWork Columns: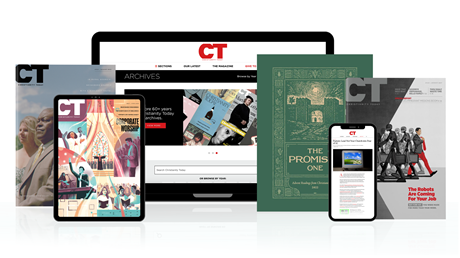 Annual & Monthly subscriptions available.
Print & Digital Issues of CT magazine
Complete access to every article on ChristianityToday.com
Unlimited access to 65+ years of CT's online archives
Member-only special issues
Subscribe
In Meltdown, Hints of Grace
In Meltdown, Hints of Grace