Visiting Mars Hill Church in Seattle as a journalist can be a jarring experience. The writer expects to meet the Mark Driscoll whose confrontational style has made him a hero in some evangelical circles and a pariah in others. Indeed, Mars Hill members will go to the mat to defend their larger-than-life pastor against critics. And Driscoll will not feel the need to yield. Journalists looking for colorful copy will find it. Who would Jesus smack down? There are so many deserving targets, we learn, he wouldn't know where to begin.
But you meet another Mark Driscoll when you begin to spend more time around the people affected by his ministry. They don't always agree with him and cringe when he says things they know he will later regret. Yet it seems God has used his willingness to speak directly about the Bible and sin to deepen their love for Jesus Christ and their resolve to resist Satan's snares.
Death by Love is a book that might stir theological controversy, but it probably won't attract The New York Times's attention. Here we see Driscoll's pastoral side as he offers letters on the Atonement to friends, family, and acquaintances. The book is the second in the Re:Lit series with Crossway, which released Vintage Jesus in February 2008 and plans to publish Vintage Church at the end of January. Like Death by Love, both books were coauthored with Western Seminary theology professor Gerry Breshears.
Driscoll and Breshears aim their book at the popular level, but they do not shy away from using technical terminology. They believe all Christians should understand the meaning of words such as propitiation (Rom. 3:25; Heb. 2:17; 1 John 2:2, 4:10), because the cross is "at the crux of all that it means to think and live like Jesus." Each chapter begins with a letter written by Driscoll, often addressed to someone he knows who has suffered abuse. When discussing the details of some abuse situations, Driscoll is probably a little too vivid for sensitive readers. But he can also be gentle, such as when he suggests ways for a woman who was raped to remember Jesus' love for her.
Driscoll is at his most winsome when telling his youngest son, Gideon, only one and half years old, why his daddy believes Jesus' atoning work was unlimited in scope. He also shines by vividly retelling Jesus' victory over sin and death to encourage a woman tormented by demons.
"Seeing Jesus alive, the Great Dragon snatched you as his captive, drew his sword of the law, covered with the blood of your sin, and thrust its razor-sharp point at your head, naming every sin you have committed along with the name of every boy who every touched you," Driscoll writes. "Smiling, Jesus stepped forward and declared that he already paid the penalty for your sins on the cross, canceled any right Satan had to hold you captive, and defeated your Enemy along with his servants and their works and effects in your life."
Not every letter recipient is a victim. He models Bible-based evangelism in appealing to one woman to trust in Jesus' atoning work for reconciliation with God. He also writes to a man who succumbs to lust and another who molested a child. In typically direct fashion, Driscoll begins the latter of these letters, "You are a despicable human being." If this book captures one key element of Driscoll's style, it lacks his characteristic humor. Given the content, that decision was entirely appropriate.
Breshears follows each of Driscoll's letters with a couple of pages of "Answers to Common Questions" about a particular aspect of the Atonement. But it's Driscoll's letters that stand out. Death by Love reminds us why God inspired epistles. The genre is a natural fit for teaching and applying theology. The gravity of the situations Driscoll addresses draws out the urgency of his theological prescriptions. It does not read like a theology textbook, which can only assume readers already see theology as important and apply it themselves. Driscoll's letters make an apologetic case for theology's vitality and immediately confirm its power. At the same time, the letter format makes the book frustrating to read from cover to cover. Driscoll covers similar ground in many of the letters, repeatedly explaining the difference between propitiation and expiation, for example.
One Atonement theme that continually emerges with Driscoll and Breshears is justice. Breshears offers this succinct explanation of penal substitution: "By dying for us in our place and suffering our rightful punishment, Jesus also satisfies the retributive justice necessary for God the victim." Driscoll observes that those who demand justice for the poor and oppressed today but deny that God should seek justice for the sins we commit against him are hypocrites. He finds a number of ways to bring divine justice home for readers. Driscoll forsakes cheap forgiveness in his letter to a man whose wife cheated on him with his friend. His affirmation of the man's thirst for justice becomes for Driscoll an opportunity to illustrate how God feels about our sin. He notes that "the Bible speaks of God's anger, wrath, and fury more than of his love, grace, and mercy." Driscoll says he finds the concept of hell to be beautiful, "because it means that God is not unjust and will not let all of the evil and cruelty in this world go unpunished."
Driscoll and Breshears don't cover new ground in today's so-called Atonement wars. Indeed, Driscoll writes that "theological innovation is inevitably the road to heresy." Yet Driscoll covers many facets of this many-splendored doctrine. His letters touch on themes such as Christus Victor, expiation, ransom, Christus Exemplar, and reconciliation.
Driscoll explains: "Most poor teaching about the cross results from someone's denying one of these facets, ignoring one of these facets, or overemphasizing one of these facets at the expense of others, often due to an overreaction to someone else's overreaction."
With this approach, Driscoll might just win over some critics. Responding to Mark Dever's CT cover story on substitutionary atonement, Scot McKnight issued a challenge. "I tire of hearing conservative evangelicals say 'we need all the stories' and then proceed to tell us one story, which is only part of the atonement, and that part invariably the penal substitution theory," he wrote on his blog, Jesus Creed. "Show me, I say, that you really mean business — I mean saving business — with ransom and liberation and recapitulation and exemplar — show me, and then I'll listen to the point that we need all the stories. Show me that justice is inherent to the atoning work of God, as Tom Wright has clearly done and others too, and I'll listen. But, if we keep saying that we need all the stories and then focus on individual redemption from guilt by double imputation through penal substitution, which has its own problems the way it is often explained, then I fail to see why we need the other stories."
Perhaps, then, Death by Love will accomplish two things Driscoll may not have intended: break new ground and please some critics.
Collin Hansen is a CT editor at large and author of Young, Restless, Reformed: A Journalist's Journey with the New Calvinists.
Related Elsewhere:
Previous Theology in the News columns are available on our site.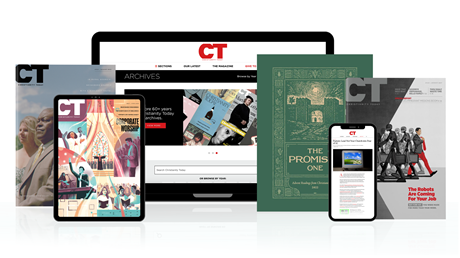 Annual & Monthly subscriptions available.
Print & Digital Issues of CT magazine
Complete access to every article on ChristianityToday.com
Unlimited access to 65+ years of CT's online archives
Member-only special issues
Subscribe
Love Letters
Love Letters