true
Sounds like … Jon Foreman of Switchfoot and Sean Watkins of Nickel Creek teaming up for a blend of alt-folk/country in step with the music of artists like Wilco, Bob Dylan, Emmylou Harris, Ryan Adams, and Arlo Guthrie.
At a glance … though Foreman and Watkins certainly have their moments as Fiction Family, their inaugural album is not quite as enjoyable and engaging as it should be, offsetting the best songs with tracks that are sometimes boring and self-indulgent.
It's been over two years since the last original Switchfoot album, Oh! Gravity, and it'll probably be close to three before the next one releases. But Jon Foreman has kept the fans satisfied by keeping busy himself, releasing a slew of solo material over the course of 2008.
If that wasn't enough, the accomplished singer/songwriter forged an unlikely partnership with his friend Sean Watkins of progressive folk/country/rock band Nickel Creek (currently on hiatus as the three members pursue individual projects). The two artists have been acquainted since high school in San Diego, and gradually developed a friendship from sharing the stage with their respective bands over the years. In time, they decided to try writing together, and what began as a song or two on the side developed into a full-fledged album, recorded at home during spare time whenever the bands weren't touring (so yes, it took a while).
The resulting fruits of their labor are represented here as a side project and collaboration that the two have christened Fiction Family. Listeners are bound to have preconceptions and expectations with an album like this, so let's clarify its intended sound and scope.
First off, do not expect Switchfoot-meets-Nickel-Creek. While that would certainly be an interesting blend of modern rock and alt-country—exhibit A: Switchfoot's "Dirty Second Hands," exhibit B: Nickel Creek's "Best of Luck"—Foreman and Watkins see this project as an opportunity for collaboration and creativity outside of what is expected from them. Thus, the music here sounds more similar to their respective solo projects, only more experimental.
Don't come looking for much in the way of spiritual depth either. Neither Foreman nor Watkins believes in the lyrical constraints of Christian music and appealing to a particular audience with their lyricism. The majority of the songs are poetic depictions of relationships—some auto-biographical about love and break-up, others fabricated.
That said, there are certainly hints of Christian beliefs to be found. It'd be interesting to know how most interpret that "magic book" referenced in "Throw It Away," containing the so-called magic words, "Give your love, live your life each and every day." Later in the album, "Closer than You Think" encourages us to hold close to the vision of heaven that encourage us and compels us to press on: "You've got a vision of some far off day, beautiful and bright/A carrot out of reach, but always in your sight/There's an icon in your mind that stands for happiness someday/A picture on the wall of a kingdom far away/But oh, it's closer than you think/Oh, it's breathing in between."
Musically, the album does struggle in fits and starts. A fair stretch of the album is very mellow and folk sounding, and it begins to wear after a while, neither as melodic nor as memorable as the solo work by Foreman or Watkins. Then the album nearly derails with the more experimental folk of "Please Don't Call It Love." Its melody is rich, almost classical sounding, but it meanders in melancholy, accompanied by an uncharacteristically screechy fiddle by Sara Watkins (Sean's sister from Nickel Creek)—I blame the context of the arrangement, not her talent—before finishing with a very cacophonous coda. "We Ride" suffers from similar self-indulgence, overloading the song with so much reverb, it becomes almost indecipherable with its messy echoes.
Those low points aside, around half of the Fiction Family album is very rewarding, most of the highlights sequenced near the front. "When She's Near" is a fantastic slice of Beatle-esque pop/rock, on par with PFR or Crowded House. "Out of Order" stimulates with intentionally complex and disjointed rhythm, playing off the vaguely Ecclesiastical lyrics. "Mostly Prove Me Wrong" could stand as a lost track from Foreman's alt-folk solo EPs, while "Elements Combined" carries an elegant acoustic pop style that recalls Ben Folds.
For songs like these, Fiction Family is a good effort, certainly worthwhile for fans. But I'd think even fans would reluctantly agree that few of the songs stand up the previous work of its contributors. "Look for Me Baby" carries the spark of inspiration, a modern spin on Depression-era razzle-dazzle, but then it's over just a minute-and-a-half later—it's the sort of song that would be used as a hidden track on most albums. In the same way, the overall album just doesn't dazzle as much as one would hope; it's there and then it's gone.
I was fortunate enough to catch Fiction Family in concert the week before this album released, with Sara Watkins even available to join the band on vocals and fiddle. With all three singers trading vocals and instruments, the show was a delightful mix of the album's highlights, as well as alternative country-rock renditions of favorite songs by Arcade Fire, The Cure, and classic country artists. In hindsight, that is what this first Fiction Family album should have been like: a celebration of songs and style, placing emphasis on the joys of performing music rather than on sonic experimentation. This album is an example of what might have been—or hopefully, what might still be with future Fiction Family releases.
Browse All Music Reviews By: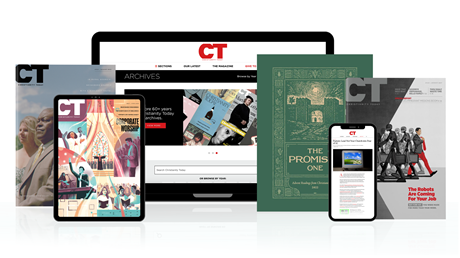 Annual & Monthly subscriptions available.
Print & Digital Issues of CT magazine
Complete access to every article on ChristianityToday.com
Unlimited access to 65+ years of CT's online archives
Member-only special issues
Subscribe
Fiction Family
Fiction Family