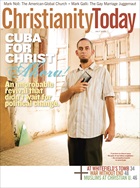 This article is from the July 2009 issue. Subscribers can read all of CT's digital archives.
Fifty years after the Cuban Revolution, the Communist government has virtually erased illiteracy and established universal health care. It also has a reputation for jailing dissidents and limiting religious expression.
Long gone are the days when the government sent pastors to labor camps and attempted the "elimination of religious belief through scientific materialistic propaganda." Since Cuba officially moved from being "atheist" to "secularist" in 1992, Cuban evangelicals report that persecution has ceased and discrimination is easing. In June, however, police arrested 30 pastors from an unregistered Pentecostal group in coastal Camagüey for organizing a 200-person worship service.
In June, shortly after Cuba agreed to direct talks with the U.S. on migration and mail service, the Organization of American States lifted its 1962 suspension of the Cuban government. In April, the Obama administration eased restrictions on travel and remittances to the island for Cuban-Americans, but insisted on more democratic reforms before easing the trade embargo.
Religious freedom observers commend Cuba for President Raul Castro's 2008 signing of two United Nations human rights conventions: the International Covenant on Civil and Political Rights and the International Covenant on Economic, Social, and Cultural Rights. But most continue to give Cuba negative marks for human rights:
Independent research institute Freedom House again listed Cuba as one of its 42 "Not Free" countries in its 2009 report.
Cuba was ranked 33rd of 50 countries on the 2009 Open Doors World Watch List of religious freedom, falling into the Christian organization's "Some Limitations" category for ongoing surveillance and social controls.
The 2009 U.S. Commission on International Religious Freedom put Cuba on its watch list of 11 countries being monitored for religious freedom violations. (That is not its most serious designation.)
1
More Freedom But Not Free
More Freedom But Not Free