Nancy Guthrie is no stranger to suffering. After her second child, Hope, died within a year of birth from Zellweger syndrome, a rare, fatal genetic abnormality, Guthrie began writing Holding On to Hope, a book about coping with loss and grief. She was in the final stages of writing when she became pregnant with a third child, Gabriel, who was also diagnosed with Zellweger. Gabriel lived for six months.
Since Gabriel's death, Guthrie has written many books and articles, and has traveled around the country speaking at conferences about the Christian response to suffering. Her latest work, Hearing Jesus Speak into Your Sorrow (Tyndale), which came out last month, is an expansion of themes introduced in her previous books, adding, as Nancy writes in the introduction, "the perspective of years and further understanding of the Scriptures." Her.meneutics contributor Ruth Moon talked to Guthrie about the health-and-wealth gospel and how to comfort friends who are grieving.
What place do you want Hearing Jesus Speak into Your Sorrow to have on the bookshelf of Christian books about suffering? What niche does it fill?
I hope this book is not a "grief" book. It speaks to people who are grieving, but I hope people see it as a theological book. I hope that the book would be that theological thinking through of suffering, but also an invitation to those of us who say that Jesus means everything to us and that we want to follow him, to live that out in the hardest, lowest places of life, that when we enter into unimaginable suffering, it's obvious that Jesus is still everything to us, that he is still the solid ground beneath our feet, and that he is who we're grabbing hold of and depending on and whom we love and treasure and trust.
You organize this book around 11 statements from Jesus on suffering, such as, "I, Too, Have Heard God Tell Me No," and "I Am Giving Life to Those Who Believe in Me." Do you feel you learned anything while writing those statements?
Absolutely. One of the things I have struggled with is that when we look at the Gospels, they overflow with stories of Jesus' visible healing of people. That creates a struggle for modern-day believers: Okay, Jesus is the same yesterday, today, and tomorrow. So can I, should I, expect that he wants to do that, will do that, in my life? The most significant step was pursuing an understanding of what Jesus' healing ministry's purpose was, what he wanted us to see about himself.
A lot of believers assume that what Jesus was saying about himself was that he wants to heal our bodies. What I've seen is that he was giving us a picture of his healing power in the way that he healed bodies, but the more significant message he had is about his character, his ability to bring healing, not only to our bodies but to our souls as well.
Is this related to the "name it and claim it" theology, in which if you pray hard enough, you'll get what you want?
There are two clear places where Jesus speaks directly to that. One is where we overhear him pray in the Garden of Gethsemane. So often we hear people quote the verse from James, "The prayer of a righteous person has great power as it is working" (5:16, ESV). Well, who is more righteous than Jesus? And there he is, pouring out his wants. Not just one time but three times, he prays to his Father, "If there be any other way, let this cup pass from me." It helps us to see how Jesus responds when he comes to God, crying out in prayer, with what he wants, and God says "no." Jesus responds, "I want your will to be done, not mine."
The other place we're instructed on that is what Jesus says to Paul. Paul comes to God three times asking him to take away that thorn in the flesh. If we use the modern equation of the health-and-wealth gospel, is somebody going to say that Paul didn't have faith? I hope not. Paul comes with this prayer to God, and instead of responding to him and saying, "Okay, you have enough faith, so I'll give you what you pray for," Jesus responds to Paul offering himself. He says, "My grace is sufficient for you, for my power is made perfect in weakness" (1 Cor. 12:9). That message goes directly against so much of what we hear in the health-and-wealth gospel of, "If you have enough faith he'll take it away," and that it's always his will to take it away.
You give examples in the book of advice or words from friends that were not helpful. What is a good way to comfort grieving people?
A lot of times we fail our friends when we too quickly jump on the bandwagon to assure them that we are going to throw everything we can into praying their suffering away. If we really love our friends, what we want is for God to accomplish his good purposes in the suffering, not merely to take it away. There's lots of good ways that God uses suffering, which we read about over and over in Scripture. I don't want to be the friend who says the easy thing: "Yeah, you shouldn't have to experience this," or "I don't want you to have to hurt." Instead, I want to pray that God accomplishes everything he wants to accomplish through it, because I know that that will be for your ultimate good, and for your ultimate happiness and joy.
Did you write the paraphrases of Jesus' words at the end of each section?
Yeah.
Were you nervous about doing that?
Yes, because I get nervous when I see somebody put words in the mouth of God that I don't think come from him. That's one reason I put all the verses from which I drew them from there so it would be clear.
Sometimes it helps us to hear Scripture in a paraphrase form, not study paraphrases, but I know for me, oftentimes it helps to just hear it that way. I'm hoping that's helpful to that hurting reader. Sometimes the way we read Scripture, we can become cold and hard to it. Those certain words and phrases sometimes have to be reframed and paraphrased to make them fresh.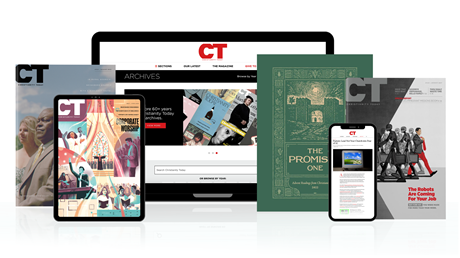 Annual & Monthly subscriptions available.
Print & Digital Issues of CT magazine
Complete access to every article on ChristianityToday.com
Unlimited access to 65+ years of CT's online archives
Member-only special issues
Subscribe
Nancy Guthrie: Hearing Jesus Speak Into Your Sorrow
Nancy Guthrie: Hearing Jesus Speak Into Your Sorrow