And now it's official. As many have speculated in the week since commercials first aired promoting tonight's "big announcement" that would affect the entire family, Jon and Kate Gosselin announced their separation, and, later in the episode, their divorce. This expected announcment confirmed reports leaked this afternoon that Jon and Kate today filed the paperwork for their divorce in a Pennyslvania courthouse.
There isn't much to say that hasn't already been said about the tragic downfall of this family. (See Christianity Today's previous coverage, as well as Scott McClellan's great post on this subject at Collide.) It seemed inevitable; reports have painted Jon as uncomfortable with the media attention, and Kate as eager to continue with the show ("the show must go on" she said in her post-announcement interview). Still, I, along with many, hoped that they could turn their marriage around.
The subplot of the episode involved the design and construction of four "crooked houses" for the kids. While Jon and Kate fought over where to place them, the kids enjoyed the simple pleasures of "playing house." In a particularly heartbreaking scene, two of the younger children pretended they were getting married, presumably to live "happily ever after" in their little crooked houses. Kate said she hoped the houses would create many happy memories, but I can't imagine featuring them in this particular episode will do much to help that. It was difficult to hear their individual voices introduce each segment ("next on Jon & Kate Plus 8") with the knowledge of what was coming.
For two people who have been quite vocal about their faith in the past, both on the show and in public, they were decidedly silent on the spiritual implications of this decision. They both cited "peace for the kids" as the primary reason for the separation, and Kate described her main concern as "the label that we have failed." Not once did they mention any consideration of Biblical counseling, as we have previously lamented. The show, of course, will continue on, with Jon and Kate splitting time with the kids.
So what did you think of Jon & Kate's "big announcement"? Did you watch the episode? And how can we best respond to the media frenzy surrounding this recent development, particularly in light of their strong identification with the Christian community?
UPDATE: TLC president Eileen O'Neill announced on Tuesday afternoon the decision to put the show on hiatus until August 3rd "so that everyone could adjust to the new circumstances." But don't expect the show to go anywhere—Monday night's episode attracted 10.6 million viewers, the show's largest audience ever. Will viewers tune in to watch the once-happy family struggle to pick up the pieces and move forward? I know at least one (and, judging from the comments below, quite a few more) who'd rather not.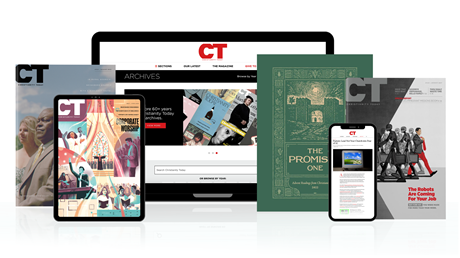 Subscribe to Christianity Today and get access to this article plus 65+ years of archives.
Home delivery of CT magazine
Complete access to articles on ChristianityToday.com
Over 120 years of magazine archives plus full access to all of CT's online archives
Subscribe Now
A (Crooked) House Divided: the Gosselins Announce Their Divorce
A (Crooked) House Divided: the Gosselins Announce Their Divorce