Even in the wake of the media circus that surrounds the Gosselin family, another reality TV show about an unusually large family premiered last night. WeTV showed Raising Sextuplets, which follows Bryan and Jenny Masche as they navigate raising six 16-month-olds. Like the Gosselins, the Masches are professing Christians. (In the show's opening sequence, Jenny shares that, despite the dangers involved in carrying a large pregnancy to term, "because of our faith, selective reduction was not an option.") In light of the Gosselins' recent troubles, it seems odd for any family to choose to expose themselves to the scrutiny that likely at least contributed to the Gosselins' marital problems. As Christians, we might ask, is it wise to enter a "public marriage" when the dangers have been so clearly laid out?
For proof that reality TV exposure does not itself destroy a family, we need look no further than TLC's 18 Kids and Counting, which offers a weekly peek into the life of the Duggar family. As part of the Quiverfull movement, Jim Bob and Michelle Duggar abstain from all forms of birth control and, according to their website, "asked God to bless them with as many children as he saw fit in his timing." The show has followed them through multiple pregnancies, planning, building, and moving into a 7,000-square-foot home (built debt-free), and even the courtship, marriage, and pregnancy of Jim Bob and Michelle's eldest, Josh, and his wife, Anna.
To most viewers, the Duggar family is truly different, and not just for its size. First, there are only two sets of twins in the Duggar brood, neither of which were conceived through fertility treatments common on these shows. With so many children spanning so many ages, they have to get creative to perform otherwise simple domestic tasks. Shopping for food and clothes are massive ordeals, as are laundry and cooking. (Check out their favorite recipes - I've tried the tater tot casserole, and it wasn't half bad!) They dress conservatively, homeschool all their kids, and incorporate biblical principles into everything they do. They do not watch TV and limit their children's Internet access. The children speak intelligently and politely; they seem to not only understand why their family operates as it does, they also articulate these values as their own, without hints of the snarkiness or rebellion of many kids their age. The Duggars truly seem to love, value, and respect each other. To many viewers, their way of living is downright countercultural.
In this sense, at least, the Duggars are the anti-Gosselins; theirs is a home of order, where voices are rarely raised, and the biggest problems seem to be managing everyday tasks to sustain a household of 20. While I do not share many of their more conservative practices, I find their emphases on family and community inspiring. It's not that they have avoided public life; they have appeared on the Today show and from time to time appear in the news feed to announce a pregnancy or birth. That they are different is obvious. That Christ is the reason is also obvious, in their words but also in their actions, and in the way they treat each other and deal with the outside world. They demonstrate that in everything, it is a self-emptying focus and reliance on God that overcomes the distractions of the outside world, from temptations of greed or immodesty to the scrutinizing eye of reality TV cameras.
Do you watch 18 Kids and Counting? What do you find most fascinating about the Duggars, or, more broadly, about large-family reality TV shows?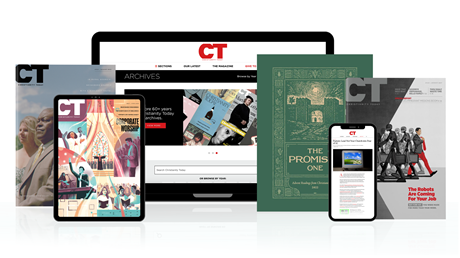 Subscribe to Christianity Today and get access to this article plus 65+ years of archives.
Home delivery of CT magazine
Complete access to articles on ChristianityToday.com
Over 120 years of magazine archives plus full access to all of CT's online archives
Subscribe Now
The Duggars: the Anti-Gosselins
The Duggars: the Anti-Gosselins