Two recent films have played unexpected roles in raising awareness of political and religious practices in Iran that trap many women in cycles of oppression and violence.
Time magazine TV critic James Poniewozik recently blogged about Persepolis, a 2007 animated film based on a series of graphic novels by Marjane Satrapi about her childhood during the Iranian Revolution. Poniewozik noted that Satrapi provided a powerful representation of life in Iran at a significant moment for women's rights.
Then, this past weekend, The Stoning of Soraya M. debuted on 27 screens in the United States, earning $117,000. Based on a book by Iranian-French journalist Freidoune Sahebjam, the film tells the story of an Iranian woman stoned to death after being falsely accused of infidelity soon after the 1979 Iranian Revolution. Writer-director Cyrus Nowrasteh and actress Shohreh Aghdashloo are both Iranian.
Soraya M. is a story of injustice arising from religious and political systems in need of change, and has drawn comparisons to the story of Neda Agha-Soltan, the 26-year-old woman whose death in a Tehran demonstration over Iran's disputed elections was captured in a video shared worldwide.
"Before Neda, There Was Soraya M.," writes Politics Daily's Carl M. Cannon, who places the movie's story in a timeline of women in the media who have become the faces of Iranian oppression. He writes,
If you see this brilliant film, be prepared to be disturbed. You will also emerge with a newfound admiration for Shohreh Aghdashloo, the accomplished Iranian-American actress who plays Zahra, the aunt of Soraya, and the heroine of this film, and also for all the independent-minded women of Iran.
Jennifer S. Bryson, director of the Witherspoon Institute's Islam and Civil Society Project, also praises Aghdashloo's performance, but reminds viewers that Soraya M. does not represent all Muslims or Islamic political systems:
[D]irector Cyrus Nowrasteh's telling of this story portrays the lived-practice, not just an abstract concept, of Islam with nuance. This film is not a cheap shot at Islam or Muslims. Rather, in

The Stoning of Soraya M.

the faults of those who manipulate religion for selfish gain say more about individual human folly and the brokenness of the political system in that location than about Islam or religion.
Actor James Caviezel, best known for his lead role in Mel Gibson's The Passion of the Christ, plays journalist Sahebjam in Soraya M. He told Christianity Today Movies that watching Soraya M. should give viewers' an emotional 'trial run' to test their compassion. He told Beliefnet's Dena Ross something similar in a recent interview:
We're all playing the story out of the Bible right now. Many of us are different characters. We always try to think of ourselves as the saints and the good characters, but many of us are playing the Pharisees, Pontius Pilate, Judas. There are good and there are bad in this world. But our job is not to figure that out. We just know who we are and try to take as many people we can to Heaven by how we live our life … And I think stories like this [are] moral reminders, they're powerful. If we cower in the movie, we'll probably cower in life. If we cower in the movie, then we say, "I'm not ready. I've got to get ready."
"Speak up for those who cannot speak for themselves," Proverbs 31:8 says. What do you think? Can watching films reveal something important about your own character? Does 'speaking up' start with the imagination?
For more about this movie, read the review from Christianity Today Movies, an interview with Caviezel and producer Steve McEveety, and the discussion at the CT Movies Blog.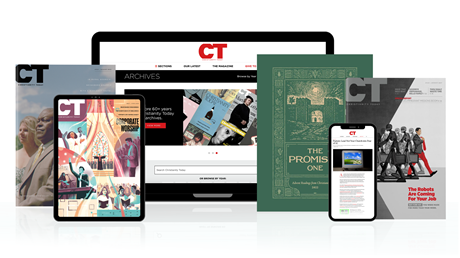 Subscribe to Christianity Today and get access to this article plus 65+ years of archives.
Home delivery of CT magazine
Complete access to articles on ChristianityToday.com
Over 120 years of magazine archives plus full access to all of CT's online archives
Subscribe Now
Fighting Injustice through Art
Fighting Injustice through Art