Reviews

|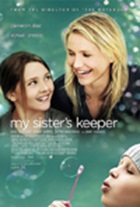 Adapted from Jodi Picoult's 2004 novel, My Sister's Keeper is the story of the Fitzpatricks, a family defined and consumed by the leukemia that has plagued teenager Kate since the age of two. Sara, Kate's mom, has devoted her life to saving her child, giving up her career as a lawyer early on in the process.  Brian, Kate's firefighter dad, is a strong and loving presence, despite the fact that he is often rendered speechless by his own emotion and the force of his wife's fierce determination. Evan, Kate's older brother, is lost and aimless, often overlooked in the ongoing crisis management that demands his family's focus. And Anna, Kate's younger sister, is an 11-year-old kid resigned to needles and operations and the knowledge that she was deliberately engineered to be an ideal donor match for her sick sibling.
In the opening scenes of the movie, we learn that Kate's cancer has once again roared back out of remission, and that, worse, her kidneys are failing in the aftermath of thousands of treatments. We also discover that Anna is expected to donate one of her own perfectly compatible kidneys, and that she has secretly retained the services of an attorney to fight for "medical emancipation"—the right make decisions about her own body. The stage is set for drama of the courtroom, medical and familial variety, and My Sister's Keeper delivers it all relentlessly. Will Anna give in? Will Kate die? Will Sara's myopic (and completely understandable) fight to save one child destroy another one (or two) in the process? Will anyone notice Jesse isn't doing very well? Will Sara and Brian's marriage finally crumble under the terrible burden of their circumstances?
Some people are afraid of spiders, some of heights, but every ...
1