true
Michael Landon Jr. continues in his work creating family-friendly films with the release of The Velveteen Rabbit—recently in theaters, and releasing to DVD today. He recently spoke to Christianity Today Movies about the challenges of bringing this beloved book to the big screen, being a Christian in Hollywood, and what's next in his own story.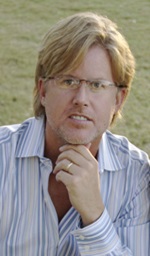 What made you want to adapt The Velveteen Rabbit it for the screen?
Michael Landon Jr.: I was a directing fellow at AFI and met a writing fellow, Rick Ramage. We stayed in touch after film school and he called me one day informing me that his sister, Cindy Kelley, was an aspiring writer and wanted to write a screenplay inspired by The Velveteen Rabbit. I loved the Margery Williams classic and the theme that love makes us real. But I didn't want to make an animated version—that had already been done. The idea of telling the story through the little boy's point of view rather than the rabbit's solved this issue.
What is the boy's point of view in your story?
Landon: Toby isn't loved in the real world, so he escapes into his imaginary world where he can be loved and be a "real" boy. There is very little story from Margery Williams that can be used to tell a feature-length film. So except for a few key elements, we basically started from scratch. We created the "magic attic" where the toys come to life—and so does Toby's imaginary world. We've animated the scenes that take place in this world, but the rest of the move is live action. 
Some adaptations of kids' books, like the Narnia films, have done well at the box office, while others, like The City of Ember, have tanked. Any theories about what it takes to successfully adapt a kids' book?
Landon: The two films you referred to are big-budgeted studio films so expectations for them are very high. They are filled with special effects to tap into the child's imagination. I knew that wasn't going to be the case for Velveteen. so I focused on the heart of the child.
It must be difficult to compete with the likes of Pixar for the attention of young eyes without a Pixar-like budget!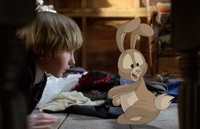 Landon: The thing about this film is that the target audience skews a bit younger than a lot of the entertainment produced for kids. The Velveteen Rabbit didn't need the genius of Pixar in order to succeed. It just needed to connect emotionally with the child. And I believe it does that.
The fact that our animation has a completely different feel about it than so much of the other really good entertainment that's out there for children makes our movie stand out. Now, this means that teenagers probably aren't going to be asking their parents to pick up The Velveteen Rabbit at the store. But parents and grandparents are going to pick it up for their younger kids, and I think that when the movie is playing in the home, the older kids are going to be drawn into the story too.
You've been a prominent Christian voice in filmmaking for some time now. What do you think is the current spiritual state of Hollywood?
Landon: I believe the spiritual state of Hollywood is the same as any other business. There are deceitful people and there are honorable people. There are those who will try and make money at any expense, including creating harmful messages aimed especially at our teens. And there are those who won't partake in telling those kinds of stories.
What do you think of attempts by people like Doug Phillips and the San Antonio Independent Christian Film Festival to create an entirely separate Christian film industry?
Landon: There's plenty of toxic stuff coming at us from TV, movies, Internet, you name it. And I definitely understand the frustrations of parents trying to navigate this media landscape and protect their children. I don't think there's anything wrong if someone wants to have a Christian production company or create a network for Christian films. The makers of Facing the Giants and Fireproof have been incredibly successful at this, and they only hire Christians. I wouldn't pooh-pooh their work for a nanosecond.
But for me personally, I would like to be a filmmaker who happens to be a Christian. And I don't want to whine about whether or not my faith is respected. I'm not a victim because I'm a Christian. I fight the good fight. I get in there. I try to tell my stories. Everyone struggles. There are very few people in Hollywood who get to do exactly what they want. All of us are duking it out to try to get our stories told.
I feel blessed when I'm working and it's painful when I'm not. If for some reason, I'm being denied opportunity for being a Christian, to me it's a small price to pay. It's hard for everyone. There's a lot of talented and not-so-talented people that are all struggling to get their films made. That's part of the business. I'm not supposed to be of the world, but I do feel like I need to be in it.
You've started telling stories in books too.
Landon: Yes! Right now I'm writing my second novel, The Silent Gift, with Cindy Kelley, my writing partner on The Velveteen Rabbit and Love Comes Softly. It will be released by Bethany House this fall. The Silent Gift is set in the late 1930s, on the heels of the Depression, and is about a boy who is deaf and mute who has the gift of prophecy.
How does writing novels compare to writing screenplays?
Landon: Well, there are no budgetary concerns when writing a book! Your imagination is the limit. From a structural standpoint, I find screenplays more difficult. You only have 90-100 pages to tell your story. You have time to meander in a novel.
What other projects are on your horizon?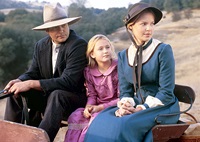 Landon: I'm working on another Janette Oke project, When Calls the Heart. And another Beverly Lewis project, The Shunning. I do have a couple other projects in development that are completely different from the stories I've been telling, but it's too early to discuss those details yet.
Speaking of Janette Oke, you adapted several of her Love Comes Softly books into films, including two starring Katherine Heigl? What was it like working with her?
Landon: Katie was great to work with. She's an intelligent, hardworking professional. I'm not sure what her expectations were when she took the job, but she mentioned to me while we were filming Love's Enduring Promise that she always had her agent send Love Comes Softly out to casting agents and producers to acquire future work. She said it was her best work to date.
Read earlier interviews with Landon here and here.
Copyright © 2009 Christianity Today. Click for reprint information.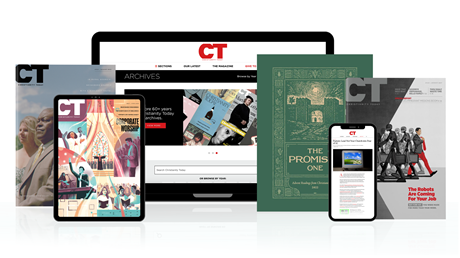 Subscribe to Christianity Today and get access to this article plus 65+ years of archives.
Home delivery of CT magazine
Complete access to articles on ChristianityToday.com
Over 120 years of magazine archives plus full access to all of CT's online archives
Subscribe Now
Making Real Movies
Making Real Movies