true
Six years into his professional basketball career, LeBron James has done the unthinkable: surpassed everyone's expectations.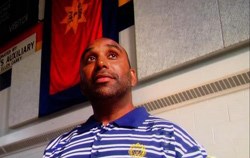 But once upon a time the reigning NBA MVP played with high schoolers, and the documentary More Than a Game—which opens in limited release this week—tells the story of how James and his teammates at St. Vincent–St. Mary High School in Akron, Ohio, won a national championship in the midst of LeBron Mania.
The film started out as a 10-minute class project for college student Kristopher Belman, but after several years' worth of follow-up work, it's grown into a feature-length account of the bond between these five young men and their coach, Dru Joyce II.
Joyce first started coaching when he had the chance to coach his son, Dru Joyce III, on the Northeast Ohio Shooting Stars, a traveling youth basketball team. That squad nurtured four of the five future St. Vincent–St. Mary stars featured in More Than a Game—including a prepubescent LeBron James. Coach Joyce was able to rejoin his players midway through their high school careers and, as a first-time high school coach, lead them through the trials and triumphs that followed.
Joyce, who is a Christian, spoke with CT Movies about his experience during and after the making of More Than a Game.
How did you feel about having someone film your team?
Dru Joyce: At the time it was just a class project, so it seemed very innocent, just an opportunity to help out a young guy [Belman] from Akron. So we gave him access even though, because of the celebrity of LeBron and the whole team, we had closed off practices from the media by then.
And Kris was very good. He seemed like he was here more than he was in California [at college], and I wondered how he was getting his schoolwork done. But he stayed in the background, didn't put the camera in anyone's face, and respected what we were trying to do and the enormity of it.
What do you hope to teach your players, and how does your faith influence that?
Joyce: As a Christian, I don't believe that you can separate your faith from anything you do. When I got the opportunity to do the travel team, I saw its purpose as using basketball to teach life skills. And as time moved on and I became a better coach, seven principles developed as the foundation for everything we did: humility, unity, discipline, thankfulness, servanthood, integrity, and passion. So now I hope to grow young men that exemplify those qualities and will carry them into life, whether it includes basketball or not.
Also, I've tried over time to emphasize the relationships. When it's all said and done, the relationships are all the players are going to take out of here. I want them to understand that basketball is a vehicle to help them get from Point A to Point B. It's not the be-all and end-all. They should use basketball and not let it use them.
One of your players was your own son. Did you try to separate your roles as father and coach?
Joyce: Honestly, I failed a lot, because I didn't separate them. For a long time it was more of a coach-player relationship than father-son. And it was tough, because you always hear the whispers like "Oh, Little Dru's playing cuz his dad's the coach," so I was always much harder on him. If he made a mistake, it was ten times worse than if someone else made the same mistake. Then as we got into high school, and we were a nationally ranked team playing other nationally ranked teams, it intensified some of those things. Basketball was all we had.
I credit a lot of the turnaround to my pastor. I finally asked my son the question, "Am I being too hard on you?" He said, "Yes." And from that point forward, we talked about it. I wanted him to understand that, while I still had set the bar set extremely high for him, I loved him regardless of basketball.
Once LeBron started becoming a big deal, what was the hardest thing for you as a coach?
Joyce: Focus. How do we keep these kids focused on the goal we set forth as a team, and not let all the hoopla and cameras and newspapers become a distraction? That first year was very tough. We were winning, their celebrity was growing, and the guys were getting full of themselves. I tried to warn them, to tell them they weren't attending to the details like they should have been. But you know, it's the same way with a lot of people and their parents. After a certain point, you stop hearing them, even if they're saying the right things, because it's a voice you've gotten used to hearing.
At the same time, I was a rookie head coach. Most first-year coaches get to make their mistakes in a small gym with less than 100 people—in anonymity. For me, every mistake happened in front of TV cameras and packed gyms. So, for example, when we were losing a game that we felt had biased officiating against us, I let it get to my guys' heads. I wasn't good enough to pull them out of the ranting and raving about bad calls, and we lost. But after that disappointing year, the team rededicated themselves to the game, and I rededicated myself to being a coach and to never stop learning.
What are some of the biggest lessons you've learned from coaching?
Joyce: The biggest lesson I've learned is that you've got to love them all differently. When I came up as a player, every coach coached the same way. They cursed you and hollered at you. But, especially in this generation, you just can't do that. You really have to gain your players' trust, recognize who they are, and then deal with them as individuals. Some guys, I holler at. Other guys, I have to talk to. The more I've understood that, the better a coach I've become.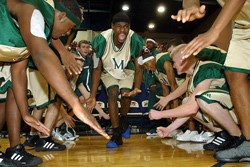 Did watching More than a Game give you any fresh insights about the young men you coached?
Joyce: It's very humbling for me. This all started out as a dad trying to help out his son who had a dream to play Division I college basketball. To see that grow into all of this is very humbling. As I've watched the movie, what I see is the depth of those young guys, the strength of their character. They were a very special group; I'll never have another group like them. I'll have good teams, and I'll have teams that will be very special in different ways, but I'll never have another group like them. And that's okay. But I just recognize that that group was something that most coaches will coach a lifetime and never have a chance to experience.
How have you seen LeBron change over the years, in ways that impress or maybe concern you?
Joyce: I think that, like all of us, he's still got his demons—nothing unlike anyone else. But for a guy who has what he has, he's handled it extremely well, because I know who I was at that age, and where I would be right now if I had what he had. And it wouldn't be a pretty sight.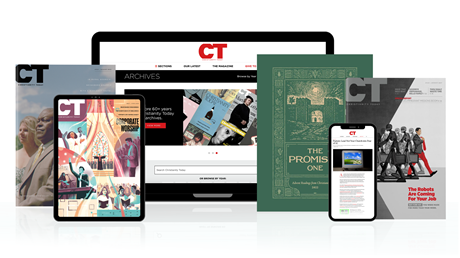 Subscribe to Christianity Today and get access to this article plus 65+ years of archives.
Home delivery of CT magazine
Complete access to articles on ChristianityToday.com
Over 120 years of magazine archives plus full access to all of CT's online archives
Subscribe Now
Coaching King James
Coaching King James