"In the Loop," a new feature at the CT women's blog, is designed to keep you on top of the news cycle throughout your week. Handpicked by the blog's editors, these stories are ones we suspect will be of particular interest to evangelical women. Stay tuned as our bloggers go deeper with many of these stories to provide further analysis.
One out of every 33 women who regularly attend worship services have been the target of sexual advances by a religious leader, according to a study released by Baylor University researchers last week. Study co-author Diana Garland, dean of Baylor's School of Social Work, told The Washington Post, "With a spiritual leader or moral leader, you've really added a power that we typically don't think about in secular society — which is that this person speaks for God and interprets God for people. And that really adds a power."
The Post also reports on various denominations' efforts to address clergy misconduct and reports some of the study's most alarming statistics: More than two-thirds of the offending clergy were married to someone else at the time of their offense, and close to one in 10 respondents — male and female — reported having known about clergy sexual misconduct occurring in a congregation they had attended.
Kim Clijsters of Denmark won the U. S. Open this weekend, becoming the first mother to win a Grand Slam event in nearly 30 years. Even more remarkably, the win came in just her third match since returning from a 27-month retirement that began in May 2007, when she became pregnant with her now-18-month-old daughter, Jada Ellie.
The women provided nearly all the drama, both good and bad, in Flushing this year. First reporters crowned 17-year-old Melanie Oudin of Marietta, Georgia, "America's Sweetheart" after she beat four highly ranked opponents and advanced to the quarterfinals. Then Serena Williams made headlines after a profane outburst over a foot fault that cost her the semifinal match against Clijsters.
FOX News aired videos that showed employees of ACORN, a community action organization, assisting an independent filmmaker posing as a pimp to put together an application for an illegal loan for a brothel. "Don't get caught," the ACORN staffer says on the tape. "It's against the law what you're doing and there's a chance you'll get caught." Following the videos' release, the U.S. Census Bureau on Friday dropped ACORN from its list of partnering groups in the 2010 Census. ACORN officials have accused FOX News and the filmmaker, James O'Keefe, of dubbing over the tapes, and plan to seek legal action.
Personhood USA is collecting signatures at the two-week-long Colorado State Fair to support a ballot measure that would grant legal rights to fertilized embryos. The ballot calls for Colorado's constitution to define people from "the beginning of biological development of a human being." A similar measure made the ballot last year, making Colorado the first state where a personhood amendment made the ballot, but it was defeated by 73 percent of voters. Personhood USA is currently trying to get similar measures on ballots in 29 other states.
Evangelist Anne Graham Lotz, daughter of Billy Graham, tells Lisa Miller in the September 21 issue of Newsweek, "Religion is an impediment to knowing God. Procedures, rituals, creeds: how in the world can they help you connect with God? … If you're sprinkled when you're baptized or dunked when you're baptized, it doesn't matter as far as your salvation goes." Graham Lotz, whom Christianity Today magazine profiled in 2008, acknowledges the bad experiences she and many others have had in the church, but goes on to say, "Church may not be necessary to knowing God, but it keeps the relationship going. You can really love the Lord, but after a while, if you're all by yourself, the fire goes cold."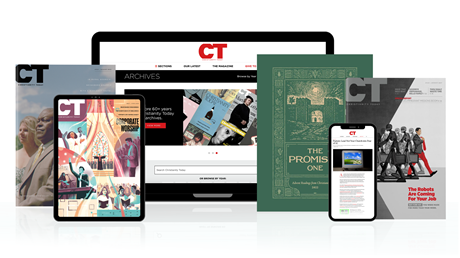 Subscribe to Christianity Today and get access to this article plus 65+ years of archives.
Home delivery of CT magazine
Complete access to articles on ChristianityToday.com
Over 120 years of magazine archives plus full access to all of CT's online archives
Subscribe Now
In the Loop: The Women's Blog News Roundup
In the Loop: The Women's Blog News Roundup