true
Five years ago, six teenagers from different parts of the country arrived at Belmont University in Nashville, each intending to study music, each hoping to develop their respective solo acts. But by the time they were seniors, their talents and interests had coincided to the point that they were regularly providing back-up vocals and accompaniment for each other at various gigs. Soon the six of them—Rachel Harlow, Devon Graves, Jonathan and Emily Martin, and Patrick and Molly Lockwood (there are now two married couples among them)—decided to create their own group, Mosaic—a fitting title considering the variety of pieces that make up the whole. They've since released a Christmas album (Until the Son of God Appears) and, just recently, a worship album (As Long As It Is Day).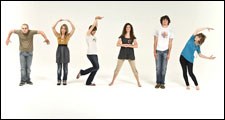 We caught up with five of them (Devon was in France) to talk about their new CD, their joys and challenges, and their shared passion for serving the church.
What was the impetus for Mosaic?
Emily: We didn't start thinking about doing group things until senior year. One day, Patrick was doodling around on the guitar on "O Come, O Come Emmanuel" and we all just chimed in and were like, This is cool, why don't we make a Christmas CD?
Jonathan: For me, it's been a lesson in how God leads. There wasn't a big moment. We did the Christmas album for fun and did a three-week tour. God was really opening doors for us as a group. It surprised all of us to go into full-time together.
Rachel: It was God's prompting. It resonated in all of our hearts to minister together.We all have a heart to minister to churches particularly; we love to help in any way we can with their Sunday morning worship.
Patrick, you were diagnosed with MS [multiple sclerosis] last year. How do you deal with it?
Patrick: I was diagnosed in January of 2009, right after we decided to start doing music together. The Christmas album took about nine months to finish, and one of the reasons is that it took me a long time to record the guitar for one song. In the middle of recording I'd have an episode where I'd lose control of my fingers.
Molly: I couldn't believe what was happening. I couldn't understand why it was taking a whole day to record a song. It took me awhile to have patience with it. I wish I could have gotten in his head and understood truly that he really couldn't see straight. But that was just really confusing and hard for us to learn how to communicate when things were happening in his body that were strange.
During that time we were at his family's cabin in North Carolina, and his dad and stepmom wanted him to play the guitar, but he couldn't finish a song. About every 30 seconds that he would play, his fingers would just stop playing. All of a sudden he would start hitting the wrong strings and wrong notes and stuff.
We're out on the porch at the cabin and he just had these two or three chords that I believe God gave to him the ability to play for his own comfort. It was strange, 'cause he couldn't really play anything else, but he could play these chords. They were the chords to "Give Me Jesus." We ended up arranging that song [for the Christmas album]. It's a really cool story, how the Holy Spirit uses music even when your fingers shouldn't be able to play it.
Patrick: God used the MS in my life as a good thing. Right now I'm not feeling any symptoms so it's a lot easier to say, but back then I just learned that sometimes God puts trials in your life—diseases, loss of loved ones, loss of money, loss of whatever—for our good. I learned just to trust him and rely on him when I couldn't talk or see right.
Right now we don't have to deal with it, other than that I give myself a little injection every night, but one day we might have to. What that'll look like I don't know, but what it might look like is that all of a sudden I can't play. We'll just keep going, keep touring, and bear with me.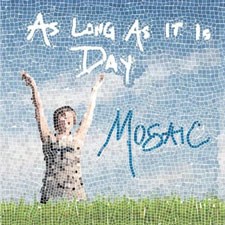 Talk about your new album, As Long as It Is Day.
Jonathan: We're a group of songwriters who love leading worship together. So, we just tossed the idea out there about doing a worship album and the train just started moving.
Molly: We didn't really have a theme at that time. The Holy Spirit would give us songs as we were recording the album and [we discovered] they all have this underlying theme "as long as it is day." Our music is [meant] to strengthen and challenge and convict and edify the Body of Christ. The songs are all geared toward what the Word of God says about Christians and how our lives should look. We didn't even intend for that to happen. It just happened, which is really cool!
Rachel: The other cool thing about the album is that from song to song, there is so much Scripture in the lyrics. Though we wrote the songs, in part we didn't write the songs. We love that, 'cause we don't have a whole lot of wisdom of our own. The album title came from a verse in John 9.
Emily: I was reading in my morning quiet time and I read that verse [John 9:4] and for some reason it just seemed to stick.
How do you keep this thing together with all your different styles, decide who is going to take the lead, and keep from stepping on each other's toes?
Molly: We enjoy being a group more than we enjoy being the lead. All of us feel equal. We love singing "O Come, O Come Emanuel" because there's not a lead. Our voices are equally blended to bring out the richest possible music in that moment. In our hearts, that's what we really love. That's why it's not a problem.
Emily: God kinda did that [determined the lead] for us. Each person wrote one or two songs, and the person who wrote it sang the lead. Whoever had the vision for the song would make up the framework and we would sit in one of our dens, living rooms, or bedrooms and start coming up with ideas and arrangements.
What is God teaching you these days?
Emily: Learning to value what other people value. Two girls in the group, Rachel and Devon, have serious long-distance boyfriends who are waiting all day for maybe that one Skype call. Some people have a hard time sleeping, some people have a hard time concentrating in large groups of people or just getting overwhelmed. We're just trying to be sensitive to other people's needs.
Molly: I think the word "grace" could sum up a lot of it. It's easy to love someone when they're at their very best; but to say you love someone means you love them when they're at their absolute worst. We are learning that because we see each other at our very worst, all of the faults laid out there. I'm getting glimpses here and there of [group members] learning to love the real way, which is not love when you're happy about the way someone is acting, but love no matter what.
Future plans?
Jonathan: Mosaic has kind of an ellipsis after it. We all had different things we were planning on doing in our lives, but I feel like all of us at this point could say this is exactly where we're supposed to be.
Molly: We're a little scared to have [concrete] plans for the future because it might make us less dependant on God's still, small voice that was the very birth of this in the first place. We're trying to let ourselves just take it one day at a time, hear God's voice, and go wherever he leads us.
Jonathan Sprowl is an online assistant editor at Christianity Today International.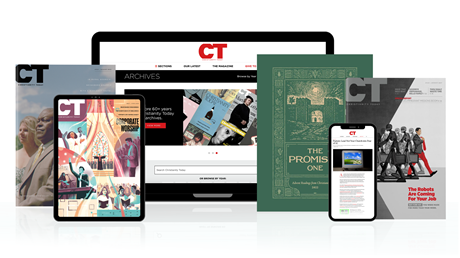 Subscribe to Christianity Today and get access to this article plus 65+ years of archives.
Home delivery of CT magazine
Complete access to articles on ChristianityToday.com
Over 120 years of magazine archives plus full access to all of CT's online archives
Subscribe Now
Aptly Titled
Aptly Titled