true
In 1885, a revival swept the city of Nashville when most of the town's commerce lay along the Cumberland River in saloons and brothels. Now, 125 years later, revival may be rumbling there once again. So says Candy Christmas, former southern gospel star and Dove award winner who now ministers to the homeless who reside along the river.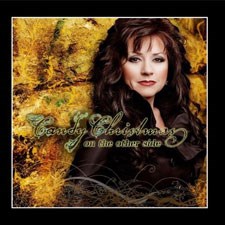 She even believes they'll lead the way. They were certainly the inspiration for Christmas' first album in seven years, On the Other Side (Bridge Records), which released last week. A third-generation member of southern gospel royalty (The Happy Goodman Family were her grandmother's siblings, the Hemphills her parents), Christmas's new album is an eclectic mix of southern gospel classics and hymns, the album reflects what she has witnessed over the past six years, preaching to and feeding the homeless.
In November 2004, Christmas founded The Bridge Ministry—named for its location under the Jefferson Bridge near the riverbank—after taking a pot of jambalaya to a group of homeless people on a visit with a local pastor. The Bridge is now a thriving ministry which includes a weekly church service on Tuesday nights to feed and preach to up to 500 attendees. Other local churches and ministries (including the Salvation Army) also reach out to these homeless. Some of those organizations use the Bridge's 20,000 square-foot warehouse—a resource hub for nonprofits—which is stocked with dry goods, toiletries, and coats to pass out for the winter.
The shade is welcoming under the bridge in summertime, but with 200 plus people crowding around tables of food and sitting shoulder-to-shoulder on plastic folding chairs, the heat is hardly escapable. Nor is the constant sound of rushing vehicles above. Tan, weathered faces line the crowd while a few toothless smiles and lots of laughter color the otherwise gray space. As soon as the music starts, the sound of shifting gravel stops, people still, distractions fade, faces turn, and everyone focuses on the group belting into microphones about amazing grace and how sweet it sounds.
Christmas leads the song initially but before long, she is handing the microphone off to a homeless attendee who finishes the chorus. She does this until the entire song is sung by several willing volunteers. They know every word.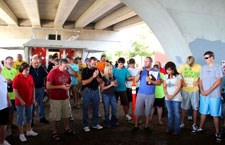 The scene is a long way from its humble beginnings six years ago. "It never occurred to me that I would be starting a ministry," Christmas says. "But the homeless came in so many numbers that the need grew."
When Christmas first visited in 2004, she was battling depression. "I had lost my appetite. I couldn't eat. I was 100 pounds. Then when I got there, it was like something came alive in me that was dead—something that was lacking." So she kept returning to the same spot, always a pot of jambalaya in hand. It eventually grew to a group of volunteers and ultimately a weekly worship service and ministry that functions much like a local church.
If you drive by at any other time of the week, you wouldn't know that spot of gravel under the bridge doubles as the floor of a church. Cars park there during the day, but a single bed roll lying against one of the bridge's support columns hints at the concentration of homeless dwelling near by. One wanderer passes the spot sporting several years' worth of dreadlocks and a pair of once khaki-colored shorts. Some of Nashville's most prominent businesses reside in high rises mere blocks away.
But on Tuesday nights, the desolate semi-parking lot buzzes with activity as the Bridge Church comes alive. It has two open-air sections divided by a cement wall which holds up the Jefferson Street Bridge: one second with two portable kitchens to serve dinner, and the other a makeshift sanctuary with 300 folding chairs. The meal is always hot, and in six years of meetings without missing a Tuesday, they have never run out of food.
Delores Lefticky and her team of about 75 volunteers prepare food for 200 to 300 people, but even if 500 show up, they somehow have always had enough. "God has multiplied so many times," says Lefticky.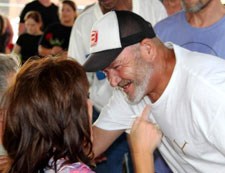 Food first, then the gospel
Food is crucial for drawing a hungry crowd. "I never preach the gospel to anyone that's hungry," says Christmas, who often leads an altar call at the end of the service. After the message, those who have stayed can then use a ticket they received with their dinner to get one bag of groceries, one bag of toiletries, and enter a raffle to win a bicycle that's given away each week.
On this particular Tuesday, Josh Rogers, a pastor from Christmas's church The Resting Place (founded by her husband, Kent, in 2007), speaks on the crucifixion. Toward the end of Rogers' short sermon, he assures them, "It don't matter where you came from. It don't matter where you're going. Time stands still right here."
Christmas has gotten to know this tight-knit community who gather under the bridge through her consistency in their lives. "There's this whole subculture," she says. "The homeless people, they claim each other as their brother and sister because [many of them have] been abandoned by their family. When you're kind to them, and they can see they can trust you, you're part of their family."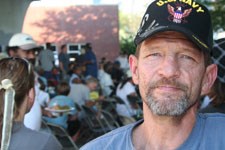 Michael Lash, 49, has been coming to The Bridge on Tuesday nights since it began. "When you're living out on the streets, you figure out the places to eat. This was suppertime," he recalls of his first months attending.
Lash says he's a recovering alcoholic and drug addict who has been homeless for about a decade and in and out of rehab for years. He first came to The Bridge pushing a grocery cart. Every time he came, Christmas prayed for him. "She's my angel," he says.
After alcohol poisoning put him in a coma for two weeks, he decided to dedicate his life to Christ and now has dreams of being a counselor to those going through what he did: "I've been there; I've done that," Lash says, and now after attending The Bridge feels he has something to give back to his community.
Ed Clark, 55 and homeless for 13 years, walks everywhere he goes, including to The Bridge—a 45-minute foot commute from the tent he calls home. He admits he came at first for the food but was ultimately drawn in by the worship music. "I'm a musician," he says, naming the profession that brought him to Nashville in the first place.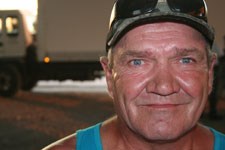 The Bridge has offered Clark a second chance. He hopes to open a shelter from 5-11 p.m. to serve those homeless who are employed, and to open a shelter specifically for homeless women.
Their desire to give back to the community may be the most inspiring effect of The Bridge Ministry, convincing Christmas and many others of the revival they could lead. Their lack of resources is no hindrance.
That spirit was exemplified one night last year when Christmas shared about her other ministry—the Candy House, a school for orphans in Port-Au-Prince, Haiti. She recalls, still in awe, how she told the Bridge crowd about her 2009 trip to Haiti, noting that it's the poorest country in the Western Hemisphere.
"They started getting up, bringing their quarters and their dollars," she says. Though Christmas tried to stop them—she simply wanted to raise awareness, not funds—they kept coming. "That night we took up $42.53. So now I've got homeless people that are trying to get their passports to go to Port-Au-Prince to build this orphanage."
The non-homeless who have witnessed such scenes often return.
Al Jayne, 78, and his wife, Era, volunteer at The Bridge every other week. Al has been collecting and distributing old and donated Bibles for 13 years; he brings stacks of the Good Book when he attends, setting them up on a table at the back of the sanctuary.
"I'm blown away by the commitment in [Christmas]," Jayne says, noting that her passion keep him and his wife coming back. The ministry has also changed Jayne's perspective of the homeless. "I grew up thinking all poor people were bums. Then I began to see that there were many reasons people were poor."
Music for the ministry
Christmas is quick to note that her new album is solely for the ministry. "Music is what I know how to do," she says. "That is what God opened up for me to bring awareness to The Bridge."
A former southern gospel star who traveled with the Gaithers, she confesses, "I never even liked southern gospel. But it was, learn to sing southern gospel music or stay home with a babysitter!"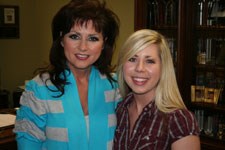 Christmas' daughter Jasmine, 21, who wrote two songs for On the Other Side, said in the southern gospel world her mom had "always been made into something that people thought would be pleasing." So Christmas felt pressure to perform and sought stardom and fame, and before long was battling depression.
But as she got more involved with the folks under the Bridge, her life found new meaning. She began turning away from the music scene and the "modern worship movement." "The church has become so segregated based on worship styles," Christmas says. "It's like, 'If you aren't my name brand, I'm going to tune you out.' [But] the homeless people don't care. They don't care if you're rich or poor, southern gospel or contemporary. They just want to know 'Is what you have real and will it work for me?' So it was really refreshing for me to be accepted."
Her new album comes with a renewed sense of life—for her, for the people under Jefferson Street Bridge, and potentially for the city of Nashville. Recalling the miracles of the 1885 tent revival, Christmas sees possibilities: "Here we are, years later and we're right on that same river. And who are we ministering to? The drunks, the prostitutes, the drug addicts. And I just have this feeling that God is going to do it again."
Learn more about Candy Christmas here, and about The Bridge Ministry here. Buy her new album here, and a companion book project here.
Andrea Lucado is a freelance writer, a blogger, an editorial assistant, and yes, daughter to Max.
Photos by Chuck Webster and Andrea Lucado.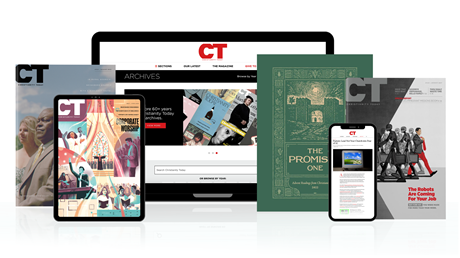 Subscribe to Christianity Today and get access to this article plus 65+ years of archives.
Home delivery of CT magazine
Complete access to articles on ChristianityToday.com
Over 120 years of magazine archives plus full access to all of CT's online archives
Subscribe Now
A Bridge to the Homeless
A Bridge to the Homeless