true
What is the most winsome account of the Christian life you've seen onscreen in the last year? My own answer surprises me: a 30-minute documentary entitled Top Ten Monks, airing December 22 on HBO2.
Set in Stift Heiligenkreuz Abbey, a Cistercian monastery near Vienna, the documentary takes as its point of departure a deliciously incongruous human-interest story of the sort that appears below the fold each day on the front page of The Wall Street Journal. "They rise at 4:30 every morning," the film's publicity sheet begins. "They pray more than six hours a day. They've devoted their lives to God. And they're pop stars." Who could resist such a premise?
The improbable celebrity of the monks of Stift Heiligenkreuz was set in motion when Universal Music in the UK, having noticed an uptick for albums in their back catalogue featuring Gregorian chant, advertised in Catholic publications in search of new material. At the last minute, someone forwarded the ad to Father Karl, the media relations man at the abbey, and he responded, including a YouTube video of the monks singing. Tom Lewis at Universal was bowled over by the video, and before long the monks could be heard on a CD, which ascended the pop charts in Austria, Germany, and Britain, topping the million mark in worldwide sales.
All of this is charming—Father Karl himself is an immensely engaging figure—but also fairly predictable, and I was prepared for beautiful and worshipful music accompanied by a superficial glimpse of monastic life, from the viewpoint of an intrigued but jaded outsider. (Director Dana Perry's credits include the documentaries Sex: The Revolution and The Drug Years; she also directed the widely praised Boy Interrupted.) But Top Ten Monks is far from superficial, a very different sort of film from what I was expecting.
This is a film about God. Much of it consists of various monks, different in temperament and background, speaking about God and about their vocation. Very rarely have I seen a documentary that allows believers to express the heart of their faith so clearly and directly, without undercutting, without any knowing nudges to the viewer.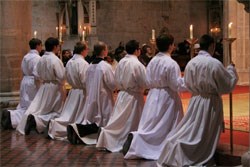 "The music is prayer," Brother John Paul says at the outset. When the monks chant, as they do every day—and as their predecessors at the abbey have done for almost 900 years—they are addressing God. "We don't pray to attain X, Y, or Z," says Father Alkuin, "but because God is so great, that there is really no higher human activity. There is nothing more beautiful to do."
Brother Samuel, tall and lean, with a quick sense of humor, speaks of his sense, starting around his eighteenth year, that God wanted him to do something. When the nature of this calling became clear, he struggled particularly with having to give up his desire for marriage: "Why would he want to take that from me?" Then, Brother Samuel says, he realized that God himself was the source of this desire: "He is the bride I was looking for."
I was struck, too, by the way in which several of the monks spoke in a heartfelt but also matter-of-fact way about our hopes for the life to come. It is fashionable now among many thoughtful Christians to deprecate this hope, to claim that it is overemphasized, at the cost of obscuring what God has in mind for us right here and now. I understand the concern, but I think it is misplaced. When I heard Brother John Paul saying "We're not living only for here; we're living forever," and Father Karl, speaking at the end of the film about the "beautiful and joyful liturgy for the dead" that the monks included on the CD—"We walk into Paradise," he said; "we go into heaven"—my heart sang. I think we need to keep this hope steadily before us, without in any way dismissing the here-and-now.
Of course life at Stift Heiligenkreuz, like life at your house or mine, is considerably messier than what we see through this half-hour window. Often, I am sure, the monks feel at a loss, just as we do. But daily they remind themselves that God is God, and we are his children. "In the first place," Father Karl says, to a classroom full of monks, "whoever claims to understand God is either arrogant or in need of a psychiatrist." To sing, to love, we don't need to understand.
John Wilson is the editor of Books & Culture.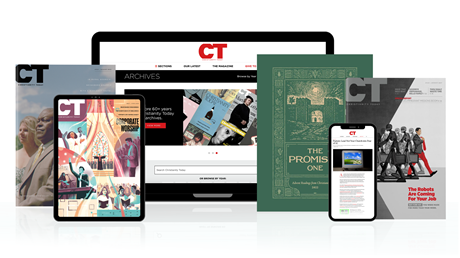 Annual & Monthly subscriptions available.
Print & Digital Issues of CT magazine
Complete access to every article on ChristianityToday.com
Unlimited access to 65+ years of CT's online archives
Member-only special issues
Subscribe
Top Ten Monks
Top Ten Monks