Obstetric fistulas were common in the United States generations ago. L. Lewis Wall, an obstetrics surgeon and president of the Worldwide Fistula Fund (WFF), told Christianity Today that due to modern health care, fistula has been "lost from the collective memory." (See "Jesus and the Unclean Woman.")
A fistula develops when bladder or rectal tissue is damaged during obstructed labor. In most instances, the mother is unable to deliver her baby because her pelvis has not fully grown. Typically her child dies, and unless surgery is performed, the woman remains incontinent for the rest of her life. Medical experts estimate that more than 90 percent of the 2-3 million women who need the surgery live in the developing world.
WFF is the first American organization focused solely on fistula. Wall and WFF vice president Steve Arrowsmith have performed thousands of fistula repairs since the 1980s. Arrowsmith has a sense of humor about his expertise. "I used to tell everybody I was one of the top five fistula surgeons in the world. There were only four of us, but I was definitely right up there in the top five."
Australian physician Catherine Hamlin and her late husband, Reginald, were the modern pioneers of fistula surgery. In 1974, the Christian couple founded Ethiopia's Addis Ababa Fistula Hospital, which has provided free surgery to more than 34,000 women. (Hamlin, who turns 86 this month, still performs surgeries.)
Fistula surgeries are also regularly performed aboard Mercy Ships' Africa Mercy, a nonprofit floating hospital where Arrowsmith serves as surgery coordinator.
Launching a Campaign
Intensive media attention has brought the need for fistula surgery to a worldwide audience. Both the BBC and Oprah have aired programs on the topic. And a 2007 Emmy-winning documentary, A Walk to Beautiful, followed five women through fistula repair in Ethiopia.
New York Times columnist Nicholas D. Kristof has written on fistula many times and featured it prominently in Half the Sky, the 2009 book he wrote with journalist wife Sheryl WuDunn. Kristof told CT, "Fistulas were almost unknown ten years ago. It was considered a fairly disgusting topic, not appropriate for polite conversation." Fistula sufferers are "the most voiceless people in their societies."
'Fistulas were almost unknown ten years ago. It was considered a fairly disgusting topic, inappropriate for polite conversation.'—Nicholas D. Kristof
As more Americans learn about the situation of the most voiceless, more want to do something. Enter the influential Michael Horowitz, a senior fellow at the Hudson Institute and a general counsel for the Reagan administration. He specializes in assembling broad-spectrum humanitarian coalitions focused on human trafficking, religious persecution, and prison reform, among other concerns.
"In all of these fields, you find some heroic person or people barely keeping the flame flaring, doing everything they can," said Horowitz. "By now I have an instinct for what kinds of things can catch fire."
Last year, Horowitz connected with Kristof, WFF, and Wall. All parties have put their stamp of approval on a global campaign to provide fistula surgery to any woman who needs it. The $1.5 billion campaign, funded by donations and U.S. foreign aid, would pay for 40 fistula surgery clinics, each having 40 beds and costing $2.5 million. Nations in which fistula is widespread would be leading candidates for clinics.
Each facility would provide surgery and other medical treatment for fistula patients, as well as train surgeons and medical staff. Other programs would educate communities on fistula prevention through improvements in female and maternal care and midwife training.
In Niger, the landlocked state north of Nigeria, WFF is building what it hopes will be a demonstration model hospital, located near a leprosy center. Arrowsmith said the location is intentional because those with fistula and those with leprosy have much in common. "They need a lot beyond just care for leprosy, and fistula patients need a lot beyond just having an operation."
The campaign also plans to create an International Fistula Institute to manage funds and build long-term relationships. "Western governments have a role to play," Kristof said. "But at the end of the day, these efforts have to be owned and supported by local people in these countries." (The U.S. government has a fistula program, but its budget is only several million dollars per year.)
Spiritual Plus Physical
Horowitz believes motivating the faith community is critical. WFF's Wall agrees. "If I can mobilize the Christian women of America on this issue, the men won't stand a chance."
The campaign is gaining support among religious leaders. Mark Pelavin, associate director of the Religious Action Center of Reform Judaism (RAC), said, "The combination of the magnitude of the problem and the ability to solve it make it exactly the kind of issue or cause that a lot of organizations will be interested in."
Key evangelical leaders strongly support a faith-based campaign to end fistula. Several groups, including the World Evangelical Alliance (WEA) and the RAC, held a summit in mid-November to discuss the campaign for creating a fistula-free world.
Kristof is optimistic that diverse groups will come together on the issue. "In general, reproductive health tends to be a toxic area that creates antagonism," he said. "Fistula is one of the few areas in that world where everybody would like to help and can do some good; it doesn't raise these issues that immediately divide people."
Debbie Fikes, a top leader with the WEA, told CT that fistula outreach appealed to her as both a woman and a Christian. She believes that educating congregations on the unique needs of women with fistula is essential. "It's easy to get de-sensitized because there are so many needs," said Fikes. "But this is one that's very achievable."
The campaign is just starting to take hold at the grassroots. Central Peninsula Church in Foster City, California, was looking for an opportunity to address physical and spiritual needs. After pastor Mark Mitchell met Wall through a friend, church leaders became more interested. A significant percentage of fistula surgeries worldwide are performed at Christian hospitals and clinics.
At its 2008 Christmas Eve service, Central Peninsula raised about $85,000 to construct a fistula treatment center in Niger. Due to the country's political complexities, the fistula project was delayed for several months until ministry leaders could iron out the local politics. Officials eventually granted them permission to build the treatment center. In late November, Mitchell told CT that his church was hoping to donate its 2009 Christmas Eve offering toward the fistula outreach in Niger, giving the project a much-needed financial boost.
"Our hope is that we can start taking teams of people and get them involved in hands-on work in both of these areas," Mitchell said.
Mitchell and Fikes acknowledge that there is no shortage of social challenges the evangelical community could address. But, as Horowitz told CT, "If the evangelical community defines this as a priority issue, it doesn't have to abandon any other issue. It will strengthen its credibility on all other issues."
Elissa Cooper is an editorial intern with Christianity Today.
Related Elsewhere:
Christianity Today also posted a story on how a story in Mark's gospel sheds light on the problem of obstetric fistula.
CT also wrote about fistula in 2005 and reviewed Nicholas D. Kristof's Half the Sky.
Have something to add about this? See something we missed? Share your feedback here.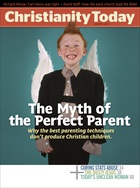 This article is from the January 2010 issue.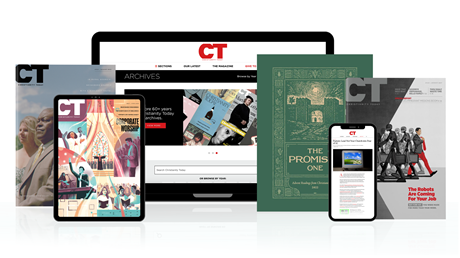 Annual & Monthly subscriptions available.
Print & Digital Issues of CT magazine
Complete access to every article on ChristianityToday.com
Unlimited access to 65+ years of CT's online archives
Member-only special issues
Subscribe
Hope for the 'Most Voiceless' on the Planet
Hope for the 'Most Voiceless' on the Planet