In Ruth Del Fulani's native nigeria, where labor in childbirth can stretch on for a week and trained birth attendants rarely oversee deliveries, her two days of labor seemed routine.
But the toll was horrible. The child's head stuck in her pelvis. This "obstructed labor" cut off blood supply to delicate tissues until the tissues died.
Del Fulani delivered a stillborn baby and then discovered she could no longer control her urine. Del Fulani had suffered a vesicovaginal fistula (VVF), a hole between her vagina and bladder caused by unproductive labor. The fistula left her incontinent and smelling like a sewer.
Obstetric fistula is almost as old as childbirth. It has all but disappeared in wealthier nations, where cesarean sections are readily available during difficult labor.
But VVF remains a complex, intractable health-care problem in the developing world, especially in sub-Saharan Africa. For tens of thousands of women like Del Fulani, the injury becomes the defining moment in their lives. It relegates them to the ranks of the living dead.
Childbirth-related injuries are cruelly effective in destroying a woman's ability to do traditional duties, from manual labor to producing a male heir. According to the Worldwide Fistula Fund, a charitable organization based in St. Louis, Missouri, "These women become social outcasts, isolated from family, friends, village society, and religious life."
In the poorest countries, women and girls often have no say concerning when and whom they marry. Many contract VVF as adolescent brides, their immature bodies unable to handle the demands of childbirth.
No Access to Surgery
In industrialized countries, 1 in 4,100 women die in childbirth. According to UNICEF studies, sub-Saharan Africa's maternal mortality rate is 1 in 13. The United Nations estimates between 50,000 and 100,000 new cases of VVF each year. But missionary urologist Steve Arrowsmith, VVF program director for Tyler, Texas-based Mercy Ships, believes the actual number of fistula patients is significantly higher due to almost nonexistent record-keeping and the embarrassing nature of the affliction.
In many parts of the world, it means little to say that fistulas are preventable. Roads from a village to a hospital may not exist or may be impassable during the rainy season. The hospital may lack electricity and surgical supplies.
Worldwide, only six hospitals specialize in fistula repair. In the 1990s, Arrowsmith served in Ethiopia's Addis Ababa Fistula Hospital, where 1,200 such surgeries are performed annually. Mercy Ships performs 450 fistula surgeries annually at its Sierra Leone clinic and on the floating hospital Anastasis. Women in many countries have no access to the surgery.
Although surgery is crucial to restoring the lives of patients, their needs extend far beyond the physical. Their babies are stillborn more than 70 percent of the time. Scar tissue usually renders the women barren and often unable to have sex. In Del Fulani's case, her husband, like most men whose wives suffer from fistula, divorced her. Everyone but Del Fulani's grandmother and her church abandoned her.
Del Fulani is a Christian. Muslims with fistula suffer an additional censure. Since Islam considers these women unclean, they are forbidden from mosque worship, utterly cutting them off from society.
These women are why Carolyn Kirschner, a gynecologic oncologist, and her husband, family physician Greg, came to Nigeria as SIM missionaries in 1995. Carolyn began working at the Evangel VVF Centre associated with the Evangelical Church of West Africa's Evangel Hospital in the Plateau State city of Jos. Founded in 1992 by Arrowsmith, the 50-bed clinic annually performs 350 surgeries free of charge, mainly on women from northern Nigeria.
Though Evangel is openly Christian, it ministers to Christian and Muslim patients. "We treat them all the same," Kirschner said. "We try to give them dignity, to say, 'You have value, you have worth.'" The clinic also offers three- to six-month rehabilitation at Fistula Village, a literacy and job-skills training program with a spiritual component, vital to restoring women's lives and self-worth.
Carolyn Kirschner worked at the Evangel VVF Centre until 2004, when the Kirschners moved to Illinois on extended leave. In July, she returned to Evangel to try a new continence surgical procedure that, happily, worked.
Kirschner can understand why husbands bow to strong cultural pressure and abandon wives with fistula. In the poorest countries, governments offer few social services and no pensions. Children tend crops and later support their elderly parents.
"The guy may have every good intention and not want to leave his wife, but … his whole family is saying, 'Get rid of her, she's cursed,'" Kirschner said. Perhaps unspoken is the thought: If this wife cannot provide children, send her away and find another who can.
Yemena Tyewedee of eastern Nigeria's Benue State underwent this experience. In 1990, Yemena's brother sold her to an elderly man as a second wife. At age 13, she became pregnant. Her ten-month pregnancy ended with seven days of labor. She delivered a stillborn baby and became incontinent.
Her husband visited once and left. Her parents wouldn't eat meals she cooked because of her smell. They threw her out of their home. Three years later, after three failed surgeries at regular hospitals, she found Evangel.
Perhaps the hardest part of Kirschner's work is maintaining the hope of patients. Loss of hope could plunge them into suicidal depression. In Yemena's case, her fistula was irreparable. She remains incontinent and barren, which means she likely will never have a husband and children to care for her.
Yet Yemena continues to believe God can heal her. Meanwhile, she works as a clinic housekeeper. "I hope God will do something to change my situation," she said. "But I don't have problems staying here. People have shown love to me. Love I cannot get at home. I've been more loved here than any other place."
Many others are not as hopeful. After Del Fulani's grandmother learned of Evangel's VVF clinic, Del Fulani scraped together funds to go to Jos, 150 miles southeast of her village in Nigeria's northern Kaduna State. After the surgery, she returned to her grandmother and began leaking urine again. After a second unsuccessful surgery, she tried to hang herself.
In Kirschner's near-decade of VVF work, she has heard many stories like Del Fulani's. Additional surgical repairs are common. Complex injuries from hard labor may require six surgeries, some lasting up to eight hours.
Still, Arrowsmith said that 85 to 90 percent of fistulas are "closeable." In some of these cases, there is lasting incontinence due to other injuries. Both Kirschner and Arrowsmith have operated on women who have endured VVF for decades. One Ethiopian woman with a fistula hid for 43 years in a monastery. After Arrowsmith performed a 20-minute surgery, she was continent, though most of her life was gone.
"It just breaks your heart," Kirschner said.
Medical experts recognize that VVF is more than a medical problem. One related concern is the number of girls who are kept out of school and married off at an early age. In developing nations with universal free primary education for boys and girls, there is a greater chance for girls to delay marriage, thereby reducing the incidence of fistula and infant mortality.
"It's not enough to be really good at fixing holes in bladders," Arrowsmith said. "I think it's unethical not to address the social, economic, and spiritual [as well]." That's why he believes literacy and income-generation programs are so important. "These women need varsity-level counseling. The gospel is a key thing. Traditionally, throughout history, Christians have been more willing to go live in these hard areas to help the poorest of the poor and the lowest of the low."
A holistic approach remains essential. "Until there is an equipped, staffed hospital every 30 miles or so with good roads in between, no conflict to interrupt travel, and no cultural barriers to care," Arrowsmith said, "VVF will remain a huge problem."
Graduation Day
On a cloudy August morning at Evangel Hospital, the chapel is packed with a large crowd. Dozens more people peer through the windows. Twenty young women in new, matching dresses and head ties sing and dance at a ceremony honoring their efforts at Fistula Village. Surgery healed most of them. They may no longer leak urine. But for many, their families banished them, and their husbands divorced them. They must make new lives.
Among them is Ruth Del Fulani. Seven years and three surgeries after contracting her fistula, she is now "dry." She shared her gratitude at the ceremony: "You cared for me more than my parents, husband, my other relatives. You fed me. You gave me soap. You washed me. You spoke nicely to me."
Once a year, Evangel holds a reunion for former patients. Evangel staff asks questions: How are you physically? Emotionally? Spiritually? How can we help? Some patients have found deep trust in Christ.
But most want to put the hell of fistula behind them and never return. An exception is Patricia, a serious, middle-aged woman whom Kirschner mended in 1999.
Every year, Patricia pays for her travel and a guest's from their village back to Jos. Her guest is always someone with a fistula who needs healing. Now delivered, Patricia is fighting the life-wrecking condition for others, one woman at a time.
Journalist Deann Alford is based in Austin, Texas.
Help Fight Obstetric Fistula
Learn more about VVF (vesicovaginal fistula) at the Worldwide Fistula Fund website: www.wfmic.org. Mission groups specializing in VVF include Mercy Ships, www.mercy ships.org, and SIM, www.sim.org. These groups need funds to subsidize each $450 surgery, to support rehabilitation, and to educate people about prevention.
"Nothing in Western practice is anything like VVF repair," Arrowsmith said. Gynecologists, urologists, and plastic surgeons wanting to help with the surgery must first be trained. "Commit to several trips over several years," Arrowsmith said, "and the skills will come."
Pray for chaplains and doctors ministering to women with VVF.
—Deann Alford
Related Elsewhere:
More articles on medical missions include:
The Missionary King | How a double-M.D. couple ended up getting the royal treatment in Nigeria. (Nov. 21, 2005)
Free the Doctors | Agency pays school debts of medical missionaries (Oct. 7, 2003)
Christian History Corner: Medical Missions' African Legacy | For generations, missionary doctors have healed body and soul in Africa. (July 25, 2003)
CT articles on medical missionary Paul Brand include:
Noted Surgeon and Author Paul Brand Dies at Age 89 | Connected his pioneering work with leprosy and his missionary faith. (July 10, 2003)
God's Astounding Laws of Nature | "I like to think of God as developing his skills," said Dr. Paul Brand. Interviewed by Philip Yancey (December 1, 1978)
A Surgeon's View of Divine Healing | Do doctors waste their time by doing slowly and painstakingly what could have been done in the twinkling of an eye? (November 25, 1983)
Blood, Part 1: The Miracle of Cleansing | We moderns are repelled by the thought of blood cleansing, but biologically and spiritually the precious liquid does exactly that. (February 18, 1983)
Blood, Part 2: The Miracle of Life | A well-known surgeon talks about that miraculous red river within us as an emblem of life. (March 4, 1983)
Blood, Part 3: Life in the Blood | If Jesus had been born in the twentieth century, would he have chosen the image of transfusion for his forgiveness, love, and healing? (March 18, 1983)
The Scars of Easter | He knows the wounds of humanity. His hands prove it. (April 5, 1985)
A Handful of Mud | Soil is life. Can we preserve it for future generations? (April 16, 1985)
Have something to add about this? See something we missed? Share your feedback here.
Our digital archives are a work in progress. Let us know if corrections need to be made.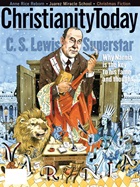 This article is from the December 2005 issue.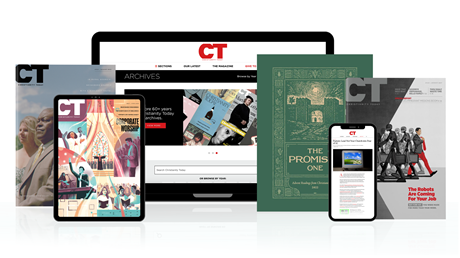 Annual & Monthly subscriptions available.
Print & Digital Issues of CT magazine
Complete access to every article on ChristianityToday.com
Unlimited access to 65+ years of CT's online archives
Member-only special issues
Subscribe
Hope for the Living Dead
Hope for the Living Dead