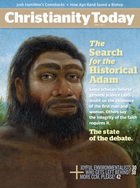 This article is from the June 2011 issue. Subscribers can read all of CT's digital archives.
"We're a private organization and we don't have to give a reason and we're not."
Jerry Falwell Jr., on Liberty University temporarily blocking The News & Advance from campus Internet servers. Falwell said the block was unrelated to the paper's content, which reported that the school is Virginia's top recipient of federal financial aid money ($445 million).
Source: The News & Advance/Poynter.org
"We show that higher life expectancy discounts [the] expected benefits in the afterlife and is therefore likely to lead to postponement of religiosity."
Elissaios Papyrakis, an economist at the University of East Anglia, on a report that found 10 extra years of life expectancy correlated to an 8.4 percent drop in people's likelihood to call themselves religious and a 15 to 17 percent decrease in church attendance.
Source: LiveScience / International Journal of Social Economics
"If Matthews is arguing that Wal-Mart must permit her to admonish gays at work to accommodate her religion, the claim fails."
The Seventh U.S. Circuit Court of Appeals, rejecting a Wal-Mart employee's discrimination claim after she was fired for telling a gay colleague that he will go to hell.
Source: Seventh U.S. Circuit Court of Appeals
"I don't believe in mass evangelism …. We do personal evangelism, but we do it on a massive scale. Does it work in all contexts? No, but it still does."
Will Graham, son of Franklin and grandson of Billy, preparing for a May 20-22 event in Ocean Grove, New Jersey.
Source: Christianity Today Online
Related Elsewhere:
See Christianity Today's news section and liveblog for more news updates.
1
Quotation Marks