true
Style: Folk fusion and neo-soul; compare to Jon Foreman, Iron & Wine, Ray LaMontagne
Top tracks: "White Owl," "Ulysses," "The Resistance"
Freak-folk singer-songwriter Josh Garrels spent more than a year crafting his seventh album, and he calls the process "the most rigorous mental and spiritual struggle I've known as an artist." Perhaps it was the extra fire that helped refine the project—Love & War & The Sea In-Between (Small Voice Records) 5 stars—to a brilliant, 18-song collection that grapples with and celebrates, well, love and war and all the gritty tension of a spirit forging its way through the shadowy intricacies of humanity.
Poignant masterpieces are nothing new from Garrels, and this isn't drastically different from his two previous records. But stylistic variety is a hallmark, and Garrels builds an even more lushly layered melting pot of styles and backing instrumentation. "White Owl" features jazz flourishes. Instrumental "The March" is driven by an accordion's tango cadence, while "Sailor's Waltz" conjures Eastern European immigrant or gypsy strings. "Rise" blends Americana staples with a flute and percussion that sound Native American. And "The Resistance" throbs with a trip-hop pulse.
Garrels' rich vocals unite his broad-ranging work, and the insightful depth of his lyricism anchors it. The guy's got soul that can flex like Ben Harper and Ray LaMontagne ("Million Miles") or mellow like Jack Johnson ("Bread and Wine"). His falsetto on tracks such as "White Owl" and "Ulysses" can send shivers similarly induced by Jonsi of Sigur Rós. Plus, he can lay down a smooth rap with spoken word eloquence ("The Resistance").
Lyrically, Love & War is prophetic, incisive, achingly human, and longingly spiritual. Garrels and isn't afraid to question life's murky mysteries: "Tempted and tried, I wondered why / The good man died, the bad man thrives / And Jesus cries because he loves 'em both" ("Farther Along"). He calls out unjust human institutions: "I was born into a system constructed for failure / It's a sinking ship manned by drunken sailors" ("The Resistance"). And he liberally draws nature metaphors and celebrates friendship, beauty, grace, and love both human and heavenly. It's hope and redemption that ultimately win the day in these epics.
In keeping with his true indie spirit, Garrels is giving away free Love & War & The Sea In-Between, along with any income it generates. "We were so provided for during the making of this album, by both God and men, that it seems appropriate to give away as freely as we received," he explains. That leaves no excuse to miss this gorgeous collection that will surely stand up as one of the year's best.
Browse All Music Reviews By: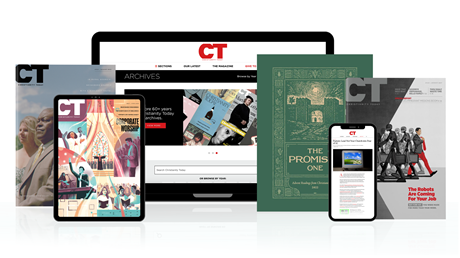 Subscribe to Christianity Today and get access to this article plus 65+ years of archives.
Home delivery of CT magazine
Complete access to articles on ChristianityToday.com
Over 120 years of magazine archives plus full access to all of CT's online archives
Subscribe Now
Love & War & The Sea In-Between
Love & War & The Sea In-Between