Ken Ham, founder and president of Answers in Genesis, was disinvited from several homeschooling conferences after he criticized a fellow speaker at two Great Homeschool Conventions conferences and on his blog.
"The Board believes that Ken's public criticism of the convention itself and other speakers at our convention require him to surrender the spiritual privilege of addressing our homeschool audience," wrote Great Homeschool Conventions conference organizer Brennan Dean in the email dismissing Ham.
"Our expression of sacrifice and extraordinary kindness towards Ken and AIG has been returned to us and our attendees with Ken publicly attacking our conventions and other speakers," Dean wrote. "Our Board believes Ken's comments to be unnecessary, ungodly, and mean-spirited statements that are divisive at best and defamatory at worst."
Great Homeschool Conventions, which aims to teach and encourage homeschooling parents, hired Ham to present at four conferences this spring and summer, along with Peter Enns, a senior fellow of biblical studies at the BioLogos Foundation.
BioLogos's mission is to "promote a perspective on the origins of life that is both theologically and scientifically sound," and Enns argues against a strictly literal reading of Genesis, according to his blog.
During the first two conferences, in Memphis and Greenville, SC, Ham showed audiences two video clips of Enns to illustrate how modern Christian speakers were compromising God's word, according to the Answers in Genesis website. He also told audiences that Enns had connections to Susan Wise Bauer, another speaker.
Bauer's publishing company, Peace Hill Press, publishes Enns's Bible curriculum for homeschoolers.
"Here is just one of many examples of Peter Enns rejecting the plain teaching of the Bible and undermining God's Word—he totally rejects a worldwide Flood," Ham wrote on his Facebook page the day after the South Carolina conference.
Conference organizers should not have been surprised, Answers in Genesis spokesman Mark Looy said. "We told the conference organizers in November that we intended to caution convention participants."
None of the parents at the conventions expressed concern about Ham's warnings, Looy said. "One speaker expressed concern, but the participants didn't have a problem with the content."
The withdrawn invitation was "out of the blue," he said. "We had no clue there was a problem. If there was, we would have sought to remedy it in time for the Cincinnati conference."
Ham was not removed for his message about young-earth creation, which the conference organizers agree with, Dean wrote in a public explanation. "Dr. Ham was removed for his spirit not for his message," Dean wrote. "We believe Christian scholars should be heard without the fear of ostracism or ad hominem attacks."
Susan Wise Bauer called the disagreement between Dean and Ham a "huge ideological clash between two men who have the same view of Scripture."
The discussion is about how to treat people you disagree with, she said. And while online support for each side has been strident, nobody knows how, or if, this is going to affect the number of people attending future conventions, she said.
Editor's note: This article has been updated from its original posting.
Related Elsewhere:
Other Christianity Today articles related to origins include:
Adamant on Adam | Resignation of prominent scholar Bruce Waltke underscores tension over evolution. (May 25, 2010)
At Origins' Margins | Michael Behe wonders how much Darwinism can really explain. (March 27, 2008)
Living with the Darwin Fish | Why the discovery of yet another 'missing link' doesn't destroy my faith. (March 12, 2007)
The Art of Debating Darwin | How to intelligently design a winning case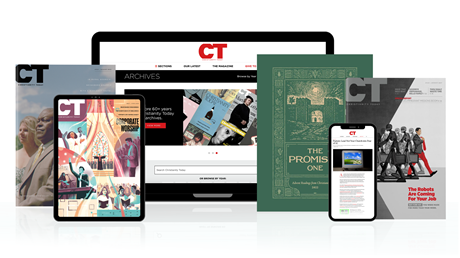 Annual & Monthly subscriptions available.
Print & Digital Issues of CT magazine
Complete access to every article on ChristianityToday.com
Unlimited access to 65+ years of CT's online archives
Member-only special issues
Subscribe
Creation Museum Founder Disinvited from Homeschooling Conferences
Creation Museum Founder Disinvited from Homeschooling Conferences