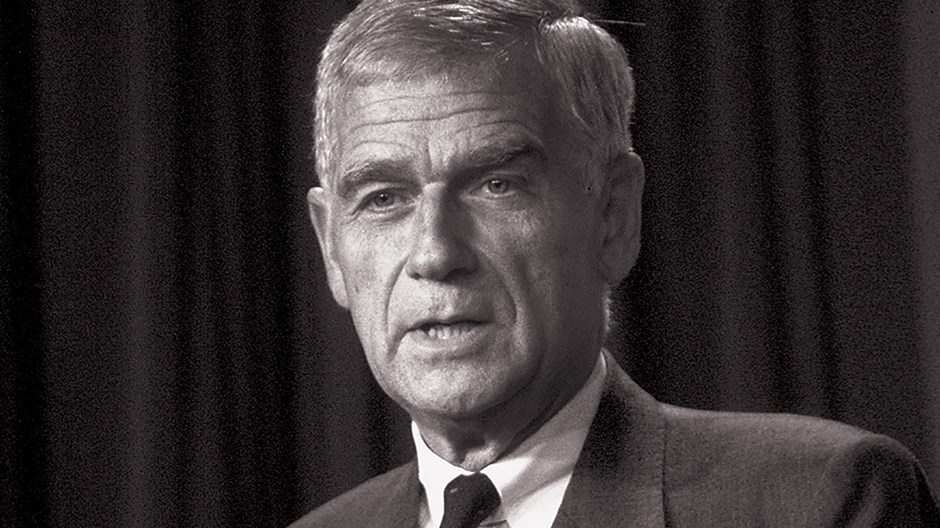 Image: Karl Schumacher / Getty
I don't like 'Christian politics,'" the late Mark Hatfield said in 1996, a few months before ending his 30-year career in the U.S. Senate. "I don't want to assume that somehow I have the right to take a very sacred word, the word Christian, and have that applied to a specific set of political issues."
It was a refrain Hatfield had uttered throughout his political career. Decades before the rise of the Religious Right, even before Jimmy Carter, the Oregon Republican was the most prominent evangelical in national politics—and his most constant target of criticism was civil religion.
"There is a theological 'silent majority' in our land," he lamented in 1971, "who wrap their Bibles in the American flag; who believe that conservative politics is the necessary by-product of orthodox Christianity; who equate patriotism with the belief in national self-righteousness; and who regard political dissent as a mark of infidelity to the faith."
At the same time, Hatfield just as strongly decried evangelical withdrawal from politics and never shied from making his faith known. As governor of Oregon, he became known for pulling his car to the side of the road and kneeling in prayer. Hatfield spoke publicly not just about God, but also about the saving work of Jesus Christ. At the 1964 Republican National Convention, he famously called John Birch Society members (many of whom were delegates) bigots, then declared the Republican Party "the party of faith—a faith that believes in the basic eternal moral values of the Judeo-Christian faith."
It's not that Hatfield was a contrarian gadfly eager to be unpredictable. When he talked about getting angry letters addressed to "Dear former brother in Christ," he did so with pain, not pride. He honestly anguished over whether it would be better to leave office than to be a divisive figure in the evangelical movement. He had a pro-life ethic that put him on the forefront of debates on abortion, medicine, poverty, capital punishment, and, most notably, military spending. He never voted for a military authorization bill. He co-sponsored the 1970 Hatfield-McGovern Amendment, which would have ended the Vietnam War, and was one of only two Republican senators who opposed the first Gulf War.
In fact, just days after Nixon had negotiated a ceasefire in Vietnam, Hatfield gave one of his most famous speeches. With Nixon and Billy Graham sitting next to him, he called for public prayers of "repentance from that sin that has scarred our national soul." It was a theme he would return to as the Watergate scandal erupted.
"It is more comfortable to believe in the spiritual symbols of righteousness than to acknowledge the reality and presence of evil, in ourselves and in our corporate life," he said. "We would rather believe that we merit God's blessing than admit that we stand under his judgment, and in need of his forgiveness."
Hatfield died Sunday, August 7, the same day media outlets expressed shock at the giant prayer rally at Reliant Stadium convened by Texas governor Rick Perry. No doubt Hatfield would have been dismayed (or furious) at many aspects of the event: the hawkish references to the military, and the fact that the event served as an unofficial kickoff to Perry's presidential campaign.
Hatfield spoke publicly not just about God, but also about the saving work of Jesus Christ.
At the same time, the day served as a marker of how broadly Hatfield's message has won the day in evangelical political engagement. Evangelicals no longer wonder if it's unchristian to enter office. And while there's intense debate on policy, evangelicals agree that the main social problem is sin. Notably, the dominant theme on Perry's website was not celebration or blessing, but rather repentance. The call to prayer was about "asking God's forgiveness" because "we are a nation that has not honored God in our successes or humbly called on him in our struggles."
Still, Hatfield repeatedly noted that our repentance and our declaring Jesus as Lord needed to go much deeper. As he said at that 1973 Presidential Prayer Breakfast: "Events such as this … contain the real danger of misplaced allegiance, if not outright idolatry, to the extent that they fail to distinguish between the god of an American civil religion and the God who reveals himself in the Holy Scriptures and in Jesus Christ …. The god of civil religion … [is] a small and exclusive deity, a loyal spiritual adviser to power and prestige.
"But if we pray to the biblical God of justice and righteousness, we fall under God's judgment for calling upon his name but failing to obey his commands …. We must be continually transformed by Jesus Christ and take his commands seriously."
Mark Hatfield may not have liked "Christian politics," but he certainly stood as a model of Christian politics.
Related Elsewhere:
See Christianity Today's obituary about Mark Hatfield. Previous articles on Hatfield include:
Mark Hatfield Changed My Life in Three Minutes | The senator bucked easy categories, even in citing a simple verse. (August 9, 2011)
Mark Hatfield Taps into the Real Power on Capitol Hill | CT's 1982 interview with the former senator from Oregon. (October 22, 1982)
Stealing God's Stuff & Controlling Human Life | Christians must help bridge the growing gap between biotechnology and bioethics. (January 10, 2011)
CT covers other political developments on thepolitics blog.
Have something to add about this? See something we missed? Share your feedback here.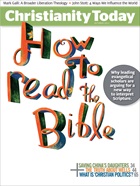 This article is from the October 2011 issue.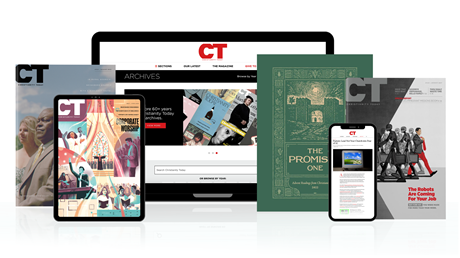 Subscribe to Christianity Today and get access to this article plus 65+ years of archives.
Home delivery of CT magazine
Complete access to articles on ChristianityToday.com
Over 120 years of magazine archives plus full access to all of CT's online archives
Subscribe Now
Unexpected Political Hero
Unexpected Political Hero