After ABC announced the newest lineup for Dancing with the Stars(DWTS), many were taken aback by the backlash of comments about contestant Chaz Bono.
Formerly Chastity Bono, Chaz is the first transgender competitor on the show, which is also what he is best known for (the documentary Becoming Chaz was nominated for three Emmys yesterday). Within days, the Internet was clogged with complaints, debates, and defenses (including from Bono's famous mom Cher) about Bono's participation in the reality TV dance show. One widely circulated comment on ABC's board states: "I am not about to risk the potential for on screen dialogue about sex changes and gender confusion while my 7 and 9 year old are watching."
Others believe Bono's appearance is inappropriate for young viewers. The American Family Association's OneMillionMoms.com, which also protests contestant Carson Kressley, formerly of Queer Eye for the Straight Guy, says, "Email ABC Network and let them know that we will not tolerate these subjects being forced into our homes. DWTS airs 8/7 central when children are awake and Christian families will not enhance the ratings by watching the show when it returns September 19 unless this issue is taken care of and these cast members are replaced."
Similarly, psychiatrist Keith Ablow of Fox News urged families not to watch, as he believes Bono's situation will glorify gender confusion and lead impressionable children to think it's okay to choose a gender. Meanwhile, Family Research Council president Tony Perkins dubbed DTWS's new season "ABC's Too Left Feat."
Many others rushed to Bono's defense, including dance partner Lacey Schwimmer, who said, "I think it's just showing that people need to be OK with this. We need to evolve. It's 2011. I personally feel that we need to get over it."
Yet it's not something to "get over." Nor is it something the Christian community can ignore or minimize. Transgender people make up a small portion of the population—estimates have it as less than 1 percent—but it doesn't make their situation any less real or painful. According to a 2007 study cited by the Suicide Prevention Resource Center, of transgender youth ages 15 to 21 participating in the study, 45 percent had thought seriously of killing themselves, and half of these said their thoughts were related to their transgender status. Further, people with gender identity disorder (GID) (the psychological terminology for transgender identity) often have poor self-image, social isolation, emotional distress, and depression and anxiety, which affects one's day-to-day life and interactions.
And this isn't limited to adults. As much as I personally disliked Ablow's article and his approach to the DWTS situation, it is becoming more widely acknowledged that children do experience GID, and they are allowed to act like or become the opposite sex.
The tricky part is that what some believe to be a psychological condition, such as GID, becomes a sin. And as Christians, we need to be able to recognize these issues and be prepared to address them—beyond the "hate the sin, love the sinner" message. In 2008, Christianity Today contributing editor John W. Kennedy wrote about the evangelical response to the rise of transgender issues. He concluded that "the challenge before conservative evangelicals is persuading transgendered people, their families, and faith-based advocates that gender identity disorder is not beyond the reach of God's grace, compassionate church-based care, and professional help."
It's not an easy task. Those with gender dysphoria—the feeling of being trapped in the wrong gender's body—causes confusion for those suffering from it, as well as people who don't have it and don't understand it. Bystanders can handle their confusion by dismissing cross-dressers as weird, to believing those seeking gender-reassignment surgery are mentally sick (the opposite ends of the gender disorientation spectrum according to the Harry Benjamin scale). Why would a person undergo costly and painful treatments to switch genders? We can say God doesn't make mistakes, but people with GID feel overwhelmingly different about it.
Russell D. Moore, dean of the Southern Baptist Theological Seminary, offers a good starting point using an ethical dilemma he posed to his students: a hypothetical situation of a transgender person ("Joan/John") within the church who wants to repent and follow Jesus. And the first thing to remember, Moore says, is that Jesus came to save sinners. He says: "The pastor should abandon any sense of revulsion because Joan's situation is "weird" or "perverted." All sin is weird and perverted. The fact that any of it (especially our own) seems "normal" to us is part of what we need the gospel for."
Like other Christians who have written about transgender issues, I don't understand it. But while I don't understand what drives people to undertake these extensive treatments and surgeries, I certainly sympathize with why they do it. The inner turmoil of feeling this shouldn't be happening to you is one thing; the cruelty coming from others only solidifies this anguish.
In my 26 years of life, I have undergone roughly 30 elective surgeries to eradicate the birthmark (or port wine stain) on the right side of my face. This red patch has evoked rude and downright painful remarks and stares from strangers throughout my life. I could cover it up with make-up, but I've always felt more self-conscious and anxious wearing make-up. What if the foundation smeared, exposing the offensive skin and opening myself to further ridicule?
In addition to the outward appearance, having this concentration of blood creates a pressure in my right eye, which can cause irrevocable damage to my vision. Without eye drops twice every day for the rest of my life and laser surgery on my birthmark, this superficial problem can lead to permanent blindness. With my talents and interests, I have a hard time believing that blindness is what God intends for my life.
As I read about those with GID choosing to take hormones on a daily basis and considering gender reassignment surgery, I was reminded yet again how minor my condition is compared with the problems other people face and the lengths they go to solve them. Most importantly, I am reminded, like Kennedy recommends, to never make anyone feel like they are undeserving of God's grace and love.
This fall, if I need some background noise on Monday nights, I'll put on DWTS. When Chaz comes up, I won't change the channel—unless he's a really horrific dancer. What will you do? What are your thoughts about the Christian response to gender identity disorder? Does having Chaz Bono on DWTS encourage the prevalence of transgender issues in culture? And is that a bad thing?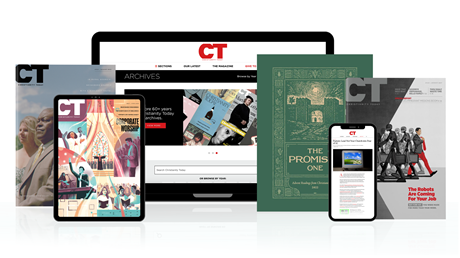 Annual & Monthly subscriptions available.
Print & Digital Issues of CT magazine
Complete access to every article on ChristianityToday.com
Unlimited access to 65+ years of CT's online archives
Member-only special issues
Subscribe
Chaz Bono Brings Transgender Issues to TV
Chaz Bono Brings Transgender Issues to TV