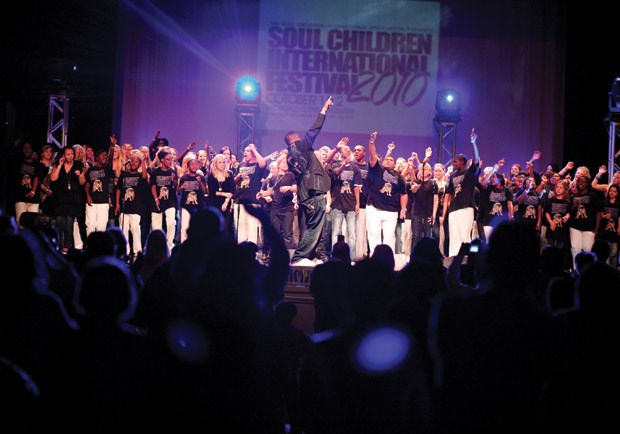 Image: Photo by Lisa Beth Anderson
Voices, music, sound checks, and the joyful hum of mingling children echo throughout Chicago's AFC World Outreach Center on a rainy morning—until a man named Walt Whitman takes the microphone.
"Time for us to come together now in Jesus' name," Whitman says, and nearly 100 kids repeat the line several times. Then, at Whitman's command, they shout in unison, "I have something very special to bring to the world!"
The event is a gathering of two youth gospel choirs—the Soul Children of Chicago, led by Whitman, and the Soul Children of Oslo, led by Ragnhild Hiis Ånestad. The Norwegian contingent visited Chicago in October 2010 for a workshop and concert, and the Chicago choir traveled to Oslo the following May for an event that included an additional 1,700 European children.
Together, the two Soul Children groups represent a growing movement throughout the world. In Norway alone, 80 Soul Children choirs have popped up since Ånestad founded the Oslo chapter in March 2001. Other groups gather throughout Europe, Indonesia, Japan, and Bangladesh. "It's spread so fast," Ånestad says.
It all started in 1981 in Chicago, when Whitman founded the Soul Children at St. John De Salles Catholic School. Steady growth has resulted in eight CDS, concerts around the world, millions of viewers (billions, if you include a televised gig at the 2010 World Cup), and some 1,500 alumni. When Whitman met Ånestad at an event in Stockholm about 12 years ago, he encouraged her to start a similar group in Oslo. She says that Whitman planted the seed, and God gave her the vision.
Though Whitman's resume says he's the founder and director of Soul Children, he refers to himself as a "motivator." He often travels internationally to visit choirs—or those interested in starting one. "I spark ideas and inspiration into other groups, and help develop groups," he says.
Ånestad does the same throughout Norway. Years ago, she noticed that kids ages 10 to 15 were missing in choral workshops, so she launched the Oslo Soul Children to reach that age group. As word spread, demand for other Soul Children choirs grew, even beyond that age group. So Soul Teens (for older teens) and Pre Soul Children (under age 10) were established; today, there are about 1,500 members in various Soul Children choirs throughout the nation.
The Chicago and Oslo groups share more than just a name; they share a love for Jesus and for giving God the glory. "We don't perform, and we don't entertain," says 20-year-old Artelious Tyler, a member of the Chicago choir for over six years. "We worship."
Building Confidence, Growing Faith
Both choirs also see their music as a ministry to others—and for some of the choir members, that outreach started with themselves. Tyler, for example, was sexually abused as a 10-year-old, and says, "I felt like I was worthless, like I should never be touched." He continued struggling with self-esteem issues until joining Soul Children at 14, when Whitman's encouragement—and the healing power of music—helped him move beyond the pain. "God broke that," he says. "He taught me how to forgive."
Today, Tyler helps others who are hurting by sharing his own story: "I told the Lord, 'No more!' No more would I be somewhere crying and hiding my face. I don't care who knows. They see this story now, and that's the Artelious who's going to minister to you, 'cause it's not about me. It's all about God." In concert, Tyler sings with his whole body, eyes shut, hands moving with the music then lifted heavenward. "There's a story behind my praise," he says. "I went through that with the Soul Children. These people are like my family."
Shani Phillips, 18, has a similar story. She says she was abused as a 7-year-old and suffered deep depression as a teen. Joining Soul Children helped in the healing process: "It's been a positive influence in my life," she says. "Once [the music] became real to me, and once my feelings started to show—oh man, power just came over my life."
While American children are encouraged to have confidence and self-esteem, such is not the case in Norway, where uniformity and conformity are more the cultural norms. But director Ånestad is trying to change that. "In the United States," she says, "you can say, 'I'm proud to be myself and I have this talent.' This is not normal in Norway. And that's not good."
When the Oslo and Chicago choirs rested during their rehearsal, one Norwegian boy took the microphone and quietly spoke about how he used to walk around with his head down. But now, since joining Ånestad's choir, he holds his head high, he said.
Ånestad "is always teaching us to be as un-Norwegian as possible," laughs Marianne Dyremyhr Tyvand, 17. "As a people, we're scared of showing what we can do. I think it's important to be aware of that gift that you have and then use it for something good."
What these children have learned is supported by research: A study from Chorus America showed that choir involvement benefits other parts of a child's life, such as discipline, teamwork, and involvement in civic matters like volunteering. The study also showed that children in choirs often improve in social skills, confidence, and academics.
Meanwhile, kids from both Oslo and Chicago say there's another benefit to being in these specific choirs: They're growing in faith, too.
Tyvand was raised in a Christian family and professed to be a Christian, but felt her faith was based on going to church. "When I came to Soul Children, it taught me a lot about God's love. It has made me a lot stronger in my faith and has made me believe that God really does exist."
"I don't think I would call myself a Christian if I hadn't been in Soul Children," says Marianne Bremnes Ottersen, 18. "Now, I have a relationship with God."
Hard Work, Popular Music
Chicago's singers rehearse for up to three hours on Thursday nights and from three to eight hours on Saturdays. Whitman promotes a strong work ethic not only for the choir's sake, but also for its members, paving the road for the future. Darvell Jones, 15, says, "God has called us to be leaders. I'm taking the boldness and authority that God has given me and that Mr. Whitman has instilled in us, to take the extra leap—to not just want to work as a chemical engineer, but to be the owner of an international enterprise."
Ditto the Oslo group, where some choir members say it's pretty much all they do outside of school, with two-hour rehearsals every Wednesday and frequent travel for concerts. But Tyvand and Ottersen say despite the demanding schedule, they consider rehearsal "the best time of the week."
The leaders work hard too, but under different circumstances. Chicago's group has always been independently run by unpaid volunteers, including Whitman. But Ånestad and her assistant are financially backed by Normisjon, a Lutheran mission organization, to oversee the Oslo group and its national offshoots—and some of those branches are run by specific denominations, including Pentecostal and Presbyterian.
The religious backing is remarkable, as Norway is one of the most secular nations in the world. Although almost 80 percent of Norwegians are members of the official state church—the primarily Evangelical Lutheran-influenced Church of Norway—only about 20 percent consider religion important, while only about 10 percent attend church more than once a month.
When asked why non-Christians would want to join her group, Ånestad chalks it up to the popularity and influence of American pop culture, citing TV shows like Hannah Montana and Camp Rock. She notes that when local kids see the Soul Children perform, they want to be part of it as well.
But why would gospel music take off in such a secular culture? For many in Norway—and in many parts of the world—appreciation of the genre is about its energetic style more than its message. Helge Simonnes, editor in chief of Vårt Land, Norway's largest Christian daily newspaper, says gospel music "hasn't the same influence today, but it's still very popular." Indeed, the Oslo Gospel Choir was the top-selling artist—Christian or secular—in the nation in the 1990s.
The Oslo Soul Children have performed on primetime TV, at major events (including for the king and prime minister), and with popular secular artists like Josh Groban. They're able to participate in secular culture in a way that the church has not. Says Ånestad, "All of Norway knows who we are."
Growth in Norway, but not in the States
Norway's appreciation of gospel music took off in the 1970s, when the Jesus Movement swept much of the Western world. Hilde Løvdal, a humanities fellow at the University of Oslo specializing in American evangelicalism, told Christianity Today that Norwegians have long cherished music and choirs, and that gospel music is a "safe version of popular culture that churches can use to be hip and Christian at the same time."
Johann Buis, associate professor of music history at Wheaton College in Wheaton, Illinois, adds that gospel music thrives worldwide because it allows the audience to release inhibitions. Elements of gospel build what Buis calls "an emotional temperature." "An audience will release itself into responding through rhythmic calls and responses, through shouts and through yells, that they would not do under normal circumstances in public," says Buis.
Choirs are spreading rapidly throughout a secular nation with the help of the church, but not in a nation where there are churches on many street corners.
Gospel music in the United States is cultivated among youth in order to preserve a cultural practice of some African American communities: "Youth choirs are not just an added frill," says Buis.
So why has the Soul Children concept spread so quickly throughout Norway and other countries, but not in the States, the birthplace of the gospel choir? Whitman believes it may partly be a lack of administrative structure, or perhaps because the Chicago chapter wasn't built into an existing system like it was in Norway through Normisjon. Talk about irony: Gospel choirs are spreading rapidly throughout a secular nation with the help of the church, but not in a nation where there are churches on many street corners, and where many citizens consider religion and regular churchgoing integral parts of their lives.
Whitman clearly appreciates the spread of the Soul Children model, saying it "makes me work harder, because what we have is something that's really good and it's happening in other parts of the world. But it needs to happen more here."
Besides finding a supportive administration and continuing to build international chapters, Whitman wants to see more Soul Children groups across the country—starting in Chicago, where he'd like a "North Side version" to go along with the existing choir on the city's predominantly African American South Side. "I'd like to create that cross-cultural experience," he says, noting that Soul Children has broken down cultural and racial barriers in the past. "That is the key part of success, when we start expanding into other cultures, other communities. That's when the growth will take place."
Whatever happens, Norway's Tyvand and Ottersen plan to do this for a long time. They joke that Ånestad created Soul Teens "because we weren't going to quit" after aging out of Soul Children, and they'll just seek out the next opportunity when they go away to college—unless Ånestad decides to form a Soul Adults group.
Either way, Ottersen laughs, "We'll be in a choir until we're 80, because we can't stop."
Elissa Cooper is assistant editor at Christianity Today.
Have something to add about this? See something we missed? Share your feedback here.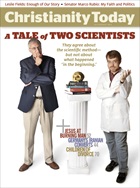 This article is from the Jul/Aug 2012 issue.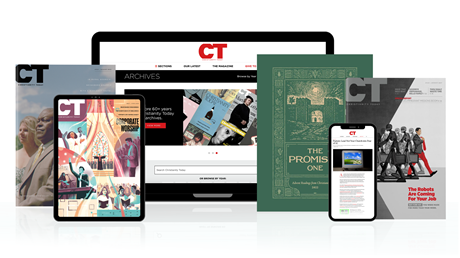 Annual & Monthly subscriptions available.
Print & Digital Issues of CT magazine
Complete access to every article on ChristianityToday.com
Unlimited access to 65+ years of CT's online archives
Member-only special issues
Subscribe
Gospel Goes Global
Gospel Goes Global