Bachelorette Emily Maynard chose her man in last night's finale of the popular reality television show. Millions of viewers wanting a beautiful love story watched the season in which 25 eligible men wined, dined, and romanced Maynard who, interestingly, seemed religious.
Though she never referred to herself as a Christian on the show, she wore a cross bracelet, bought a crucifix off the street on a date, frequently claimed to be "blessed," and is planning a missions trip to Africa. Though she was not married when she conceived her daughter, she has said she won't live with anyone before getting married, won't have steamy hot tub scenes, and prayed before agreeing to be The Bachelorette.
Maynard is not the first Christian to appear on the show. In 2010, Methodist Jake Pavelka was nominated by his fellow church members sick of the drinking and sex of previous seasons.
On the first night, contestants were asked, "Do you believe in premarital sex?" and, "What is the most important thing in your life?" Jake answered, "God," and when asked for his definition of love, he quoted Scripture.
But even if contestants indicate faith on the show, it seems to get lost amid all the hair extensions, plastic surgery, and candlelight. Or, perhaps the show itself subtly reveals an alternative faith altogether.
[spoiler alert after the jump]
In 2005, sociologists Christian Smith and Melinda Lundquist Denton coined the term "moralistic therapeutic deism" to describe the faith of many young people—including professing Christians—in the 21st-century West. MTD adherents believe God wants people to be good, nice, and fair to each other, that the central goals of life are to be happy and feel good about oneself, that God doesn't need to be involved in life unless there's a problem, and that good people go to heaven. In other words, they have vague, fuzzy feelings about God that are at odds with the historic teachings of the faith they profess.
This is also how religion on reality television is portrayed: There's vague talk of "blessings," "destiny," and "following your heart" in between hot tub sessions, with little mention of a biblical worldview from the contestants.
Though there were more virtuous options, Jake, "the moral bachelor," chose Vienna Girardi, who had previously been divorced twice at age 23. At the end of the season, host Chris Harrison said, "Rest assured, Jake's choice came from his heart." Jake agreed. "You have to listen to your heart." In other words, Jake took less instruction from the church (which could've warned him about the deception of man's heart and the temporary nature of charm) than the last scene of every romantic film ever made. Their combustible relationship finally ended after way too many arguments on subsequent episodes of The Bachelor Pad.
Maynard, however, has taken her maternal role very seriously, has sent home people not ready for fatherhood, and has a strong sense of what it means to be a Southern lady. But has her Christianity affected the way she conducted herself on the show?
Yes and no.
On every season of The Bachelorette, producers give an opportunity to spend the night with the remaining options on "The Overnight Date" (or, more accurately, "The Put Out or Get Out Date"). For the first time in Bachelorette history, Emily refused the romantic suite, explaining to viewers, "It doesn't line up with what I believe in and the example I want to set for my daughter."
So, score one for Maynard's Christianity, right? Well, that very night, she sent home the last remaining evangelical, Sean Lowe, in the "limo of shame." This left her with two options in the end:
Jef Holm, who was raised as a member of the Church of Jesus Christ of Latter Day Saints but says he is no longer a "practicing Mormon"; and Arie Luyendyk Jr., who hasn't mentioned his faith but lived with his last girlfriend and became a temporary "father figure" to her children before the horrible break-up.
Normally strong Christians might consider ambiguous religious affiliation and premarital cohabitation as deal breakers. They also consider being "equally yoked" to another person of the same faith as a necessary biblical goal. But the moralistic therapeutic deism of reality TV - and America - isn't restrictive.
As Albert Mohler has observed the God of moralistic therapeutic deism "does not challenge the most basic self-centered assumptions of our postmodern age. Particularly when it comes to so-called 'lifestyle' issues, this God is exceedingly tolerant and this religion is radically undemanding."
He is also very popular. Social scientists have said moralistic therapeutic deism is akin to a civil religion followed by mainstream culture. Perhaps this is why reality television is full of religious themes (for example, Brad Womack's second season called The Bachelor: Redemption) yet almost always empty of religious principles (for example, when Ben Flajnik's so-called traditional values included cohabitation before marriage). In fact, most of the contestants on these shows end up living together before their heavily televised wedding ceremonies.
Reality TV's moralistic therapeutic deism is easy, comfortable, and expendable. Though it might make for better TV, it is not traditional Christianity. I wouldn't mind seeing MTD being told "you're fired," be voted off the island, or be given the "limo ride of shame."
After all, true redemption comes at a cost and is, actually, the most beautiful love story ever told.
Update post-finale: Last night, Emily revealed that she and Jef had a serious conversation about faith, a conversation the producers chose not to air. (Read about it here.) Did that conversation solve their religious differences? When Jef says he's no longer a practicing Mormon but attends church, does that mean he attends an evangelical church, consequently eliminating any possible religious conflict? Honestly, we don't know. However, the finale was the best finale of the entire history of the Bachelor/Bachelorette. The happy couple again stated they would not live together before marriage, expected a spring wedding, and would start out their public relationship with an African missions trip.
Nancy French is a New York Times best-selling author of many books, including collaborations with Bristol Palin and Olympic gold medalist Shawn Johnson. Visit her blog here.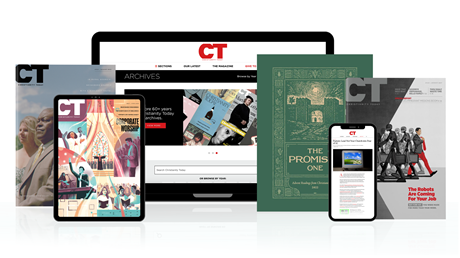 Subscribe to Christianity Today and get access to this article plus 65+ years of archives.
Home delivery of CT magazine
Complete access to articles on ChristianityToday.com
Over 120 years of magazine archives plus full access to all of CT's online archives
Subscribe Now
The Religion of The Bachelorette and Reality TV: Moralistic Therapeutic Deism
The Religion of The Bachelorette and Reality TV: ...