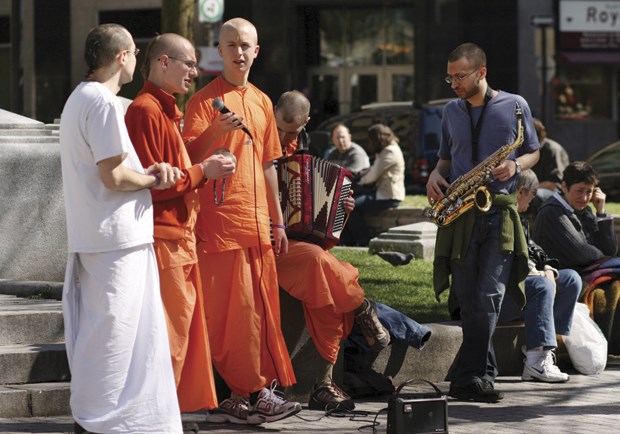 Image: Photo by Steve White / The Canadian Press / AP
In the summer of 2009, 19-year-old Natasha Bass drove—alone—1,070 miles from Greenville, South Carolina, to Montreal, Quebec. She had no itinerary, no contacts at her destination, and definitely no notion of how a short-term mission of a few months in a highly secular culture would change her life.
Bass had intended to study French in Switzerland for the summer. Her plans fell through, so she prayed for direction. "I told God I wanted my summer to be used by him."
While researching housing options in Switzerland, she had received an e-mail about an apartment in Montreal. She found an inexpensive part-time French course and sensed a door opening. She prayed for two more days. The next morning, she had a sense of peace. "I got in my car and started driving."
A day later, Bass found herself in a situation that would have scared off many Florida-born Southerners. "The apartment was just awful," said Bass, "but I believed this was what I had to do."
Bass realized that she had landed in the middle of an enormous mission field: Montreal's famous Le Plateau-Mont-Royal borough, one of Canada's most densely populated neighborhoods and known for being literary, intellectually trendy, and artsy.
Despite its nominally Christian majority, Montreal and the larger Quebec Province are among the most underevangelized regions of North America. A 2008 Léger poll found that only 6 percent of Quebec's 6 million Catholics attended weekly Mass, down from 90 percent in the 1960s. About 7 percent of Quebecers are Protestants, and less than 1 percent identify as evangelical.
After two weeks, urban life began to wear Bass down. Then she found Temple Baptist Church, a congregation created 100 years ago by English-speaking residents. It became her spiritual home away from home.
"My outreach didn't consist of 'Bible-thumping,' " Bass told Christianity Today, but rather "unconditional love, whether they were addicts, homeless, hopeless, or just plain mean."
Bass's unexpected summer of mission is one example of a new cohort of evangelicals determined to reseed Quebec with the gospel. Some of these leaders draw inspiration from Lesslie Newbigin, the 20th-century missiologist. Pierre Lebel, head of the Montreal base of Youth With a Mission (YWAM), said that based on Newbigin's teachings, evangelizing a post-Christian culture is like trying to reach a divorcée: Sensitivity is required for both situations.
Lebel said the post-Christian culture has broken away from Christianity. "Grace has to precede truth. Truth has to be accepted on the basis of trust. When you work with a divorcée, it takes a lot of sensitivity. We have to be open to accept and to repent of errors and change. I don't think post-Christian culture is going to come back to sit in our pews. We have to be an incarnate church with an incarnate theology rather than the theology of coming out of the world."
Another Quebec evangelical leader, Walter De Sousa, has perhaps found the perfect vehicle to reintroduce the gospel: the blues. A blues guitarist, De Sousa and his band will perform at five concerts this year with a goal of raising $500,000 for poverty-fighting charities.
De Sousa said, "When people ask me why my music is being played on radio when I'm not well-known, I say it is because of my manager. When they ask who my manager is, I say with a smile: 'The living God!' and that opens up conversations."
Post-Christian and 'Pleasure-Mad'
Montreal is known for its enviable quality of life, once ranked by the United Nations as the highest worldwide.
But unpleasant realities reside underneath. Quebec ranks first among Canada's provinces for rates of child poverty, suicide, divorce, cohabitating couples, and illegitimate births. Despite the historic Christian presence, new religions and secularism have a strong grip.
During the 1960s, secularism gained ground during the so-called Quiet Revolution. From 1960 to 1966, the liberal government in Quebec took from the Roman Catholic Church control over public education, health care, and social services.
Some 45 years later, the public's basic understanding of religion has declined. John Bellingham, a Campus for Christ chaplain in Montreal for eight years (recently accepting a pastorate in his native Ontario), remembers chatting with a nurse while he donated blood one day. "She didn't even know what theology was when I told her that's what I had studied," he said. "At the Université de Montréal, Noah's ark came up in conversation, and one girl had never heard of the story. That's when it struck me that people in Quebec are biblically illiterate."
'The sense of emptiness in Quebec is deeper. It's a pleasure-mad society, but after a while it leaves one empty. The gospel speaks to those existential questions.'—Walter De Sousa, evangelist
Ruth Lewis, InterVarsity Christian Fellowship's field director for Eastern Canada, said, "In my generation, most of us probably went to church, whereas today kids have no knowledge of church or the Bible." Lewis says that Christian outreach in Quebec must overcome a deep cultural bias that institutional religion has little to offer.
De Sousa said many French-speaking Canadians have never heard the gospel message. He also serves as teaching pastor at Église Sans Frontières, a French evangelical church with about 600 worshipers. De Sousa said, "I remember witnessing to a tow-truck driver and mentioning Jesus. He asked, 'Who?' I said, 'Jesus, God's Son.' The man asked, 'God had a son?' When I told him that Jesus loved him so much that he died on the cross for his sins, he started to cry. 'Jesus loves me that much?'"
In light of competing beliefs, the greatest challenge for Quebec's evangelicals is to preach the uniqueness of Jesus Christ. "In Quebec, the sense of emptiness is deeper," said De Sousa. "It's a pleasure-mad society, but after a while it leaves one empty. The gospel speaks to those existential questions."
Renewed Ministry Models
Evangelicals find that Quebecers are open to hearing the gospel when it's in the context of everyday life.
"Many people won't approach an evangelist, but they will approach a blues guitarist," said De Sousa. "I can navigate well in both worlds. I've witnessed to top-notch musicians who I wouldn't have had access to as just a professional evangelist.
"I went to a blues bar to hear a Quebec musician I'd spoken to before. He recognized me and asked if I was Walter De Sousa, the preacher, and then said, 'I need to talk to with you. I need God in my life.' I chatted briefly with him. He lives near my church, so I want to invite him to church and to one of my shows."
YWAM's Lebel has focused on Montreal's New Age, arts, and student groups. He also leads the Urban Cultures Discipleship Training School. "The Quebecois youth today don't have the same anger toward church as the baby boomer generation, who really rejected Catholicism. Basically it's an unchurched community."
Campus for Christ's Bellingham said Quebecers have begun to realize that secularism does not have the lock on the truth. "Postmodernism has made people open to spirituality. The challenge is that they're not open to the exclusive message of Christianity."
At Temple Baptist, members have put their evangelism program on overdrive by producing two French-English tracts with one of them translated into 10 other languages. Over 15 years, the church has printed 3 million copies, which have been distributed freely by local and international volunteers. The effort has leveraged its influence far beyond what might be expected for a church with 80 active members.
In Quebec, the French language and culture remain dominant. A generation ago, Christian missions here often used outreach material translated from English. But that's no longer attractive. "For a people who want to keep their distinct culture, how do we keep the church Quebecois?" Lebel said. "We can't have an American church in Quebec. It has to be a Quebecois church. The Quebecois need the freedom to redefine the church in Quebec."
'The Quebecois need the freedom to redefine the church in Quebec.'—Pierre Lebel, YWAM
Toward that goal, Lebel and four other leaders created the Quebecois Forum on Post-Christendom. Lebel said, "We have proposed a research chair at the Université de Laval in Quebec City, and this was accepted by the faculty of Theology and Religion. It will be done over the next couple of years. Again, it's the notion of incarnation—gaining a credible voice in the context of Quebec culture and society."
Jean-Sebastien Morin is a young French Canadian pastor at Église Baptiste de Saint-Constant in Chateauguay, Quebec. He teaches systematic theology at three university-level biblical seminaries. He is working on his doctoral dissertation about how to articulate the gospel in a postmodern culture.
"Over the past 30 years, [evangelicals] put a lot of energy into making ourselves look really different from the Catholic Church," noted Morin. "But Catholics don't want confrontation. This is one big difference between Quebecers and Europeans, who may enjoy debating and arguing about religion. A Quebecer will just shut the door and not talk to you again."
Lebel said the younger generation is not attracted to evangelical faith. "This is a generation that will not go back in history. We're at a critical time to rethink what it means to be the body of Christ in the world today. It's really about loving our fellow man. This is not a strategy. The moment loving our fellow man becomes a strategy, it's no longer love." YWAM sponsors an Arts and Faith Evening at least once a year as part of its relational evangelism efforts.
Gospel Passion, Relevant Mission
Bass's mission in Le Plateau and her relationships at Temple Baptist reshaped her understanding of the local church.
"The situation in Quebec is dark and discouraging. It's encouraging to see how Christians work together and are passionate," said Bass. "The church there functioned the way that I felt a church should. It's a network of people who encourage and support each other. I was learning more than I was giving."
De Sousa said Quebec's Christian young people embody his hope for the province. "They don't care if they're Pentecostals or Baptists. They want to reach out in relevant ways. Young people in Quebec want to see widows and orphans taken care of, the hungry fed. They want tangibility to their faith."
InterVarsity's Lewis has also noticed sustained enthusiasm for pursuing justice and systemic change: "If you say you're doing a humanitarian trip to Guatemala, they're all over it." Lewis had recently returned from Guatemala when she spoke with CT. "We had non-Christian and Christian students go with us and work for two weeks. One girl, not a believer, was thrilled with the experience. If we can tie together justice with how Jesus and Scripture address that and how as Christians we need to be interested in these issues, we can use those opportunities to build a bridge."
A year ago, Baptist pastor Morin was invited to speak about Christianity to a group of about a dozen college students. When he walked into the room, he noticed a huge dream catcher, along with images of the Buddha, on the wall. Someone before him had taught a session on meditation.
"We were seated in a circle with candles," said Morin. "In the middle of that, I started sharing the gospel. I talked about sin and being apart from God."
At the end of his remarks, some students were eager to hear more. "The gospel really touched their lives that night. What stopped them was the idea that Christ is the only way—that was difficult for them."
De Sousa believes that underneath what seems like resistance to the gospel are individuals seeking the spiritual truth. "Quebecers want to take a bite out of life. Paradoxically, they can be some of the most depressed people in North America. It's like they're floating on the sea, alone in the waves, facing imminent danger. We have to bring them Jesus, who will still the storm."
Quebec has been known as the prodigal son of Canada, said De Sousa. "But God showed the deepest grace through the prodigal son."
Ann-Margret Hovsepian, a native Montrealer, is the author of The One Year Designer Genes Devo (Tyndale, 2007) and Truth & Dare: One Year of Dynamic Devotions for Girls (Cook, 2011).
Related Elsewhere:
Previous Christianity Today articles about missions and ministry include:
Article continues below
Creative Discipleship: Meet Richmond's Christians | Five Richmonders who transcend their city's cultural Christianity in unlikely ways. (This Is Our City, April 1, 2012)
How Pastors' Ponzis Affect Our Gospel Witness | A rash of pastor-endorsed fraud taints our gospel witness. (April 1, 2012)
Michael Patton Brews a Potent Theology | The founder of Credo House Ministries teaches theology over a cup of joe. (March 28, 2012)
Previous CT coverage of news in Canada includes:
Canada's Split Decision on Hiring | Experts, organizations see mixed victory in recent court ruling. (August 19, 2010)
Confession Clash | Flagship college cited for faculty faith statement. (March 25, 2010)
Loss Is Gain | Denial of Hutterite request offers defense for other faith groups. (September 16, 2009)
Have something to add about this? See something we missed? Share your feedback here.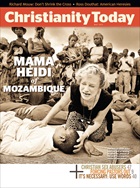 This article is from the May 2012 issue.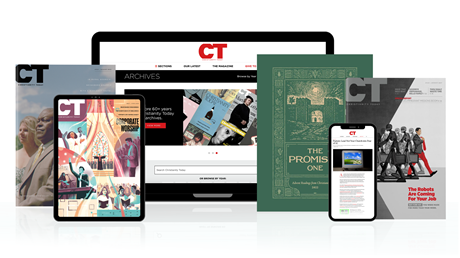 Annual & Monthly subscriptions available.
Print & Digital Issues of CT magazine
Complete access to every article on ChristianityToday.com
Unlimited access to 65+ years of CT's online archives
Member-only special issues
Subscribe
Quebec: Canada's Prodigal Province
Quebec: Canada's Prodigal Province