true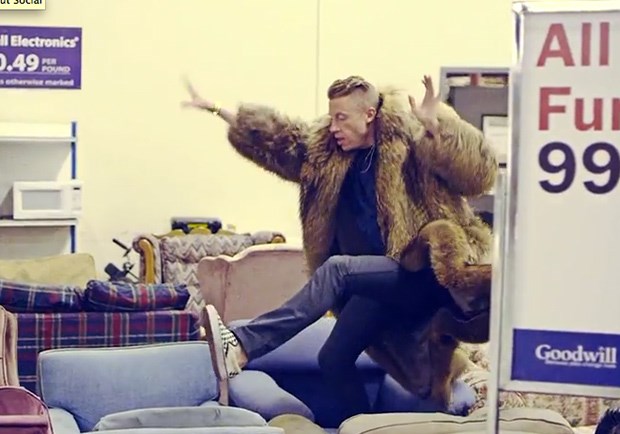 Image: Macklemore / YouTube
You can tell the brand of my daughter's jacket whether or not she's facing you, its white logo is stitched on the front and back. I'd resisted buying her this North Face fleece for months. For one, she is not a "wilderness chic" kind of gal and, second, we live in the suburbs of Chicago, not on Mount Rainier, but she was fixated because it was the "cool thing" to have in the 5th grade.
I tried to reason with her. I talked about the pitfalls of defining ourselves by the things we own. Store not up your treasures, I warned. But, alas, she was not persuaded and was in need of a new jacket, so when we happened to find one for a good price, I gave in. My stomach fell when I first saw her leave school in a jacket identical to many of her classmates'. Where was that little daughter I once knew, spectacularly herself in purple velour dress, a rainbow of hairband bracelets, and her brother's hand-me-down cowboy boots? Would our culture erase every shred of individuality and whimsy from my child as she toiled as a pre-teen to look just like everybody else?
Now, a few years later, I have rapper Macklemore and his hit "Thrift Shop" to back me up.
Months after its August 2012 release, the song remains on the Billboard Top 100 chart, at the top of my daughter's playlist, and in nonstop rotation on at least three pop stations in our area. The song's popularity is a rarity – it's only the second time in history that an independent artist has topped that chart. Don't tell me you haven't heard it a dozen times a day over the past few months like I have.
"Thrift Shop" starts with a child's voice asking: "Hey, Macklemore! Can we go thrift shopping?" After multitude of "What? What? What? What?"s, the singer declares that he's "gonna pop some tags" with "$20 in my pocket." (For the unversed, "popping tags" means he's going shopping.)
Since its release, some critics have lauded "Thrift Shop" for being an oddity in hip hop, with no mention of "b----s" or "hoes," and no use of the N-word. ("Thrift Shop" does, like many songs in its genre, still offers up a smorgasbord of profanity and a few lewd lyrics. If you listen to the radio version and don't know your rap lingo, you'll miss most of that.)
Still, the song actually centers around—gasp!—a socially conscious message. Macklemore opposes the flagrant materialism we've come to expect from hip-hop artists, and I doubt he'd even go for pricy brand-name fleece jackets… unless they came secondhand. He's into weird style and good deals. Macklemore thinks it's ridiculous to spend "$50 on a T-shirt." He raps about "flannel zebra jammies" and sneakers with Velcro.
In an interview with MTV, the singer said the song is "obviously against the status quo of what people normally rap about. How much can you save? How fresh can you look by not looking like anybody else? And on top of that, you have an infectious beat and a hook that gets stuck in people's heads."
Thrift shopping isn't just about saving money, though. It connects us with people from all walks of life. In her book Thrift Store Saints: Meeting Jesus 25¢ at a Time, Jane Knuth writes about how volunteering at a St. Vincent de Paul thrift shop taught her about God's grace. Some of her customers reeked of alcohol. Some were mentally ill. Many were living in poverty and asked for financial assistance for everything from bus fare to paying significant bills.
Knuth viewed every person who walked through the door as an opportunity to see the face of Christ. They were, as Knuth describes: "tired, wounded, and tangled," but she considered all of them her spiritual teachers, even when the lessons they taught contained bad language or promoted a world view different from her own.
Her ode to the thrift store shoppers and saints "is about recognizing God among us when the language is rough, the labor seems mindless, and everybody is wearing old clothes," she said. It's about seeing God's face in the most improbable of places.
It seems to me that Macklemore is also an unlikely spiritual teacher in "Thrift Shop" as he joyfully urges us not to obey our culture's call to dress and spend like everybody else. Decked in his thrift-store finds, he urges us to be inventive and resourceful and to loosen our hold from material things.
Jennifer Grant is the author of Love You More: The Divine Surprise of Adopting My Daughter and MOMumental: Adventures in the Messy Art of Raising a Family. Disquiet Time, a book she is co-editing with journalist and author Cathleen Falsani, will be released in autumn 2014. Find her online at jennifergrant.com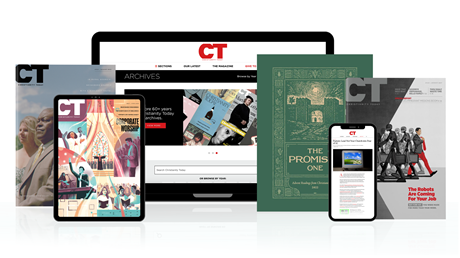 Subscribe to Christianity Today and get access to this article plus 65+ years of archives.
Home delivery of CT magazine
Complete access to articles on ChristianityToday.com
Over 120 years of magazine archives plus full access to all of CT's online archives
Subscribe Now
Thrift Shop Theology
Thrift Shop Theology