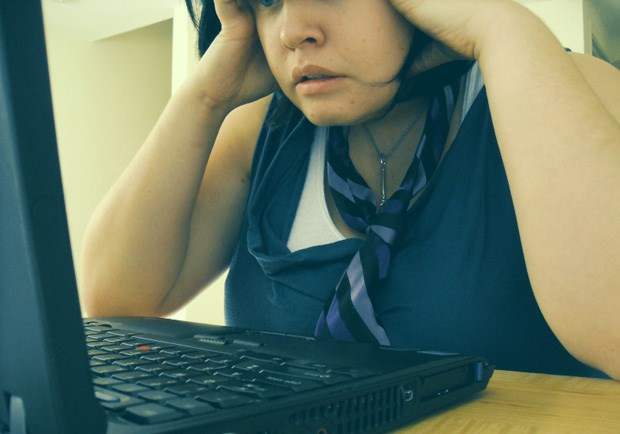 Image: Keirsten Balukas / Flickr
It's hard to believe that not so long ago, I didn't know my Mark Driscoll from my Donald Miller, had never heard of Rachel Held Evans, and didn't know what a Patheos was. Tucked snugly within the ivory tower, I had never set virtual foot inside the Christian blogosphere. But all that has changed and because of the online realm of Christian blogging, my world has been made bigger, and for the most part, richer.
Despite the connections made and lessons learned online, controversy remains the lifeblood of the blogosphere. Indeed, polemics have a long, grand tradition within church history. But when Martin Luther called heretics "asses," his motive of upholding doctrine wasn't mingled with the side benefit of driving traffic to his site through sensationalist headlines and reader outrage.
Now, centuries after Luther, the disembodied, instantaneous nature of today's Internet communication cultivates and rewards acrimony where there should be love. To this point, Alastair Roberts observed in response to a recent blogosphere brush-up an "almost pathological need to take offence" that prevails. Compound such a pathology with the celebrity culture (yes, even among Christians) and the tribalism that dominate our media-saturated world, and there's no wonder that something as quiet as love gets left in the virtual dust.
Not that love means lack of disagreement. To the contrary, the biblical admonition to speak the truth in love assumes error and therefore disagreement. Yet, despite these disagreements, I remember it being said somewhere that the world will know we are Christians, not by being right, but by our love for one another.
I love that I learn so much from my brothers and sisters in Christ, especially those whose doctrines, interpretations, and practices differ from mine. I love that the body of Christ is adorned in a digital patchwork cloak of variegated patterns and hues. Such a garment scratches a bit from time to time and fits ill in a few places. The gospel is one-size-fits-all, not a custom tailored suit, after all. Still, in all its texture and variety, it is a gorgeous garment indeed.
So in that spirit, I wanted to offer some loving words to a handful of those in the blogosphere who seem to be lightning rods for controversy and criticism—oftentimes civil, constructive, loving, and deserved criticism, but sometimes not. Obviously, I don't agree with everything any one of these people says or does, but they are my brothers and sister in Christ, and so I love them. Here are some reasons why.
Rob Bell: What's not to love about Nooma, a series of short, quirky videos featuring Bell? I think my favorite is the one called "Lump," in which Bell comes home and can't find his little boy anywhere and then finally spots a lump under the covers in the middle of the bed where the child is hiding in shame for some small sin. So Bell peels back the blankets and covers his son in love. The thing about the gospel is that it is both unchanging and fresh every day. Bell always keeps it fresh.
Mark Driscoll: Driscoll's frankness can itself be refreshing. When he addresses crucial topics like sexual assault, he puts that candor to work for the power of great and much needed good.
Rachel Held Evans: What I love about Rachel is her uncanny ability to slice through multi-layered, longstanding categories and assumptions and grab hold of a truth that suddenly turns obvious in her hands. Sometimes she amazes me that way. Such works requires perception, guts, and a willingness to risk getting it wrong. And on those occasions when she does get it wrong, she owns it.
John Piper: I love, love, love the notion of Christian Hedonism. I was introduced to Piper by way of it, and it tickled my rebel spot from the get-go. Few truths are more powerful than Piper's mantra, "God is most glorified in you when you are most satisfied in him."
Pat Robertson: Robertson loves my Father. He has loved him and served him faithfully for a long, long time. How could I not love him?
Frank Schaffer: Despite an excruciatingly painful and public exorcism of personal and familial demons, Schaeffer remains unashamed of the gospel and continues asking questions and seeking truth—"in spite of everything." I love that.
Douglas Wilson: I do so love Wilson's biting humor and his word craft. And then there's this exquisite article he wrote some years back in Credenda / Agenda called "Love Story." I never tire of using it in my classes. It's about the power of storytelling; the whole thing is wonderful, but particularly this passage:
And this thing that has the capacity to make storytelling glorious is love. Just as great teaching is loving a subject in the presence of students who are also loved, so it is with story. A man who loves the story he is telling, and loves the people he is telling it to, is a formidable bard. Something mysterious happens when story-grip sets in. One man writes a disheveled story, breaks numerous rules, and gets away with it. Another man writes a story with every hair in place, prim hands folded on the lap, and it stinks. Then someone else writes a textbook example of doing everything right, and it works anyway. Failures of story-telling are at some level a failure to love. Successes in story-telling are examples of love triumphing.
May love triumph in the blogosphere, too.
What is something you love about one of these or some other controversialist in the body of Christ?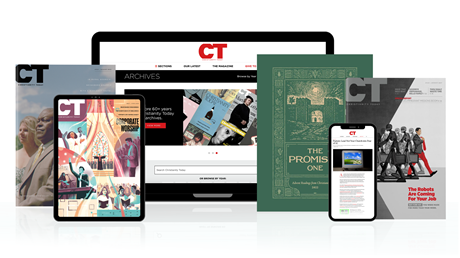 Annual & Monthly subscriptions available.
Print & Digital Issues of CT magazine
Complete access to every article on ChristianityToday.com
Unlimited access to 65+ years of CT's online archives
Member-only special issues
Subscribe
They Will Know Us By Our Angry Blogs
They Will Know Us By Our Angry Blogs