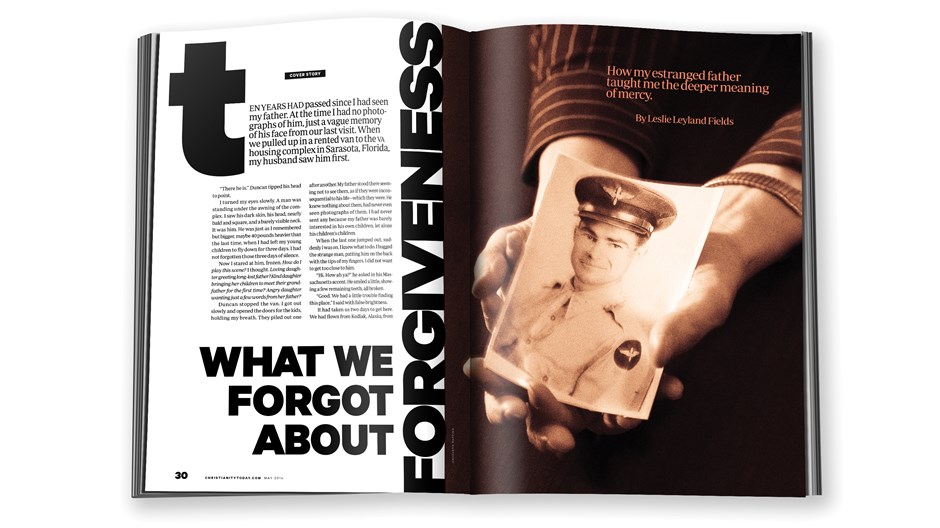 Reply All
When I saw the cover of this issue, my heart leapt—not for joy, but with anxiety over the guilt I have over cutting off relationship with my parents during the past two years.
I identified with much of what Leslie Leyland Fields shared. And I wrestled yet again with what it might mean to forgive my parents. I forgave them for the demeaning physical discipline and their lack of interest in me. I loved them in the meager way I knew how, telling myself that they simply were not equipped to be better parents and partially believing I somehow deserved their criticism.
Fields had many years to heal and get ready to re-engage her father. Unfortunately, I skipped over the necessary healing process of time, distance, and accountability. I now cling to the love of a heavenly Father instead of the hope of a healed earthly one.
Janna Northrup
Edina, Minnesota
After reading your articles expounding biblical forgiveness, I am confused by the lack of emphasis on repentance. Doesn't Scripture suggest that in order to be forgiven, one must repent (2 Pet. 3:9, Acts 17:30)? Fields's father teared up but didn't admit his sinfulness. Sorrow for sin is not necessarily repentance.
Christians have fallen into deceiving unbelievers by asking them if they want to accept Jesus into their hearts. He accepts us—if we repent.
John Thomas
Adrian, Michigan
I noticed a headline in News that referred to Menlo Park Presbyterian Church as "John Ortberg's church." But it is not Ortberg's church. It is Christ's church, where Ortberg happens to serve as a pastor for a while.
I served as a pastor to one congregation for 38 years. It was never mine; it was where I was privileged to serve. Words shape thoughts, and thoughts shape behaviors. I have noted this misuse of language in all sorts of publications. I shudder every time.
Harry J. Heintz
Henrietta, New York
As someone who has worked for parachurch organizations as well as denominational organizations, I read the World Vision editorial with mixed feelings. No parachurch should lead the church. A better formula would be to remember that parachurch groups have their origins in the church; they must work through partnership with the global and historical church; and everything they do must be directed to the church.
In an age of weak ecclesiology, the parachurch starts to think and act as if it were the church or a replacement for it. The recent World Vision conundrum showed this clearly.
Salaam Corniche
CT online comment
Having lived in a corrupt developing country for more than 30 years and taught ethics in an evangelical seminary, I have some convictions about "Under what circumstances should an overseas missionary pay a bribe?" The authors aren't far apart in their perspectives: Each condemns bribery when it perverts justice but acknowledges that sometimes a bribe is a gratuity, while other times it's extortion. There appears to be no option but to give in and pay up. But is that actually true?
When we give in to cultural norms to get things done, or to avoid inconvenience, we lose credibility with those who don't know Christ. And we rob God of the opportunity to provide another option. He is able to overcome even the most corrupt influences. While the short-term price may be delays, in the long term, God is honored by our faithfulness and the positive testimony of how he intervenes for his people.
Jim W
CT online comment
David Neff's column on how to use music in church was very good. I especially appreciated his comment about letting the people hear themselves. How we ever believed that blasting music over the voices of the congregation fosters worship is beyond me. Thankfully, many churches are rethinking this issue and toning things down. It's time to invite our congregations back to their worship services.
Cosmo V
CT online comment
I loved Neff's observation that making music is the domain of the congregation. I miss the energetic singing of hymns. This is not a dig at contemporary music; it's just that familiar hymns were designed for group singing more than some of the music we now hear in church. Nice work on this reflection.
David Thomas
CT online comment
I don't know Calvin from Luther from Lewis, but I know Matt Chandler's teachings move me to love Jesus and to want to know him for who he is, not for what he might do for me (beyond dying on the cross). God is growing his kingdom because of the way he has gifted Chandler.
Patty Bodanza
CT online comment
Mark Dever highlights perfectly the Protestant dilemma: We all want to be "catholic," but without the clear implications of the big C—that is, a truly visible, worldwide, catholic church that is in communion with its bishops, rooted in the creeds and the ecumenical councils, and so on. Only the Roman Catholic Church and the Orthodox Church consider the ecumenical creeds as binding. Protestantism has no such clear, visibly unifying principle.
Dever also says the major problems in our churches today are provincialism, sectarianism, racism, and exclusivism. That is precisely what Protestantism entails by its very principles: sola scriptura, and the individual as the focal point of interpretive authority. A desire for global evangelism by itself cannot be the basis of Christian catholicity and unity.
Dan
CT online comment
Jesus told stories to illustrate God's kingdom, and posed questions rather than handed out answers (as art does). It's up to us to use our ingenuity, creativity, shrewdness, and strategic thinking to figure out how to do what Jesus did.
We haven't supported Christian filmmakers or artists as cultural missionaries to enable them to become world-class directors who can get these films made. Instead, we wait for the Darren Aronofskys and Ridley Scotts to do it for us.
Chris Cox
CT online comment
Thanks for the excerpt from Drew Dyck's Yawning at Tigers. Aren't God's holiness and love of the same substance? Over and over, he proclaims wrath because of injustice and the perversion of his commandments, and these acts of disobedience are rooted in a lack of love among God's people. Perhaps we have a poor approach to love, if we view it as somehow separate from or subservient to holiness.
Maybe instead we should see love and holiness as being inseparable: We can't be holy without love, and we can't understand the selflessness of love without striving for holiness.
Christian Marble
CT online comment
Net Gain
Responses from the Web.
"My husband said, 'I've got the perfect article for you. You'll think it was written just for you.' He was right. Thank you."
Heidi Scott, CT online comment.
"The Myth of Happy Parenting," by Rachel Marie Stone.
"Month after month @CTmagazine publishes gold. May's cover is balm for the soul."
Tyler Glodjo @tglodjo
"Thank you for showcasing a variety of complementarian views, rather than merely portraying it as monolithic."
Chandra Crane @ChandraLCrane
Under Discussion: "Should Christian colleges let female faculty teach men the Bible?" compiled by Ruth Moon.
"What could have been a perfect opportunity for repentance and healing instead became a big fortress of pastoral ego."
Drew Brown @pastordrew
"Tim Keller, Don Carson Explain Why Tullian Tchividjian Was Asked to Leave Gospel Coalition," by Jeremy Weber.
"Thank you for the most comprehensive piece I have seen today."
Natalie Trust @NatalieTrust
"C. J. Mahaney, Joshua Harris Resign from Gospel Coalition after SGM Abuse Conviction," by Jeremy Weber.
"Whenever we put people on a pedestal, we stop seeing them as the real and complicated people they are. We are all in need of God's transformative work, and can be used by God to bring grace and mercy to others. We don't need to be angels to do that."
Ronda Stewart-Wilcox, CT online comment.
Thin Places: "Please Don't Call My Daughter an Angel," by Amy Julia Becker.
Have something to add about this? See something we missed? Share your feedback here.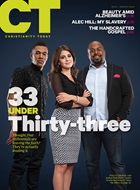 This article is from the Jul/Aug 2014 issue.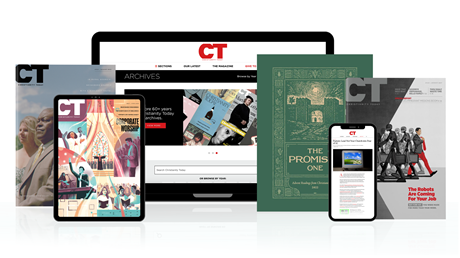 Subscribe to Christianity Today and get access to this article plus 65+ years of archives.
Home delivery of CT magazine
Complete access to articles on ChristianityToday.com
Over 120 years of magazine archives plus full access to all of CT's online archives
Subscribe Now
Reply All
Reply All