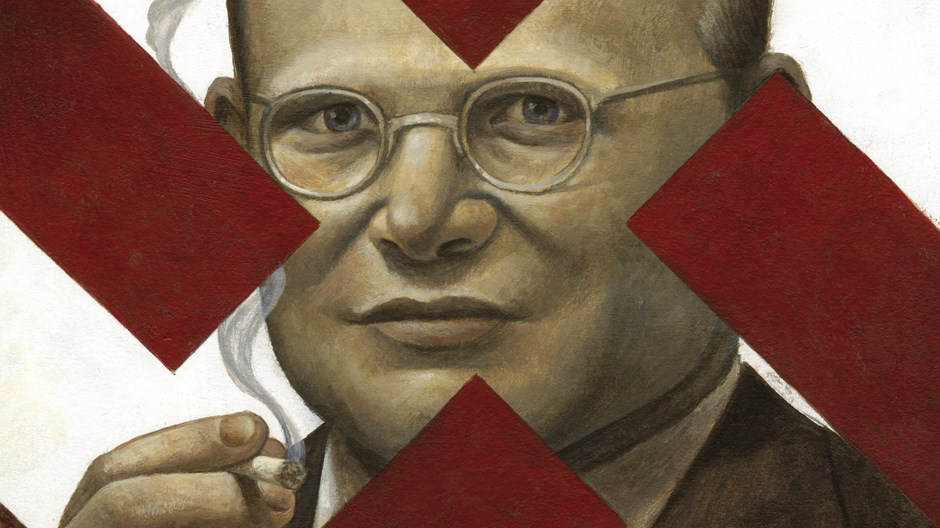 Image: Mike Benny
Dietrich Bonhoeffer has always been one of my great heroes of the faith. Such appreciation, of course, hardly makes me distinct. Bonhoeffer, the German pastor-theologian who opposed the Nazis and was executed in a concentration camp, is passionately admired by millions of Christians.
One could even compare him to Athanasius, the defender of Christ's divinity whose brave stance also drew state persecution. The fourth-century bishop's unflinching willingness to defy even emperors and their armies was honored with the title "Athanasius contra mundum" (against the world).
Charles Marsh's welcome biography, Strange Glory: A Life of Dietrich Bonhoeffer (Knopf), paints a painstaking portrait of a faithful disciple every bit as resolute against Aryanism as Athanasius was against Arians. Marsh's exquisite eye for detail reveals the sheer unlikelihood of Bonhoeffer's emergence as the boldest opponent of efforts to Nazify the German church.
Athanasius was bishop of Alexandria, the most powerful ecclesiastical figure in the Eastern empire. He wielded so much influence that emperors were afraid of opposing him too forcefully, lest they provoke a popular uprising.
But what power did Bonhoeffer wield in 1933? He was 27 years old, financially dependent on his parents, and virtually bereft of experience in the working world. His sole professional appointment was an unpaid, non-tenure-track position as a voluntary lecturer. Adjunct professors don't normally stand athwart emperors.
Yet Bonhoeffer did. Within weeks of Adolf Hitler's rise to power, Bonhoeffer declared in public that the Führer was offering a false path to salvation—and, in private, that Hitler was an antichrist. When the Nazis called for ethnically Jewish Christians to be expelled from the churches, he alone insisted that the gospel was at stake. (Initially even Karl Barth, like other anti-Nazi dissenters who founded the Confessing Church, claimed that this was merely a question of church order, not a theological issue.) Marsh, director of the Project on Lived Theology at the University of Virginia, makes a convincing case that by 1933, Bonhoeffer was the most radical and outspoken opponent of Nazi church policy.
Quirky Humanity
I have read numerous books on Bonhoeffer. I have also seen documentaries and dramatizations and visited commemorative sites in Germany. For me, one of Marsh's greatest contributions is putting on display the quirky humanity of his subject. If you are used to accounts that emphasize the mythic Bonhoeffer of faith, this one will help you grapple with the eccentric Bonhoeffer of history.
To take a trivial example, Bonhoeffer was endearingly preoccupied with dressing well. You could illustrate almost every momentous turning point in his life with sartorial commentary. When he takes a pastoral internship in Spain, he bombards the senior minister with written inquiries regarding the proper formal wear for dinner parties. The poor, overworked man eventually remarked sarcastically that the new intern should bring his preaching robe.
Bonhoeffer was thrilled by the writings of Barth, but his confidence in the brilliant theologian was shaken when he first met him and observed that he lacked dress sense. When Eberhard Bethge, Bonhoeffer's student and close friend, arrived at his underground seminary, Bonhoeffer was identified as "the sporty dresser." He even arranged to get his favorite brown suit delivered to him in prison. Later, knowing he would never leave the concentration camp alive, he wrote a last will and testament. It carefully catalogued some of the most cherished items in his wardrobe: his dinner jacket, his felt hats, his salt-and-pepper suit.
More substantively, Marsh makes a convincing case that Bonhoeffer harbored feelings for Bethge that extended beyond friendship. Those feelings were unrequited, and Bonhoeffer probably did not consciously acknowledge them. Still, Marsh notes, he was possessive and smothering in his attention. He created a joint bank account and sent Christmas cards signed, "Dietrich and Eberhard."
This turns into a major, recurring theme in Strange Glory. It fascinated me at first, but I grew tired of Marsh directing the camera angle of every scene so as to rather heavy-handedly keep it in view. Particularly regrettable is his decision to describe this relationship using words from Emily Dickinson—"The heart wants what the heart wants"—given the association between the quotation and Woody Allen's use of it to justify unsavory behavior.
Bonhoeffer, by contrast, was so sexually innocent that I would not assume Athanasius himself surpassed him in this regard. Any such possible desires for Bethge appear sublimated and regulated. Even Bonhoeffer's physical relationship with his fiancée, Maria—whom Marsh says Bonhoeffer was "smitten" by—comprised only a solitary occasion when, as a prisoner, he kissed her on the cheek in the presence of the public prosecutor. In a late prison letter, Bonhoeffer observed that he had lived a full life even though he would die a virgin.
Theological Hoarder
Strange Glory is strengthened further by its highlighting of how willingly Bonhoeffer learned from disparate ecclesial influences. He was a kind of theological hoarder. When he went to Rome, he did not react with disgust as Martin Luther had, but rather gained a new appreciation of the church's universal nature. One is supposed to have to choose between Adolf von Harnack and Barth, but Bonhoeffer managed to value them both. Indeed, to extrapolate, one might see Bonhoeffer's late musings on "religionless Christianity" as blending Barth's insight that "Jesus simply has nothing to do with religion" with Harnack's method of separating the kernel (of biblical truth) from the husk (of cultural and historical circumstance).
Initially, Bonhoeffer was disgusted by American Christianity. He was bewildered and frustrated by theologians who did not care about doctrine and preachers who were not interested in the gospel. Everyone wanted to pontificate on social issues. In time, however, he came to learn that his fellow Germans were also half-wrong in refusing to recognize the ethical demands of the Christian faith. Moreover, Bonhoeffer found in the African American church a community committed to both gospel proclamation and social action. Why, at the tender age of 27, was Bonhoeffer the lone German minister who immediately saw the scandal of excluding Jewish Christians from the church? Precisely because his experience in America taught him to connect faith and practice.
One of the delightful details in this biography is that, as an undergraduate, Bonhoeffer joined a university fraternity, the Hedgehogs. The Jewish philosopher Isaiah Berlin divided the world, intellectually, between the "Fox" and the "Hedgehog." While the Fox's worldview draws upon a diversity of ideas and experiences, the Hedgehog claims to know one big, supremely important thing. Theologically, Bonhoeffer may have had the Fox's broadmindedness, but in his highest convictions, he was a Hedgehog. His one big thing was that Christianity is not merely a matter of what one believes, but of how one lives.
As German Lutherans rested complacently in their commitment to faith alone, while turning a blind eye to suffering and injustice, Bonhoeffer pointedly preached a Reformation Day sermon on 1 Corinthians 13:13: "And now these three remain: faith, hope, and love. But the greatest of these is love." It turns out that even an unemployed 20-something can stand against the world when empowered by the Love that moves the sun and other stars.
Timothy Larsen is McManis Professor of Christian Thought at Wheaton College and coeditor of Bonhoeffer, Christ and Culture (InterVarsity Press). His forthcoming book is The Slain God: Anthropologists and the Christian Faith (Oxford University Press).
Have something to add about this? See something we missed? Share your feedback here.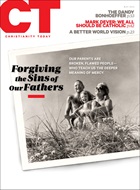 This article is from the May 2014 issue.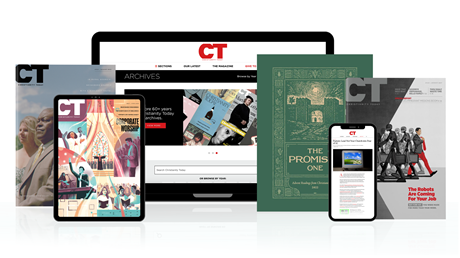 Annual & Monthly subscriptions available.
Print & Digital Issues of CT magazine
Complete access to every article on ChristianityToday.com
Unlimited access to 65+ years of CT's online archives
Member-only special issues
Subscribe
Bonhoeffer Against the World
Bonhoeffer Against the World