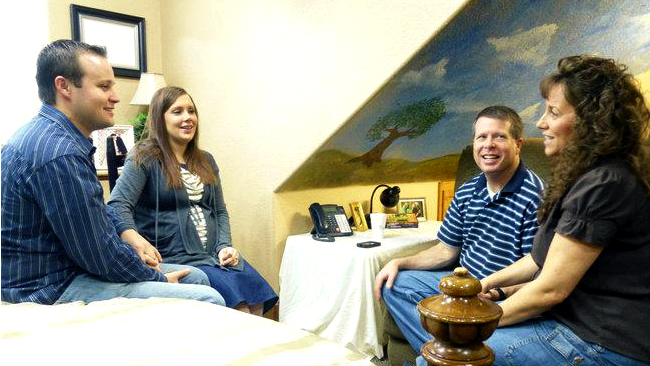 Image: TLC
Update: TLC announced on July 16 that the network has cancelled 19 Kids and Counting and will no longer air the show out of concern for the victims in the Duggar family.
"The recent attention around the Duggars has sparked a critical and important conversation about child protection," TLC said in a statement, outlining plans to partner with victims' advocates to raise awareness around this issue, including an hour-long special featuring Duggar sisters Jessa and Jill.
Take it from me, a TLC viewer, former reality TV blogger, and Christian journalist: The most fascinating aspects of the Duggar family never appeared on the show that made them famous, 19 Kids and Counting.
If not focusing on a new baby or new marriage, most episodes dealt with minutia of big-family Arkansas life: They do home repairs, host a soapbox derby race, convince the littlest sister to share. This was formulaic reality TV at its lowest stakes.
As one critic wrote, "Oddly enough, despite being a show about weird culty bigots who…don't fronthug before marriage, 19 Kids and Counting manages to be screamingly dull. Like, it would be actually more entertaining if it was literally just 19 kids sitting still and then next to them there was a guy counting."
Of course, the Duggars' conservative Christian beliefs and ties with Republican politics were an invisible force in the show, and those familiar with this subset of evangelicalism could easily fill in the blanks. But the Duggars rarely brought up the specific teachings or scriptural backings behind their beliefs and practices. Theirs was a "family values" program that largely skipped over where those values came from, as well as any controversy they caused.
That's why I have repeatedly fallen into the online clickhole of Duggar news for more on their strange life: why exactly the girls style their hair and dress like they do (including wearing skirts to Crossfit); the symbolism behind naming a Duggar grandchild "Israel;" the family's affiliation with Bill Gothard, the popular ministry leader who resigned after being accused of sexual harassment; their politicking for candidates such as Rick Santorum; and, most troubling, the latest reports of oldest brother Josh Duggar molesting girls when he was a teenager.
Earlier this week, I appeared on CNN alongside TV critic Ken Tucker to discuss the scandal. While TLC has suspended 19 Kids and Counting following the revelations, and advertisers have withdrawn their support, Tucker insisted the cable network continue the program. He said, "I really feel reality TV deserves to become more real, so when something like this happens, let the Duggars come back on for another season and confront what happened in their lives as a result."
I didn't get to speak up to disagree, so I'll say it here: A good idea in theory, but that's hugely overestimating the capacity of reality TV. TLC avoided focusing in on the Duggars' theology during ten seasons of the show. I doubt a network best known for series like Say Yes to the Dress and Toddlers & Tiaras could appropriately portray the complicated factors in child sex abuse, recovery, and restoration—especially in a way that would be healthy for Josh's victims, who allegedly include some of his younger sisters.
Lest we forget: TLC officially gave up standing for "The Learning Channel" long ago. TLC is now about entertainment, so we can safely say that the suffering of others—especially underage victims—cannot be packaged into 30-minute episodes for our amusement. I'll watch everything from Cupcake Wars to Swamp People to Millionaire Matchmaker; no reality series is too low-brow for my DVR. But once shows start peddling the helpless (The First 48, Hoarders, Intervention), I have to change the channel. These programs, which follow real-life criminals and addicts, purport to help the subjects and educate audiences about their conditions. But by exploiting them on TV, I fear we risk making things worse, not better.
Reality TV thrives on formulas. That's why they're so easy to watch in rapid succession. With the same setup each week, their predictable soundtrack, scripted dialogue, and cast interviews carry viewers through the show with little attention or emotional investment. But not all issues can be fake-resolved over the course of an episode or season, especially not involving conditions as difficult as abuse, mental illness, and addiction. In this case, I believe it would be unfair and potentially hurtful for TLC to even try.
Reading responses from women who suffered sexual and spiritual abuse as children, I realize how important it is to give them time to grieve, heal, and hopefully, one day, forgive. As Mary DeMuth writes:
Recovery takes years of stops and starts, and forgiveness is not a one-time easy decision, particularly if it's demanded or expected right away for the sake of peace and putting something shameful behind you.

Often we see in communities of faith that victims are admonished to be grace-like, offering instant forgiveness to their abuser as if it could be doled out like a trinket or candy. And when someone is pressured to "be like Jesus" and forgive swiftly, often this pressure causes harm.
I imagine production schedules would only worsen such pressure. Even if the Duggars went on to do everything "right" in the aftermath of these revelations, there's no guarantee of a resolution or a happy ending for TLC to tease out in promos. These things take time, and it's not easy. Our faith doesn't work on a quick turnaround—just ask the Christians who prayed for years before God answered. It doesn't always have a setup for what's coming next—just think of all the times God surprises beyond all expectations.
Meanwhile, I can no longer catch 19 Kids and Counting without scrutinizing Josh and the family. I say let the Duggars get help for their kids off-air, this time with a new approach and better resources, and leave reality TV for lighter subjects.
Even if they fade from our TV lineups, let us learn from this case about the crucial importance to protecting our families and communities from abuse. As Southern Baptist leader Russell Moore said, "We must maintain this witness until sexual abuse is not only gone from reality television, but, more importantly, gone from reality altogether."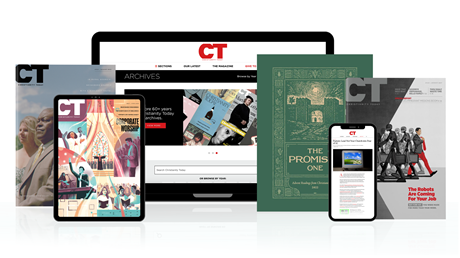 Subscribe to Christianity Today and get access to this article plus 65+ years of archives.
Home delivery of CT magazine
Complete access to articles on ChristianityToday.com
Over 120 years of magazine archives plus full access to all of CT's online archives
Subscribe Now
Why Reality TV Can't Handle the Josh Duggar Scandal
Why Reality TV Can't Handle the Josh Duggar Scandal