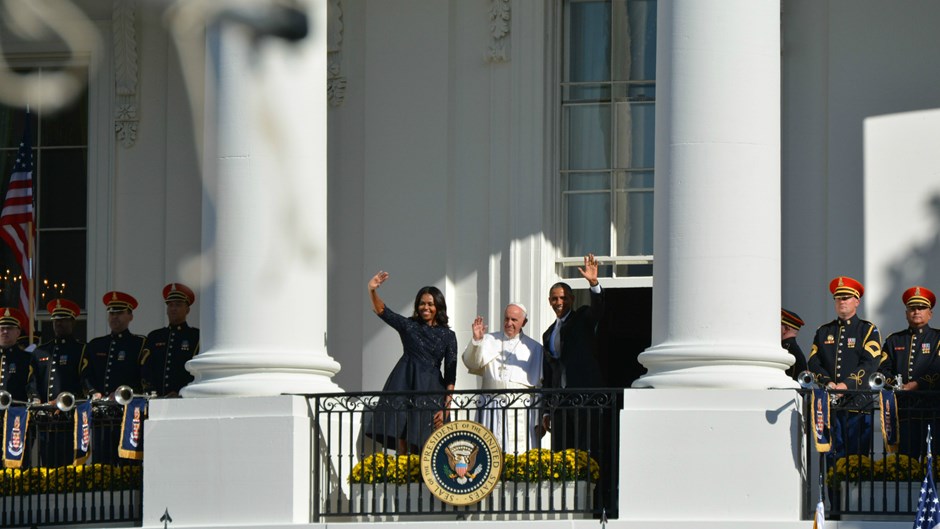 Image: Christine Scheller
An enthusiastic crowd of 11,000 ticketed guests gathered on the South Lawn of the White House this morning as President Obama officially welcomed Pope Francis to the United States.
Among the overwhelmingly Catholic audience there to greet him on his first US visit was a smattering of evangelical leaders.
Leith Anderson and Galen Carey from the National Association of Evangelicals (NAE). Gabriel Salguero of the National Latino Evangelical Coalition. David Anderson, pastor of Bridgeway Community Church. Lisa Sharon Harper from Sojourners. Joel Hunter of Northland Church.
Like 45% of Americans, many evangelicals have ties to Catholicism—a spouse, a parent, perhaps even a grandparent who was once Catholic and left the fold for a Protestant version of Christianity.
Beyond familial ties, what had these evangelicals and other non-Catholics waiting in the wee hours of the morning was a chance to catch a glimpse of this historic meeting between America's first African American president and the Roman Catholic Church's first Latin American pope. They were also likely drawn by the way in which Pope Francis has embodied the gospel message, said Melissa Rogers, executive director of the White House Office of Faith-based and Neighborhood Partnerships.
Rogers, who spoke with CT during a pre-event press call last Thursday, said Pope Francis has brought Jesus' teaching to life through prison visits, foot washings, and outreach to the homeless.
"He has made efforts repeatedly to not just talk about this message of Jesus and the love of Christ for others, including the least of these, but also embodied that message with his deeds," said Rogers. "Religions all have this value of reaching out to the people who are struggling, the most vulnerable. And I think people have been very inspired by that."
Carey, the NAE's vice president of government relations, called Pope Francis an extraordinary leader.
"He's brought new attention especially to the church's calling to care for the most vulnerable, which is something that's very important to us as well," said Carey.
Evangelicals should listen to the pope's message with the discernment of the Bereans from Acts 17, Carey said, and see if that message is in accord with the Scriptures.
"To the extent that he gains a new hearing for the gospel on the part of people who have maybe been alienated from the church, that's a very positive thing," he said.
Harper wasn't seated in the VIP section in front of the press, but amid the crowd behind a set of bleachers, where both her view and the sound of the ceremony were obstructed.
Still, she was moved to tears by what she said was a palpable hunger for spiritual fulfillment in the crowd.
"There were as many reasons for being there as there were bodies on that lawn," she said.
Among those reasons was the fact that Pope Francis embodies the values of Jesus, especially in regard to loving the least among us, she said.
"The reason that I was drawn as an evangelical is because we don't have a hierarchy like the Catholic hierarchy, where any one leader embodies the representative figure of God on earth the way the pope plays that role within the Catholic Church. Within the evangelical church, we are all actually called to be representative figures of God on Earth," Harper said.
As Genesis 1 tells us, all of humanity is given the image of God and is deserving of the kind of honor and reverence that we would give a pope or a king, she said.
"The thing that is so special about this Pope is that he understands that," she said.
For Hispanic evangelicals, the pope's public proclamations around immigration, poverty, hunger, and climate change are appealing, said Salguero at a Tuesday press conference associated with Bread for the World's anti-hunger efforts.
"We have our differences, but I think there's a lot of common cause," Salguero said.
The president echoed these sentiments in his remarks, saying excitement around the Pope's visit is tied to the Pontiff's humble character.
"You remind us that in the eyes of God our measure as individuals, and our measure as a society, is not determined by wealth or power or station or celebrity, but by how well we hew to Scripture's call to lift up the poor and the marginalized to stand up for justice and against inequality, and to ensure that every human being is able to live in dignity—because we are all made in the image of God," said President Obama.
Pope Francis appeared subdued throughout the 20-minute ceremony.
As he sat quietly listening to the president's remarks, a journalist in the press corps wondered if he was "tracking" with what President Obama was saying.
When he got up to speak, the pope's voice was soft and his English deliberate. He said he will be listening to the American people as a brother who offers encouragement and addressed familiar themes in his papacy—inequality, religious freedom, tolerance and inclusiveness. He spent a good deal of his time addressing climate change in language that may resonate with many evangelicals.
"To use a telling phrase of the Reverend Martin Luther King, we can say that we have defaulted on a promissory note, and now is the time to honor it," the pontiff said.
"We know by faith that the Creator does not abandon us; he never forsakes his loving plan or repents of having created us," Pope Francis said. "Humanity has the ability to work together in building our common home. As Christians inspired by this certainty, we wish to commit ourselves to the conscious and responsible care of our common home."
Salguero, a fourth-generation Pentecostal with some Latin American Catholic heritage, said evangelicals can work with Catholics on issues they agree about.
"We can have civil disagreements, theological disagreements, and those are fine," he said. "But I think we need to find ways to make the world a better place because we're followers of Jesus."
In one of NAE's only unanimous polls, 100 percent of evangelical leaders surveyed by the organization in 2014 agreed that evangelicals and Catholics should cooperate on issues of mutual social concern.
"We are thankful for the extent that the Pope is upholding Christian teachings and bringing them to new people," Carey said. "He's put an emphasis on evangelism which is very much welcome."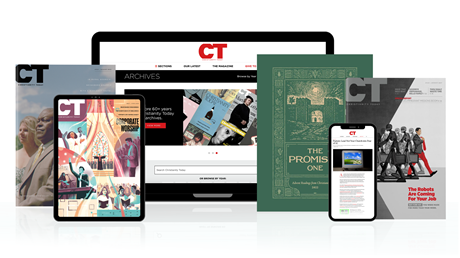 Annual & Monthly subscriptions available.
Print & Digital Issues of CT magazine
Complete access to every article on ChristianityToday.com
Unlimited access to 65+ years of CT's online archives
Member-only special issues
Subscribe
Evangelicals Help Greet Pope Francis at the White House
Evangelicals Help Greet Pope Francis at the White House