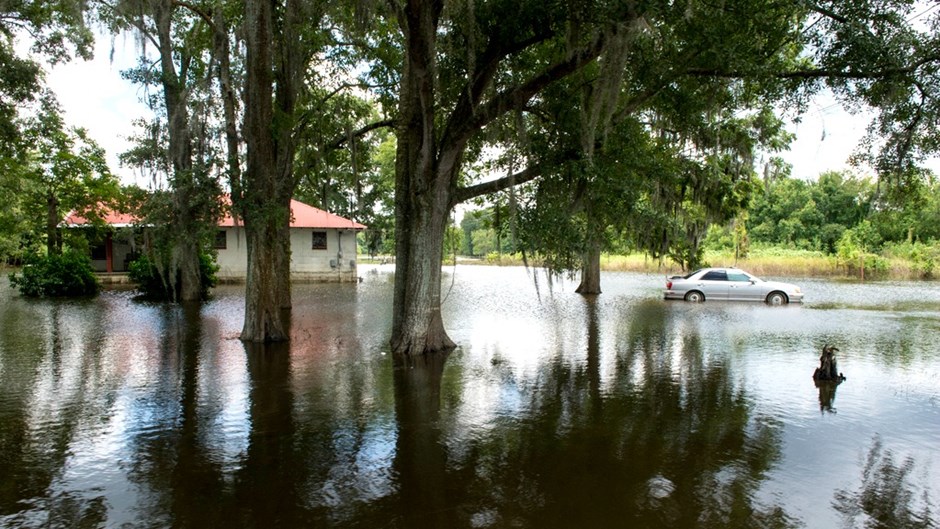 I was born and raised in southern Louisiana, and flooding was a fact of life in our low-slung neighborhood. A summer cloudburst could put us on the five o'clock news in New Orleans, and we'd see our neighbors swimming in the drainage ditches and floating in pirogues down the street. Because I was a kid, this was more exciting than dangerous. School would be cancelled, and my parents would make daiquiris. I used to dream of waking up underwater, the house rocking gently, the window covered in fishing net. Those dreams were never unpleasant.
Now I'm grown with my own kids, and I live 1,000 miles away in Northern Michigan. I watched this summer's historic flood unfold on my laptop screen. But this wasn't just a routine summer storm in a neighborhood prone to filling up like a bowl. This was a freak weather event called a monsoon depression, and it dumped unprecedented amounts of precipitation across the south of my home state, killing at least 13 and displacing tens of thousands. I watched in horror as one of my closest friends posted video updates to Facebook. Mild concerns about whether the canal behind her house would hold quickly became frantic expressions of disbelief as the water filled her house and she boarded a truck driven by the National Guard.
"Just pray, y'all," she signed off, her voice shaking. So I, dry and safe in my living room up north, lit my candles and prayed.
I didn't leave Louisiana for any significant amount of time until I was well into adulthood. Where I come from, you grow up to live around the corner from your momma, but my momma died when I was 14. At 26, I moved to Pittsburgh for graduate school. I might as well have moved to the moon.
Those first few months, I was sure I'd made a terrible mistake. I didn't know a soul, and even my language seemed wrong. There were a thousand expressions that suddenly lost all their meaning. I remember asking a deli server for a sandwich "dressed"—Louisiana shorthand for lettuce, tomato, and mayo. "Dressed?" she asked. "Dressed," I repeated. And then we just stood there in silence across the counter from each other, staring uncomprehendingly.
Even the landscape was alien; I'd never seen hills or snow. I developed vertigo, as if my body were incapable of adjusting to life above sea level.
It was during this time that I started going back to church. I needed a place I recognized, a place that spoke my language. I hadn't been a practicing Catholic for years, but I knew that if I went to Mass, I'd find the familiar smells, sounds, and prayers of the liturgy. Week after week I returned to Sacred Heart in Pittsburgh's Shadyside neighborhood because it was the only place I felt at home.
Since then I've moved so many times I've lost track. None of those moves has brought me back to Louisiana, no matter how fervently I've prayed to return. Maybe that's the very reason I'm still a practicing Catholic. After 15 years away, pining for my homeland has become such a defining characteristic that I don't know who I'd be emotionally, intellectually, and most of all, spiritually, if my deepest wish ever came true. I used to say that growing up in Louisiana made me the kind of Catholic I am. But by now, my years away have been the bigger influence on my faith.
For years the wandering pilgrim narrative has served me well, giving me a handy metaphor for interpreting my life story. Homesickness and longing have translated into a longing for Jesus. I've also found ample inspiration in the Bible and in my religious tradition for a mendicant spirituality—from Ruth in the Old Testament to the wayfaring apostles, who couldn't even carry an extra tunic, to St. Francis and his brothers. Over the years I've come to appreciate that a lack of rootedness means I've been forced to grow in ways that a natural introvert and homebody probably never would have. I've had to build relationships and communities everywhere I've lived, surrogate families for me and for my children.
But what have I lost?
This is the second time I've watched my homeland drown from a distance, and I'm feeling much of the same ambivalence I felt a decade ago during Hurricane Katrina. These are not the floods I remember. These are devastating, deadly, traumatizing natural disasters.
I want to help but don't know how. I want to ask for help but don't know why. This isn't my tragedy, and I don't feel entitled to my sadness or anxiety. After so many years away, I have no claim on the place. The anonymity of donating to the Red Cross breaks my heart. I want to be in the water, serving the gumbo, gutting a house with my dad, crying in a neighbor's arms, and yet I'm simultaneously horrified that my friends are experiencing those things and grateful that I'm not. It's an odd combination of sympathy and envy. What must it feel like to have that kind of fierce attachment to a community, to a people, to a place? To believe your community is worth any sacrifice, to know that your people will endure and be stronger and closer than ever? Will I ever know that feeling again?
When Ruth declared her allegiance to Naomi and left her heritage behind, we Christians like to think she did so eagerly, joyfully. But maybe Keats was right about her sad heart, "when, sick for home / she stood in tears amid the alien corn."
And Ruth didn't have to watch the Moabites suffer and bond via YouTube videos and Facebook posts. She didn't read news stories that led with the nightmare vision of her family's caskets floating freely in the streets.
As I watch my homeland, my family, my friends experience the heartaches and rewards of endurance, I feel challenged in my own commitment to bloom wherever I'm planted. In moments like these, I want more than ever to go home and take my place among them. But at this point, I'd be alien there too. I sit here 1,000 miles north, and read their stories and see their pictures and feel the absence of family, history, heritage, and attachment.
And so I go again to church, and sit in the pews among strangers bound to me by belief in a family that knows no bounds of space and time. This week's gospel reading was the one about the narrow gate, and the priest gave a homily on the demands of Christian life, the sometimes-lonely road that we walk toward personal salvation.
Somehow he wound his words toward the tragedies we see unfolding on our screens every day, the almost unbearable futility of watching suffering from a distance, our feelings of helplessness, the conviction that we're too far away, that there's nothing we can do. "But there is something you can do," he said. "You can pray."
And so I stood in tears amid the church, sick for home, and prayed for the land and the people I love.
Jessica Mesman Griffith is the author of three books, including Love and Salt: A Spiritual Friendship in Letters, which won the 2014 Christopher Award for "literature that affirms the highest values of the human spirit." She is the co-founder of Sick Pilgrim, an online community for those who feel spiritually homeless. You can connect with her online at jessicamesman.com. For those interested in donating to flood victims, Griffith recommends Healing Place Church, First Presbyterian of Baton Rouge, and Catholic Charities.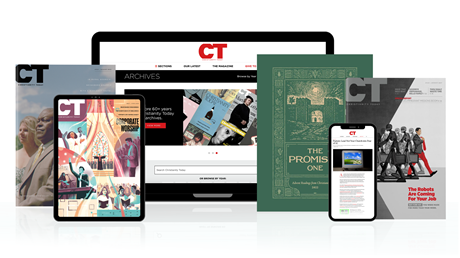 Annual & Monthly subscriptions available.
Print & Digital Issues of CT magazine
Complete access to every article on ChristianityToday.com
Unlimited access to 65+ years of CT's online archives
Member-only special issues
Subscribe
A Lament for Louisiana After the Floods
A Lament for Louisiana After the Floods