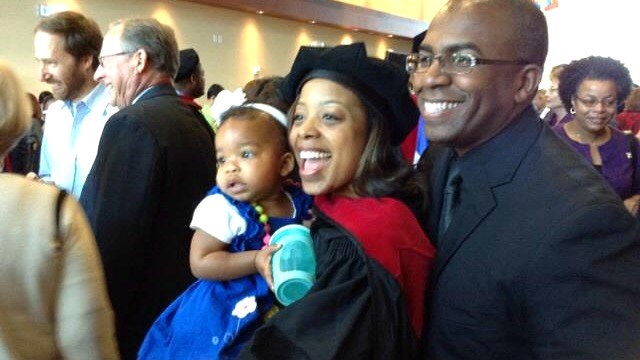 Image: Courtesy of Nicole Massie Martin
A 2001 Harvard study of 40 communities in America ranked Charlotte-Mecklenburg, North Carolina, as next-to-lowest in interracial trust. In a recent local survey, more residents reported having friends from diverse backgrounds but said they still lack trust of other races. Nicole Massie Martin, executive minister at The Park Church in Charlotte-Mecklenburg, lives and serves in this racially charged environment. "I serve in a predominantly black congregation in a city that struggles with racial tension," says Martin. "In the south, people are cordial with each other, but hardly ever go beneath the surface. I feel called to help close racial divides."
Martin has a Master of Divinity from Princeton Theological Seminary and a Doctorate of Ministry from Gordon-Conwell Theological Seminary. She writes regular columns for the Faith and Values section of The Charlotte Observer, directs SoulFire International Ministries, adjuncts at Gordon-Conwell, and volunteers as the faith-based representative on the Housing Advisory Board of Charlotte-Mecklenburg, which works to end and prevent homelessness as well as advocate for affordable housing. Her first book, Made to Lead: Empowering Women for Ministry, was just released from Chalice Press.
I first met Martin on a trip to Israel earlier this year and while riding on a tour bus one night, listened to her share about the unique challenges of being a black female pastor, raising two daughters (ages 18 months and 3 years), and mentoring women in ministry. This interview grew out of that conversation.
As a black female pastor in the South, what are you up against?
There's a stereotype of the "Southern woman" that I don't fit. When I first got into ministry, a woman came up to me after church and said, "You've got to be careful going out to meetings at night, because there are a lot of women who are always willing to bring your husband a casserole. So when you're home, you better make sure you cook for him." That's the stereotype: If you're leading, then you must not be cooking, and if you're present in the church, then there's no way you can really care for your children. But there are so many great models of women that show you can operate in the fullness of your calling to your family and still minister in the church. And sometimes your calling to the family does minister to the church. So it's not either/or.
Growing up, who were the matriarchs who modeled female leadership for you? Tell us about them.
My mom is the first model and matriarch of our entire family. My mom and dad both grew up in the projects and went on to earn bachelors and masters degrees. My mom served in a number of leadership positions in education and went on to get her PhD while my sister and I were young. Now she tells us that there were nights when she would cry and wonder: "Am I modeling good things for my children? Am I being a good mom?" My sister and I thought it was awesome. We got to go to the college campus. We got to eat pizza. We got to draw on the boards while she was in class. We had no idea that she struggled. She was a great mom and modeled for me what it looks like to set your dreams really high and reach them.
My grandmother, too, earned her bachelors at the same time as my mom and worked as an educator. My great-grandmother could not go to college, but she was a fighter and worked to integrate the busing system in Pittsburgh so that her kids could ride the same school bus as the other [white] kids. So I come from a family of very strong women. Honestly, if I reach any goal in my life, it's because I had it modeled for me.
Racism has always been prevalent, but it's back in our national consciousness. From your perspective, what can pastors, lay leaders, and others be doing to foster racial reconciliation in their local churches and beyond?
In the South, there's a common understanding that I don't have to know who you are, I don't have to get to know what your upbringing was like or what your cultural experience is like, because when we're in Christ, all that goes away. It might go away for some, but I'm always aware of what it means for me to be a black women in society.
I recently had lunch with a friend from seminary, a white woman working in an Episcopal church. Because we had a relationship, we were able to have coffee and she was able to say, "Listen. I'm not aware of where you are. I've not been where you've been [as an African American woman]. But I want to be there."
So to me the greatest gift we can offer is authentic relationship. Jesus modeled that kind of incarnational living. He was born into flesh, born into community, and took on our human likeness. That's the call of the gospel: Do what it takes to get to know people who aren't like us, so that we can serve and minister.
What are the specific challenges you face as a mother?
So much of what African American kids get in society are micro inequities that put them as second-class citizens. Already my three-year-old hasn't been invited to certain parties where everyone else in her class was invited. So my husband and I have to coach her through that experience by saying, "You have worth. You have value. And it doesn't matter what the world says about you, because here's what we say and here's what God says."
African American kids have to work twice as hard to get half the attention or half the respect. We have to say to our kids, "It doesn't matter that your friends can run around the mall and pull their hair out and no one says anything. You don't have that privilege. You don't have that luxury. When we go out, you must be on your best behavior." And that's really hard. The only thing I can do for my children is to reaffirm every single day, "This is who you are in God. You are valuable. You are loved."
Let's talk about your book. Made to Lead is not about whether women can be called to ministry, it's about how women can prepare themselves for ministry once they accept that calling. You're sidestepping a major debate. Why?
Should women lead? Should women minister over men or be in a position of authority over men? Should a woman minister the gospel in mixed gender context? Many people would say you have to first answer those questions. But the truth is, more seminaries every year are seeing rising rates of women going to seminary. These are Catholic women, women coming from PCA churches where women are taught not to preach, women coming from a variety of contexts. So while we're having this debate of, "Should they go?" the reality is, women are going, they're out there, and they don't know how to wrestle with their calling. They don't have supportive communities. So somebody's got to step out there and say, "Okay, while they're having this discussion, let me help you out."
For women who don't believe in women's ordination, what's your message to them?
One of the intentional choices I made in the book was to say, "This is not about doctrine of ordination. This is about maximizing God's calling in your life." I have so many friends that believe they are not called to exercise leadership over a man, but they do have a calling, nonetheless. It's been such a joy to journey with them and to say to them, "If you feel a call to teach, then do that. Maximize your role within a woman's ministry or a youth ministry. Serve knowing that God has made you to lead in that way." And then there are other women who say, "I feel called to preach but because my context doesn't affirm my calling, I don't affirm it, either." To them I would say the same thing: What does your calling to lead look like within your context? Is it in your family? Is it in women's ministry? Is it in writing? Is it in teaching?
For African American women who want to serve in the church as lay leaders or as pastors, what unique obstacles do they face?
In some ways, feminism never really hit the African American church. Womanism is a product of the African American church, and it highlights the unique struggles of black women while also honoring the role of the whole community. However there are a lot of African American churches where a woman in leadership is an affront to male leadership that already feels oppressed. In some cases, you have African American men who are beaten down by society who come into the church, and that becomes the only place where they receive respect, affirmation, a title, and leadership, and then here comes a woman who says, "Well, I deserve that respect, too." And some men in black churches respond with, "How dare you? There's only so much power to go around, and you can't steal mine." I'd rather see an abundance mentality. I'd rather say, "Walking in my calling does not negate your calling [as a man]. In fact, it should emphasize it and enhance it. And together as partners in the gospel we have so much to offer the church worldwide."
In chapter five, you talk about the "body issue." In contrast to men, what do women in ministry face relative to their bodies?
Oh my gosh, I could tell you the crazy things that people have said to me about my body. This is after preaching the Word. Once I was preaching a revival and a guy came up to me and he said, "I notice that your hair stays in place when you get excited. I like that." I had a young woman tell me, "I just love the way your teeth are so white. How do you keep your teeth white?"
When a man mounts the pulpit, you see a preacher. When a woman mounts the pulpit you ask, "What shoes is she wearing? Does she have blue nails or red nails or are they clear? How is she wearing her hair?" So there is a need for us to constantly create a new narrative for our bodies and reaffirm that they're not to be defined or objectified by others. They are to be named and owned and understood by us. There's a common prayer that I hear: "Oh Lord, hide me behind the cross, that there may be none of me and only Thee." I would say, No, God came bodily. He chose to come in flesh. That means that God wants us to embrace and embody what he has given us.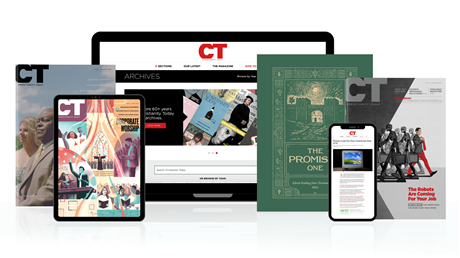 Subscribe to Christianity Today and get access to this article plus 65+ years of archives.
Home delivery of CT magazine
Complete access to articles on ChristianityToday.com
Over 120 years of magazine archives plus full access to all of CT's online archives
Subscribe Now
What It's Like to Be a Black, Female Pastor in the South
What It's Like to Be a Black, Female Pastor in the South