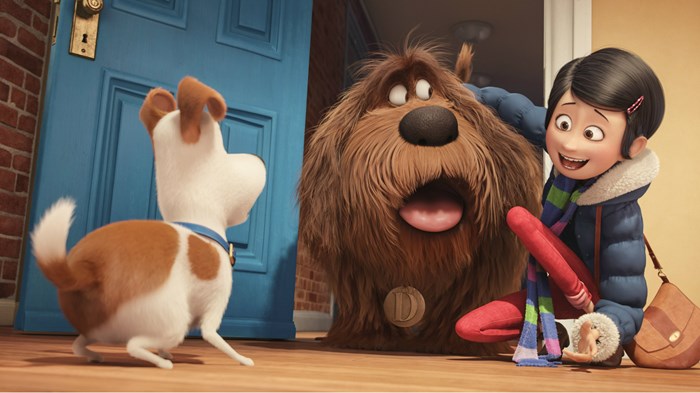 Somewhere around the middle of The Secret Life of Pets, I started jotting down the titles of animated movies about animals' secret lives. (Animals always talk in the movies about them—except, blessedly, Shaun the Sheep—and so they are, by definition, about their secret lives.) It wasn't meant to be an exhaustive list; I just jotted down the ones that occurred to me as I watched: Jungle Book, Lady and the Tramp, Finding Dory, Finding Nemo,Chicken Run, Ice Age and its descendants, Madagascar and its descendants, Zootopia. And Toy Story, and Inside Out, neither of which are about animals but might as well be.
This list kept growing. That's for one clear reason: The Secret Life of Pets might as well be called Generic Animated Animal Movie, a puzzle constructed of pieces lifted from other sources. Max (Louis C.K.) is our hero, a terrier who lives with his owner Katie (Ellie Kemper) in New York City and is certain he's the luckiest pet in the world, until Katie brings home enormous furry brown rescue dog Duke (Eric Stonestreet) to be Max's "brother." Max, as you might imagine, is unimpressed.
At this juncture I assumed this was going to be a movie for kids about accepting new siblings or something equally kids movieish. But things take a pretty sharp turn when Max and Duke get picked up by Animal Control (side note: isn't it potentially a bad idea to teach kids that Animal Control are villains?). They're sprung by a crowd of renegade "flushed pets" who live in the sewer and are led by a fluffy white rabbit named Snowball, who is voiced by Kevin Hart—which is meant to be funny but reads a tad racially awkward—and bears a suspicious resemblance to Alec Azam, ...
1