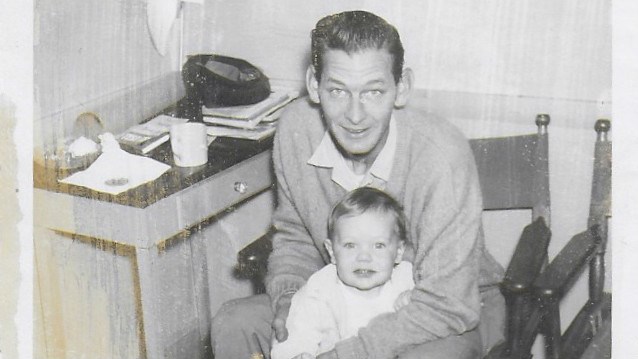 Image: David Briggs
The three of us—two other visitors and myself—sat in silence in an upper floor waiting room of the Veterans Administration Hospital, a brick fortress atop a hill looking over tightly packed homes in a working class Connecticut suburb.
Fifty feet away, my father was dying, barely conscious.
The hurried attention of teams of doctors and nurses in the well-lit corridors of Yale-New Haven Hospital had given way to the drab hallways and institutional care of veterans whose limited private insurance had run out.
Across from me, a young man and woman introduced themselves and began to share the story of their father. He had been very sick many years earlier, at a time when he was raising a young family on his own.
He asked God to spare him until his youngest child was through high school.
The father recovered, and now, shortly after the last child was an adult, he had fallen ill again and was nearing death.
It was a story biblical in nature: The idea that you could enter into a bargain with God, who would allow you to guide your children to the cusp of adulthood, but deny you the Promised Land of an old age sharing the bounty of love with the generation you raised.
Further, that this man, having received the gift he asked for, would not negotiate any longer for his life, but accept his mortality as part of a divine plan.
At that point, amid my own anger and despair, all I prayed for was that I would not lose my faith.
Even at age 26, it seemed to be the only way I was going to survive without my father.
The Rock Upon Which My Life Was Built
One of my early, vivid memories was being in the kitchen around age 5 or 6 when we received a phone call that my father had been in a car accident and was taken to the hospital.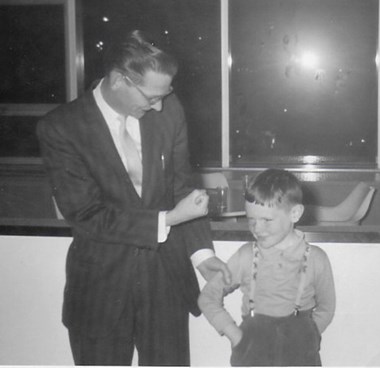 My response was to walk in a continual pattern along designated tiles of different colors on our kitchen floor, somehow thinking that by tracing this path over and over I could restore some sense of order.
Even then, deep in my subconscious, I knew how vital my father was to my existence.
I learned in later years the science of the ways adopted children already have an inner sense of abandonment from being given up by their birth parents. This was compounded in my case.
My adoptive mother endured lifelong struggles with alcoholism and mental illness. Frequently she was passed out in bed for days on end. In both practical and emotional terms, this was a second abandonment by a mother.
My father, however, got up early in the morning six days a week, went to work, and came home in the evening or early Saturday afternoon.
There were moments that were particularly treasured, such as going to the Polo Grounds or Shea Stadium once a year to see the Mets play his—and of course, my—favorite team, the old Brooklyn, now Los Angeles, Dodgers.
But what mattered was waking up early to have breakfast with him, and finding a sense of safety and security when he returned home each night. He was a dependable father, and I could be a child with him. It was what I needed.
Yet what I received was so much more.
A Humble Life
Leslie Briggs (his friends called him Tony) was born in 1920. His own mother died at an early age. His father remarried, but his stepmother's attention, much less affection, could only stretch so far during the grinding hardships of the Depression.
He would be the valedictorian of his senior class, and he kept up his Latin skills throughout his life, but college was not a possibility. He went to work to support his family. During World War II, he joined the Army, returning with a Scottish bride, again forestalling the possibility of higher education.
He took a job doing the simplest tasks at a screen printing company in New Haven, quickly rising to becoming the owner's right-hand person. My parents bought a house in Hamden, and I was adopted in 1956.
His story was one I only became aware of little by little over time. He never talked about his life growing up. The lessons I learned about hard work, faith, service, friendship, and respect for others were taught by example.
Before I was old enough to go to school, he often took me into work with him on Saturdays. I watched him sweep the floor before he began, and soon I had that job.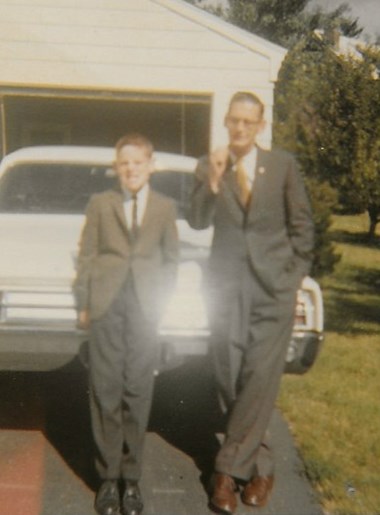 He was hired to sweep floors, and even after he became president of the company or worked closely for months in a painstaking collaboration with the renowned artist Josef Albers on a series of prints of his signature work on the square, it was important to him not to lose sight of the dignity of all work.
Faith was just part of life. Some of the best memories I had from childhood were the pleasure of having extra time together weekday mornings during Lent, when we went to services together, or the adventure of walking together down a long hill with snow up to my chest during a heavy storm to be greeted by a surprised pastor on Sunday morning. He would not miss Sunday worship.
And where there might have been self-pity, there was joy in his life: Poker groups, golfing buddies, friends to have a drink with after work, and a group of couples that would get together on weekends and take vacations together.
And still, there was something more.
I did not really pick up on it at first, but as the years went by I noticed my father would not speak a bad word about others. At the dinner table, he talked about customers who defrauded him by asking for large amounts of work in advance and skipping out on payments. But there was never talk of revenge or fighting back. He just said he would no longer deal with them.
For almost my entire time growing up, a lot of it during the 1960s when racial tensions boiled over in cities like New Haven, he delivered food once a month to the poor in the city, telling me when I came along to stay in the car while he walked up to the top floor of apartment complexes to make sure families received their groceries.
He refused to join others in protesting a proposal for low-income housing at the end of our street. And yet he would not judge other people, but just seemed to keep adding more friends.
Long after his death, a group of prominent researchers began groundbreaking work on the "quiet virtue."
The scientific definition of humility is coalescing around the concepts of having an accurate view of one's own strengths and weaknesses, along with an ability to appreciate the contributions of others and to be open to new ideas.
Numerous studies have found that humility is associated with a high degree of self-worth, greater success at work, a happier love life, fewer mental health issues, a greater sense of gratitude, lower levels of prejudice, and several other positive outcomes that make the world a better place.
Narcissists may grab the spotlight, but in general we like the boss who listens to our ideas, the spouse or dating partner who does not think the world revolves around him or her, and the friend who is willing to listen and empathize with our concerns.
Even if neither of us could put a name to it when he was alive, the lesson my father taught me in our time together was how to be humble.
The End Is Near
I moved back home as soon as I heard about his stroke in December 1981. A little while later we learned he also had advanced lung cancer.
It was time to break some strong, silent-type traditions that permeated our neighborhood culture. I told him directly and repeatedly how much I loved him, and I began to physically hug him when we were together.
For Christmas, I wrote him a letter trying to describe how I felt. It began: "Dad, to me you represent all that is right in this world. Everything loving and good I associate with you."
Another first: I saw him crying as I read it by his bedside.
But my fear of losing him was also reflected in a sense of denial—and lack of humility—that must have placed an added burden on him.
The final paragraph of the letter is jarring to read 33 years later even though it was intended to keep his hopes up as the doctors still were discussing possible treatments. It read: "However you choose to lead your life now, please do not give up. I love you. I need you more than ever."
Over the next few months, we became a two-man band, walking a few steps at a time up and down the neighborhood in exercises to recover from the stroke.
In that pre-accessibility era, we went to the movies and the theater, visited friends at work and at restaurants. We found ways to accommodate the wheelchair. On Sundays, I would carry him and his wheelchair up the front steps of church. (Shortly after his death, the church built a handicapped ramp.)
And my lessons continued.
Many people today still associate humility with terms such as humiliation, meekness, or timidity. And it is true that humble people can leave themselves open to disappointment if their trust is abused.
But when my strong, independent father was at his weakest point, people stepped up.
Two of my father's friends with executive experience kept the business going so that his employees would have jobs and that my mother would have an income. One of the men worked full time until the business could be transferred to another company.
One way I helped out was to collect debts. My father was pretty easy-going in that area. But when they learned of his situation, people paid up. I remember talking to two young men at a struggling company who at first made it clear they were not going to pay. But as we talked, there seemed to be a kind of moral awakening that caused them to agree that this, among all their debts, must be paid.
I also was to learn of the extent of the sacrifice my father made to see that I was able to go to college. This man, who had no rainy day fund or retirement savings or pension, borrowed $25,000 from a major customer and friend to pay for my tuition.
When my father became sick, this businessman was in the midst of selling his company. He made it a condition of the sale that the loan would be forgiven. When talking to an executive from the purchasing company, I was equally inspired to hear him say how happy he was to agree to this after learning of my father's life.
My father, with no extended family of his own, had "A Wonderful Life" moment as friends, neighbors, and people from church filled a banquet hall for his 62nd birthday party less than two months before his death.
In one of the last moments that we could still talk to one another, after he was admitted to the VA hospital for what we both understood would be the final time, he asked me to read him the Christmas letter again.
Amid tears, he told me I was the best thing that ever happened to him in his life.
I left out the final paragraph at that point.
But in the final days when I could only hold his hand, or sit dazed and exhausted in the waiting room, life without him still seemed beyond imagining.
Answered Prayers
Now I am 60 and starting to see signs of my own mortality. An operation to fix something here. A little arthritis there.
I sometimes think back to that story from the waiting room of the man who fell ill when his bargain with God was fulfilled. And I wonder if there is some sort of a divine plan we can ascertain.
Part of the inner child that does not want to surpass the father even asks if it would be fair to live beyond the years he was given.
But the reality is that I did not smoke two packs of cigarettes a day my entire adult life. And I have learned a thing or two about humility over the years, along with the importance of loving yourself and your neighbor in equal measure.
And the truth is our connection has never really been broken.
He has been dead nearly 34 years, and I still think of him all the time.
I mean, how many Los Angeles Dodger fans are there in places I have worked and lived— Buffalo, Cleveland, Nashville, or even New York? Each day, I wake up and look at the box scores and feel just a little bit happier when they win, as if in some mystical way it continues to be a shared experience.
And I can see my father's influence in every major decision I have made, from leaving a prestigious job for one that allowed me more time to be a better husband and father, to following my dream in my mid-50s to work with my global colleagues to create an organization where we can learn from one another in mutual respect and dignity. The International Association of Religion Journalists now has some 600 members from 90 nations.
That request that I prayed for in my father's last days? It was answered. I have kept my faith, and it continues to be a source of peace and love.
That is probably not so surprising given the wealth of sociological evidence on the influence of religious parents, including how they shape a child's image of God.
In the letter to my father, I spoke of our walk to church during the snowstorm. But I told him the lesson he taught me about faith "came from seeing you live your life. You genuinely loved everyone."
My father was born into poverty, lived a humble life, and died in bleak, spare surroundings reserved for veterans with limited resources. His was a Christmas and Easter story combined, testifying that true happiness lies within us.
So what do I want to do with the rest of my life? I want to be like my father.
And try to be a decent, humble human being.
David Briggs, a former national writer for the Associated Press who holds a master's degree from Yale Divinity School, writes the Ahead of the Trend column on new developments in religion research for the Association of Religion Data Archives.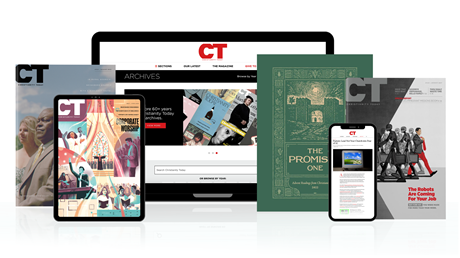 Annual & Monthly subscriptions available.
Print & Digital Issues of CT magazine
Complete access to every article on ChristianityToday.com
Unlimited access to 65+ years of CT's online archives
Member-only special issues
Subscribe
What I Learned About Faith from Watching My Father Die
What I Learned About Faith from Watching My Father Die