The Ministry of the All-You-Can-Eat Buffet
Grace, like brownies, seems never-ending here.
D. L. Mayfield
| May 16, 2016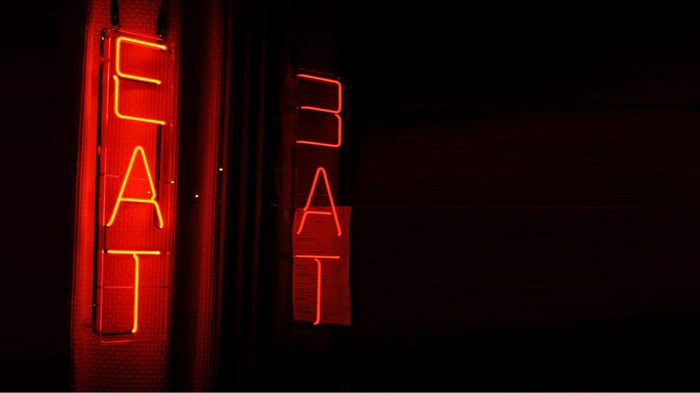 Image: Tammy / Wikimedia Commons
In this series, D. L. Mayfield considers the day-to-day ministries we often overlook.
You are an overworked social services provider, helping teenage clients build the skills they need to function. The majority of them are boys, scattered across that ethereal "spectrum," unified by their terrible eye contact and a preternatural proficiency with Pokémon cards. Most come from lower income families—single mothers stretching the budgets and time constraints, animals wandering in and out of bedrooms, the clients themselves both sullen and hopeful, wanting to change yet not knowing how. You are too young to be a parent yourself, but here you are, helping them figure out how to manage their time, do their homework, pick up their rooms, and handle their interactions with peers, girls, and their own beloved, resented mothers.
The boys, they stretch and grow; they take small, shy steps forward into the wider world. You, meanwhile, are tired, but you feel the small bursts of pride in your heart. When you tell your clients they are graduating out of the program, you can't help but feel sad. They say nothing, but you know they feel it too.
The last scheduled time you meet with each of your clients, you always take him to the nearest all-you-can-eat buffet. You've seen what it's like in a household where the food stamps can barely cover the appetite of a teenage boy. You've seen what it means when the end of the month rolls around, and there is a weekend away from the free meals at school, and the cupboards are bare at home. What it means to be always, always hungry.
This month is one client's last in the program, so you take him to the bright shining pantheon of excess, with its foods so bland and fatty and congealed, its choices endless and shimmering and crusting around the edges. Every time, you can hear the boys mutter their reactions quietly to themselves. Cool. Score. Awesome. He does the same. You pay at the register, then he picks up a plate and begins filling it with whatever it is that his heart (and stomach) desires. He doesn't chat with you; he just eats and eats and eats, and then he gets another plate and eats some more.
At the end is the dessert bar, where he piles frozen custard on top of apple pie and covers it in sprinkles and gummy bears. Then he returns to sit in silence in the blue booth—though every once in awhile, you will catch his eye. You smile at him, realizing you are so much like him: hungry for so much in this world, desperate to know you are loved and wanted. He looks you in the eye and nods his head, ever so slightly.
You both get up and walk back to the dessert bar.