true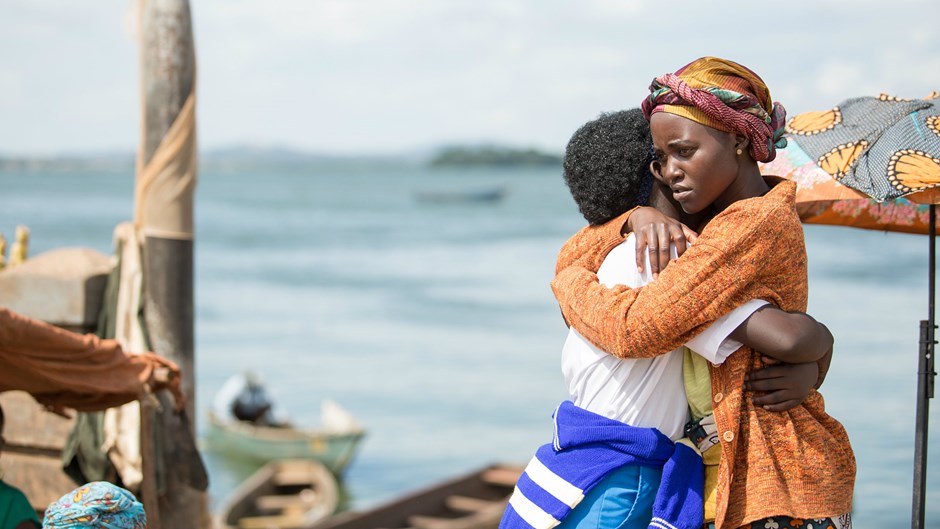 Image: Courtesy of Toronto International Film Festival
If anyone might be forgiven for thinking God had abandoned her, it would be Phiona Mutesi.

Born into one of the poorest areas of Uganda and raised by a single mother whose husband died of AIDS, Mutesi had no reason to think that Disney would be making a movie of her life one day. Even when she screwed up the courage to enter Robert Katende's sports mission and sat down to play chess for the first time, the actual Queen of Katwe would have had a hard time imagining herself the subject of a movie.
Mutesi is extremely soft-spoken, her quiet voice in contrast to her powerful game and the confident poise of the Hollywood glitterati that normally anchor studio press conferences and junkets. She is instinctively deferential when asked to talk about herself, a habit born, perhaps, out of years of struggle to survive. Tellingly, when asked to name her favorite moment in a film that documents many of her competitive successes, she cites two conversations with her coach: one when she asks to live with him and his wife temporarily, the other when she challenges one of his teachings.
"Where is my safe square?" Mutesi asks the man who taught her to see chess as a metaphor for life and believes it can be something more than simply a distraction from the grinding poverty and threats that surround her. For the real-life Mutesi, her safe square may not be on the chess board, but in the hands of a God in whom she has been steadfast in believing. When asked if she had any special message for Christian viewers of the film, she said simply, "He's always there."
For David Oyelowo, who plays Mutesi's teacher, Robert Katende, it was important that the film of this young woman's transformation be helmed by a female director. Queen of Katwe is the fourth film in a short span in which he worked with a female auteur. He insists that the psychological doubts engendered by "a lifetime of opposition to the idea you can be great" is a challenge faced by women in Western cultures as well as those in Africa. Had Queen of Katwe been directed by a male, the star wonders if there would have been a temptation to make the coach the protagonist ... or maybe even to transfer the story to an American setting and make the children white.
Any time Hollywood makes movies about Christians, it is inevitable that questions will arise about whether the faith content is played down to make the film more palatable to a mass audience. Both Mutesi and Katende confirmed that they were satisfied with the way the film depicts their faith. The latter refers to himself as a "relational evangelist" who "does not compromise other people's faith" or tell them how to act. "I know I can be a blessing," he says, and he believes he has exercised a greater spiritual influence through service than he might through preaching.
Queen of Katwe references an injury Katende sustained while playing soccer, but it doesn't go into much detail about how that injury changed the trajectory of his life. Before the injury, he thought he might become a Christian "one day" but only really "found peace on the field of play." After a severe blow threatened not only his athletic dreams, but his life, his friends stressed that "it's a miracle you're still alive." At that point, Katende decided, "I'm going to play for [God's] glory," and he committed his life to living for something besides his own success.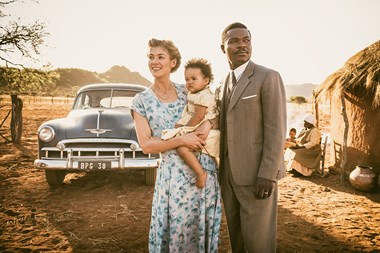 Image: Courtesy of Toronto International Film Festival
In addition to portraying Katende in Queen of Katwe, Oyelowo also plays Seretse Khama in Amma Asante's A United Kingdom. In that film, he teams with Rosamund Pike to tell the true story of an African prince who falls in love with and eventually marries a white British commoner. The actor praised both Katwe director Mira Nair (who has lived in Uganda for more than two decades) and Asante for bringing upbeat, aspirational stories "about the continent of Africa" to the big screen. "Africa isn't a country," the actor insists wryly, evidencing good humor but just the right amount of exasperation when relating how friends and colleagues tell him to look out for wild animals when he returns to Nigeria. "I've actually never seen a lion in Lagos," he says. The continent contains a wide diversity of people with different customs, histories, and experiences. Through film, paradoxically, we learn just how different people in Africa are from one another even as we come to understand how similar their challenges, hopes, and dreams are to our own.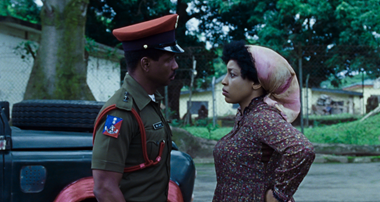 Image: Courtesy of Toronto International Film Festival
Perhaps no film at the Toronto International Film Festival better illustrates that point than '76, a Nigerian production that tells the story of a soldier accused of being involved in a failed military coup and the stress this places on his marriage. Nollywood films have a high profile at the festival, since Lagos was selected as the subject of TIFF's annual City to City program. Izu Ojukwu's film is suprisingly accessible, reminisicent of such Hollywood thrillers as Valkyrie and No Way Out. For viewers willing to expand their exposure to world cinema beyond familar stars playing African heads of state, '76 is an excellent place to start: a dramatic story told by Africans about their own history and from their own point of view.
Queen of Katwe opens in American theaters on September 30. A United Kingdom opens in the UK on November 25 but does not yet have an American premiere date. '76 also premieres on November 25 in Nigeria after a stop in October at the London Film Festival.
Kenneth R. Morefield (@kenmorefield) is an associate professor of English at Campbell University. He is the editor of Faith and Spirituality in Masters of World Cinema, Volumes I, II, & III, and the founder of 1More Film Blog.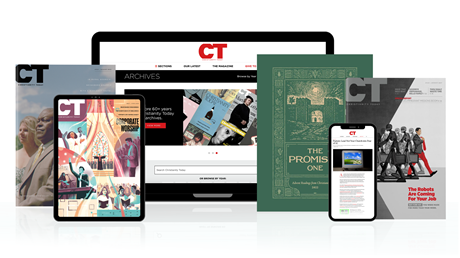 Subscribe to Christianity Today and get access to this article plus 65+ years of archives.
Home delivery of CT magazine
Complete access to articles on ChristianityToday.com
Over 120 years of magazine archives plus full access to all of CT's online archives
Subscribe Now
Disney Made a Film about a Ugandan Christian Female Chess Champion
Disney Made a Film about a Ugandan Christian ...